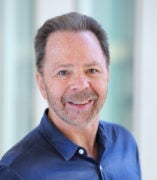 Christopher Westland
Professor
University of Illinois - Chicago
Department of Information and Decision Sciences
Website
Will there be an enduring impact of the coronavirus pandemic on graduates?
Christopher Westland: There will be, but it won't result in immediate and dramatic change; rather, it will accelerate changes that are currently being debated -- in particular, the value of a physical workspace. The informed opinion exists on both sides: Reed Hastings of Netflix feels that workplaces are needed for productivity, innovation, and community; Jack Dorsey of Twitter and Square feels that they are overrated and is willing to let his employees work at home forever (among them, my daughter, who is a senior engineer at Square and U of I graduate).

The most successful US firms (the FANGs) are team and project-based, rather than being organized into traditional Sloan-type stovepipes. As labor markets become more and more efficient, it is likely that actual work will coalesce around expertise, previously successful teams, and teams and individuals with reputations. People will change employers often, and periodically take sabbaticals. Maternity and lifestyle leave will be expected. As long as universities recognize this evolution of workplace and career opportunities in their program offerings, a university degree will continue to be an important asset for commanding the best jobs.
Are there any particularly good places in the United States for graduates to find work opportunities in this field after they graduate?
Christopher Westland: Yes, it's increasingly in the largest cities, which have become the world's centers for innovation, productivity improvement, and access to capital and expertise. Global studies have shown an 8% improvement in productivity when firms move from towns of less than 1 million to cities of more than 1 million population. These benefits will accelerate in the future. Additionally, despite some of the negative press, cites are becoming safer, better managed, and offer a higher quality of life than rural and suburban locations.

In the US, cities such as Chicago, New York, Washington DC, Seattle, San Francisco, and Los Angeles have concentrations of capital and expertise that make them competitive and ideal places for the talented to work. New centers such as Dallas, Atlanta, Austin, and Phoenix offer modest cost of living, less congestion, with vibrant, talented workforces. Globally, Shanghai, Shenzhen, London, Seoul, Tokyo, Hong Kong, and Singapore all offer fantastic opportunities for work, development, and growth, and are attracting some of the best talents in the world.
How do you envision technology impacting this field in the next 5 years?
Christopher Westland: We will continue to see the evolution of trends that we only started paying attention to during the dot-com boom. Information technologies will increasingly substitute for the physical plant in chemistry, biology, medicine, aerospace, and manufacturing. This will make work both transportable and increasingly indistinguishable from what we, today, would call information systems and computer science.

Computer speed, data storage, and network bandwidth are all growing exponentially, every passing year, opening up new fields for virtual modeling and transcending geography. My predictions: in the coming five years, we will begin to see the wholesale replacement of blue-collar jobs by robotics (e.g., truck and taxi drivers, retail salespersons, and security, surveillance, and law enforcement). Universities will see an urgent new demand for programs, but will need to be on their toes.

As the workplace changes, universities will need to add programs that are "fast and filling," allowing students to study hard for short periods, enter into the workforce, and come back for "top-ups" (e.g., executive programs, certificate programs, short degree programs) perhaps every five years as the world and the workplace change. Many of these new offerings will be online, perhaps in an immersive "gaming" format, and will be vastly different from the "lecture hall" courses that have defined university classes in the past.