Best Companies In Lufkin, TX
We hand-curated a list of the best companies to work in Lufkin, TX using data on salaries, company financial health, and employee diversity. You can also search for the best companies to work for in the state and cities you want.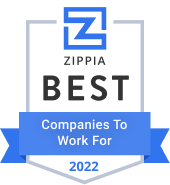 Other National Companies With Offices in Lufkin, TX
Best Companies In Lufkin, TX
Rank
Company
Zippia Score
1
LUFKIN Industries
2
Angelina Home & Community Services Inc
3
Woodland Heights Medical Ctr
4
Atkinson Candy
5
Prince Energy LLC
6
The Peddler
7
Sport Threads
8
Hudson New York
9
Worldpages Dotcom
10
Cross Road Baptist Church
11
Jma Properties
12
Angelina College
13
Axley & Rode
14
Work Force Development Board
15
Grinding & Sizing Co. LLC
16
Hospice In The Pines
17
Crown Colony Country Club
18
City of Lufkin, TX
19
Lufkin Independent School District
20
Lee Trans
About Zippia's Best Companies To Work For
You can read about how the Zippia Score and Company Rankings are calculated here.
Best Companies To Work For In Nearby Cities