Best Companies In Manchester, NH
We hand-curated a list of the best companies to work in Manchester, NH using data on salaries, company financial health, and employee diversity. You can also search for the best companies to work for in the state and cities you want.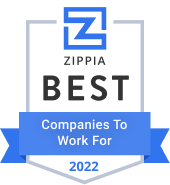 Other National Companies With Offices in Manchester, NH
Best Companies In Manchester, NH
Rank
Company
Zippia Score
1
Catholic Medical Center
2
The Moore Center
3
Elliot Hospital
4
Velcro Brand
5
Southern New Hampshire University
6
Pro Con Construction
7
Saint Anselm College
8
Freudenberg North America Limited Partnership
9
Quantem Aviation Services
10
AutoFair Automotive
11
Cafe Services
12
At Comm
13
FIRST
14
WestBridge
15
TIG Insurance Company
16
inSync Staffing
17
Windward Petroleum
18
DEKA Research
19
EPE
20
RiverWoods Manchester
About Zippia's Best Companies To Work For
You can read about how the Zippia Score and Company Rankings are calculated here.
Companies Headquartered in Manchester, NH