Best Media Companies In Idaho
We hand-curated a list of the best companies to work in Idaho using data on salaries, company financial health, and employee diversity. You can also search for the best companies to work for in the state and cities you want.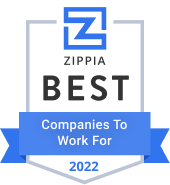 Company Mission Statement:
To help you manage the risks that arise in everyday life. If the unexpected strikes, we will do everything we can to help you recover your quality of life as soon as possible.
Learn More About Affinity Amp:
Company Description:
Hagadone Investment Company owns newspapers and journals including Coeur d'Alene Press, the Bonners Ferry Herald, the Bonner County Bee in Sandpoint, the Priest River Times, the Post Falls Tribune, the Shoshone News-Press in Kellogg, the Daily Inter Lake in Kalispel, the Columbia Basin Herald in Moses Lake, the Beloit Daily News in Wisconsin and the Souix City Journal in Iowa. The company is based in Coeur D Alene, Idaho. Hagadone Investment Company operates as a subsidiary of Hagadone Corporation.
Learn More About Hagadone Investment Company:
Company Description:
The Idaho State Journal is daily newspaper published in Pocatello, Idaho, United States, that serves southeast Idaho, including Bannock, Bear Lake, Bingham, Caribou, Franklin, Power, and Oneida counties.
Learn More About Idaho State Journal:
Company Description:
Kochava Inc. is a provider of secure, real-time data solutions. We help customers establish identity, define and activate audiences, and measure and optimize all aspects of their marketing. Kochava provides enterprise brands with a consolidated Unified Audience Platform including data management and onboarding, cross-device configurable attribution, analytics, engagement, industry-leading fraud protection, and data enrichment. With a culture of customer-driven service and innovation, dedication to data security, and the most powerful tools in the ecosystem, Kochava is trusted by top brands to harness their data for growth.
Learn More About Kochava:
Company Mission Statement:
To partner with and support the best entrepreneurs in growing, profitable technology and healthcare companies.
Learn More About Impact Radio Group:
Company Description:
Alpine Motor Co has a wide range of new and used vehicles for you to choose from. Our auto service and repair department is ready to help you with your maintenance needs. We serve as a preferred SANDPOINT Buick and GMC dealer. Visit us soon.
Learn More About Alpine Motors Co:
Company Description:
The Idaho Press of Nampa, Idaho is the second-oldest active newspaper in Idaho, first printed in December 1883.
Learn More About Idaho Press:
Company Description:
Economic Modeling Specialists Intl. (EMSI) provides high-quality employment data and economic analysis via web tools and custom reports. We also produce comprehensive impact analyses for colleges and universities in the US and internationally. EMSI started conducting economic impact studies in 2000 (under the name CCbenefits) to show the economic contribution of higher education. To do this work we had to collect lots of data on industries, occupations, demographics, etc. We found this labor market data to be really useful so we built simple web-based tools to bring the information together and make it easier to use. Now we supply these tools to many community colleges, universities, workforce boards, economic development groups, and private industry throughout the U.S. so they can better understand the local employment picture. We also recently developed a tool to help jobseekers find great careers and the right training path.
Learn More About Economic Modeling:
Company Description:
The Post Register is a U.S. daily newspaper serving the Idaho Falls, Idaho, area, as well as Jackson, Wyoming, and West Yellowstone, Montana. It is owned by the Adams Publishing Group.
Learn More About Post Register:
Company Description:
Send your news tips and story ideas to Maureen Dolan, City Editor: mdolan@cdapress.com, or call the newsroom: 208-664-8176.
Learn More About Coeur d'Alene Press:
Company Description:
The Idaho Falls Symphony provides quality, live orchestral experiences of the world's great music for the enjoyment, enrichment, and education of our audiences and musicians.
Learn More About Idaho Falls Symphony:
Company Description:
Our Mission Rich Broadcasting is a growing radio broadcast media company that has a passion for outstanding radio and digital content. We hire and retain the absolute best talent who can deliver a unique outlook and innovative ideas, while buildi...
Learn More About Rich Broadcasting:
Best Companies In Idaho
Rank
Company
Zippia Score
1
Affinity Amp
2
Hagadone Investment Company
3
Idaho State Journal
4
Kochava
5
Impact Radio Group
6
Alpine Motors Co
7
Idaho Press
8
Economic Modeling
9
Post Register
10
Coeur d'Alene Press
11
Idaho Falls Symphony
12
Rich Broadcasting