Foreign Language Professor Projected Growth In The United States
Are Foreign Language Professor Jobs In Demand?
Yes, foreign language professor jobs are in demand. The job market for analysts is projected to grow 11% from 2018 to 2028.
Foreign Language Professor Job and Salary Trends Over Time
Compare the number of jobs and average salary for foreign language professors over time.
Foreign Language Professor Jobs Over Time
Foreign Language Professor Job Growth Over Time
| Year | # Of Jobs | % Of Population |
| --- | --- | --- |
| 2012 | 184 | 0.00% |
| 2013 | 189 | 0.00% |
| 2014 | 190 | 0.00% |
| 2015 | 186 | 0.00% |
| 2016 | 177 | 0.00% |
Average Foreign Language Professor Salary Over Time
Foreign Language Professor Salary By Year
| Year | Avg. Salary | Hourly Rate | % Change |
| --- | --- | --- | --- |
| 2008 | $23,837 | $11.46 | - |
| 2009 | $24,957 | $12.00 | +4.7% |
| 2010 | $25,779 | $12.39 | +3.3% |
| 2011 | $26,722 | $12.85 | +3.7% |
| 2012 | $27,285 | $13.12 | +2.1% |
Number Of Foreign Language Professors By State
Mouse over a state to see the number of active foreign language professor jobs in each state. The darker areas on the map show where foreign language professors earn the highest salaries across all 50 states.
Average Salary:
Job Openings:
Most Common States For Foreign Language Professors
Rank

State

Population

# of Jobs

Employment/
1000ppl
1
Vermont
623,657
163
26%
2
New Hampshire
1,342,795
255
19%
3
West Virginia
1,815,857
306
17%
4
District of Columbia
693,972
109
16%
5
Virginia
8,470,020
901
11%
6
Massachusetts
6,859,819
708
10%
7
Colorado
5,607,154
514
9%
8
Oregon
4,142,776
384
9%
9
Nebraska
1,920,076
179
9%
10
Delaware
961,939
86
9%
11
South Dakota
869,666
81
9%
12
Iowa
3,145,711
265
8%
13
Kansas
2,913,123
236
8%
14
New Mexico
2,088,070
157
8%
15
Rhode Island
1,059,639
82
8%
16
Maryland
6,052,177
424
7%
17
South Carolina
5,024,369
349
7%
18
Kentucky
4,454,189
325
7%
19
Connecticut
3,588,184
255
7%
20
Montana
1,050,493
71
7%
Experts Weigh In On Foreign Language Professor Job Outlook
We spoke to professors and experts from several universities and companies to get their opinions on where the job market for recent graduates is heading, as well as how young graduates entering the industry can be adequately prepared. Here are their thoughts.
Our Panel of Experts
Logan Connors
Associate Professor and Associate Chair of Modern Languages & Literatures
University of Miami
Department of Modern Languages
Will there be an enduring impact of the coronavirus pandemic on Foreign Language Professors?
Logan Connors: It is difficult to know at this time the extent of the coronavirus pandemic on graduates, especially graduates who are seeking professional opportunities and graduate study abroad. Majors of Romance languages are attracted to programs and opportunities in some of the places that have been the most ravaged by the current pandemic such as Western Europe and Latin America. That said, our graduates are particularly well trained to engage in this pandemic (and assist in the economic, artistic, and social recovery from the pandemic) owing to their cultural awareness of those places which have been the hardest hit.
What certifications/licenses/courses can have the biggest impact for Foreign Language Professors?
Logan Connors: In our courses and programs, we encourage our students to prepare for all aspects of their career as well as for life beyond their purely professional goals. Our courses teach students how to engage critically with discourses and cultural materials in multiple languages-these are skills and abilities that are transferrable to a diversity of career options in law, business, education, medicine, finance, international non-profit organizations, and much, much more.
What will help Foreign Language Professors increase their earning potential?
Logan Connors: We enable our students to think outside of a singular, monolingual worldview. There are multiple ways that this skill could increase our students' earning potential. In addition, we strive to increase our students' cultural awareness and we cultivate their sense of intellectual curiosity. We push our students to fully appreciate a wide range of experiences, such as study abroad, which gives them flexibility and adaptability, even in high-pressure and culturally sensitive situations. In sum, we increase our students' abilities to engage with more (and more diverse) cultures and we give them the tools to succeed in and enjoy those experiences and relationships.
Will there be an enduring impact of the coronavirus pandemic on Foreign Language Professors?
Bastian Heinsohn Ph.D.: The impact will probably be felt for some time, but not in the long run. Graduates in German Studies, and in any second language for that matter, often seek work opportunities abroad. It may take a year or two to return to pre-covid figures of recent graduates working abroad.
What's a day at work look like for a Foreign Language Professor?
Bastian Heinsohn Ph.D.: Work as we know it has significantly shifted to alternative models. Office work, as well as work in the educational sector, will likely look different post covid, allowing for more flexibility in regards to in-person and remote work. This should be seen as a chance, not a limitation to work and office life.
What will help Foreign Language Professors increase their earning potential?
Bastian Heinsohn Ph.D.: Language skills set you apart from your peer graduates. My suggestion: Become fluent in a second language, perhaps learn a third on top of it, and immerse yourself in a foreign culture to become a global citizen.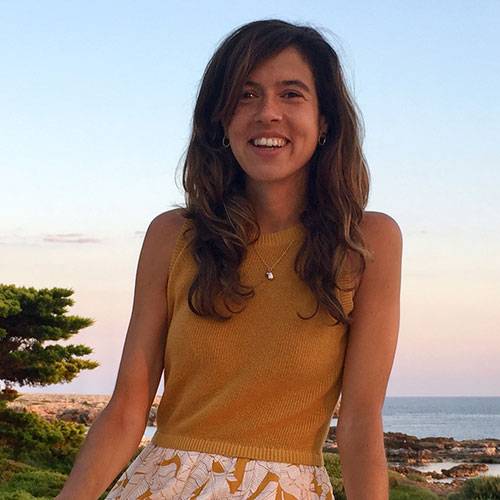 Marta Perez-Carbonell Ph.D.
Assistant Professor
Colgate University
Department of Romance Languages and Literatures
Will there be an enduring impact of the coronavirus pandemic on Foreign Language Professors?
Marta Perez-Carbonell Ph.D.: Sadly, I think there will be. It's too early to tell but the job market for Romance languages was hardly booming before the virus, so I think there may be some tough years ahead. I am thinking about a career in academia, but I'm sure there are sectors that will be less impacted by this crisis.
What certifications/licenses/courses can have the biggest impact for Foreign Language Professors?
Marta Perez-Carbonell Ph.D.: I guess it will be useful to be able to prove that one is adaptable and can change quickly from in-person format to online learning without much compromising the quality of the teaching. In terms of publications, I think that won't change. Again, it may be useful for candidates to show they have adapted to an online format of conferences and are still willing to travel when it's safe.
What soft skills should all Foreign Language Professors possess?
Marta Perez-Carbonell Ph.D.: Other than being competent in the use of Zoom or equivalent, I don't think their needed soft skills have changed much.
Will there be an enduring impact of the coronavirus pandemic on Foreign Language Professors?
Annie Jouan-Westlund Ph.D.: It's difficult to evaluate how the pandemic is affecting recent graduates with degrees in Romance languages, literature, and linguistics entering the workplace. Some recent graduates may have had less direct experience with the culture and languages because study abroad opportunities have been impacted by the pandemic. Some onsite internships have been replaced with virtual experiences but the learning loss still remains to be evaluated. Students who were planning on completing capstone projects abroad have also had to revise those projects to be done virtually. Overall, this means that many recent graduates do not have the immersion experiences that previous graduates have had.
Some recent graduates with degrees in Romance languages, literature and linguistics have trained to become language teachers. Schools are still hiring language teachers, but many of the classes are not being conducted face to face. We know some students who have preferred to put off graduation and student teaching because they wanted to do their student teaching in a more traditional face-to-face environment.
What certifications/licenses/courses can have the biggest impact for Foreign Language Professors?
Annie Jouan-Westlund Ph.D.: The pandemic contributed to the recognition that teaching face to face is more optimum than teaching remotely, particularly in foreign languages. Schools will continue to hire foreign language teachers who received a teacher license with a communicative pedagogical approach. For those graduates not planning to be teachers, some have entered graduate programs. The global pandemic created a greater need for translators in various international health organizations and publications. We have students entering graduate programs to earn translator/interpreters certifications. Others are seeking to use their skills in a variety of ways. Since programs in romance languages are not training students for a specific job, these graduates can leverage their knowledge of a foreign language, their intercultural skills as well as the communication skills that come from programs which are writing intensive and hone critical thinking skills. Students with these skills often apply for government jobs or work for non-profit organizations that deal with other cultures. With our global economy, this transferable skill set is very much needed in a variety of different domains. After the pandemic, economists predict a surge in international trade exchanges and tourism. French speaking countries in Africa, for instance, poised to become the fastest growing markets in the world economy, already provide a lot of job opportunities for our graduates.
What soft skills should all Foreign Language Professors possess?
Annie Jouan-Westlund Ph.D.: Learning a Romance language, literature and linguistics teaches you to communicate effedtively in more than one language. It enables you to develop an open mind toward what seems foreign and consequently encourages flexibility and adaptability to new contexts and situations. Since speaking is not an isolated activitiy, foreign language graduates naturally develop strong interpersonal and communication skills necessary to become a good team player. Since they understand and appreciate other cutlures, foreign language graduates are flexible and resourceful employees who are not afraid of taking initiatives.
What general advice would you give to a Foreign Language Professor?
Dr. Tanya Ivanova-Sullivan Ph.D.: We are witnessing a paradigm shift in the way we are thinking about our jobs and performing our professional duties regardless of the pandemic. A healthy balance between a more narrow professional specialization and an exposure to a broader variety of subjects will widen the opportunities for the new graduates. Proactive behavior, analytical thinking, curiosity, resilience, and the ability to navigate the rapidly changing professional and social landscape are some of the most important skills that have been and are still in high demand in our society. Take good care of cultivating them not only in your profession but also in anything you do in your life.

What Foreign Language Professor skills would you recommend for someone trying to advance their career?
Dr. Tanya Ivanova-Sullivan Ph.D.: First, I would encourage graduates to take a gap year if possible, so they can reflect on their professional goals in a less distracted way. If they have the opportunity, they should focus on enhancing their digital and social skills, which are important and relevant to any field or situation. Modern technologies are here to stay and more and more jobs will require both basic but also more advanced digital literacy. Graduates will be more competitive on the job market if they are creators and not just users of new technologies. A very useful skill nowadays is knowing a foreign language, even if it's not at a highly proficient level. Global industries, trade, politics, education and health care will have an increasing need of more specialists with language skills and strong cultural awareness. Acquiring and cultivating those skills would not come fast but spending some time in a foreign country would make this process more effortless and enjoyable.

What are the biggest trends we'll see in the Foreign Language Professor job market given the pandemic?
Dr. Tanya Ivanova-Sullivan Ph.D.: I think the biggest shift in both our mindset and our physical environment could be described with one word 'self': self-service, self-education, self-care, self-reliance, etc. Take self-service, for example. It is now everywhere: in grocery stores, restaurants, banks, airports, etc. Although It is not a new phenomenon and was originally implemented for greater efficiency, the pandemic has added to it the element of safety. The job market has to respond to that trend and we will be seeing more jobs related to digitalizing various spheres of our daily lives. For example, in the area of language, machine learning is already one of the 'hot' trends on the job market, with universities and private companies seeking to hire graduates with degrees in linguistics, foreign languages, computer science, or engineering. Work in this area can be done remotely, which has a lot of appeal in the current situation.
What experience really stands out on Foreign Language Professor resumes?
Lisette Balabarca Ph.D.: Activities or jobs in which they use communication skills in the target language, both orally and in writing. Also, experience with technology (education platforms, social media, digitized texts). And finally, but very important, experience living among other cultures and speaking languages other than English either in a local or in a global setting.
Will there be an enduring impact of the coronavirus pandemic on Foreign Language Professors?
Lisette Balabarca Ph.D.: There's no exact answer for this question right now; however, things are going to be different for a while. Luckily, technology has helped us to overcome the difficulties of teaching and learning and, although it's not the best setting, remote classes are a good option while social distance is required. For graduates in languages, probably the part that is the most affected is the cancellation of study abroad programs. The experience that traveling to a non-English-speaking country gives is not comparable to anything else. Hopefully, with the vaccine, and maintaining the masks and social distance, students could travel in a different way and still broaden their knowledge of other languages and cultures.
What type of skills will young Foreign Language Professors need?
Lisette Balabarca Ph.D.: I'd say two things mainly: A global experience and digital and technological skills. An interest in learning and getting in touch with other cultures, peoples, traditions and ways of life is a must. Due to the pandemics all this has been cut off; nevertheless, technology could bring us closer even if remotely. Young graduates will have to be ready to communicate virtually with people in other countries and to take advantage of this experience in more creative ways.
What skills stand out on Foreign Language Professor resumes?
Edward Smither Ph.D.: The ability to collaborate, communicate, and to be flexible with work delivery forms.
What are the biggest trends we'll see in the Foreign Language Professor job market given the pandemic?
Edward Smither Ph.D.: Like many industries, people are working from home and on screens. This has improved efficiency in some areas but also limited human face-to-face interaction. In our field of intercultural ministry, human contact is necessary. It is possible to teach, coach, and minister via video conference, but it should never be the norm.
Are there any particularly good places in the United States for Foreign Language Professors to find work opportunities?
Edward Smither Ph.D.: Our students tend to work for churches, Christian ministries, and also in private and public education teaching English. All of these entities are still hiring. For those involved in ministries and teaching English, larger urban areas with immigrant and refugee populations are good places to serve-places like Atlanta, Dallas, Charlotte, Louisville. Our graduates in Teaching English to Speakers of Other Languages (TESOL) are finding work in the Columbia, SC near our campus, Columbia International University.
Michael Gradoville Ph.D.
Assist Professor, Spanish
Arizona State University
School of International Letters and Cultures
What skills stand out on Foreign Language Professor resumes?
Michael Gradoville Ph.D.: I don't evaluate resumes for jobs, but this really depends on the job. Knowledge of acoustic phonetics is useful for those doing speech and hearing sciences. Lots of employers appreciate good knowledge of Excel and statistics. Knowledge of bilingualism is helpful for a variety of jobs. It all depends on the job or educational opportunity.
What are the biggest trends we'll see in the Foreign Language Professor job market given the pandemic?
Michael Gradoville Ph.D.: To be honest, I don't think any of the students in my undergraduate class this spring were graduating, so I don't know how much I can talk about pandemic-specific trends. I have written letters of recommendation recently with the following aims: jobs teaching high school Spanish, MA programs in speech and hearing sciences, an MA in Hispanic linguistics, and an MA in Luso-Brazilian literature and culture.
Are there any particularly good places in the United States for Foreign Language Professors to find work opportunities?
Michael Gradoville Ph.D.: It depends on the job type. Jobs involving human speech processing tend to be in tech centers, like Silicon Valley. The state of Arizona always has a demand for qualified teachers. Bilingual speech language pathology in Spanish is in demand where there are Spanish speakers, which is an ever larger area of the country.
Michael Armstrong Roche
Associate Professor of Spanish, Spanish Section Head, Associate Professor, Medieval Studies, Associate Professor, Latin American Studies
Wesleyan University
Department of Romance Languages & Literatures
What general advice would you give to a Foreign Language Professor?
Michael Armstrong Roche: No matter what your professional interests, I strongly encourage all recent graduates to work or study abroad in a non-English speaking country for at least a year after college. It will open all kinds of professional and intellectual doors for you down the road. The more challenging version of this would be to apply for fellowships such as the Fulbright (run by the federal government): recent graduates in Spanish and the sciences have won Fulbrights, for instance, to carry out research in genetics at the national cancer research center in Madrid.

A more accessible version of this plan, which thousands of American and Canadian majors or double-majors in Spanish have done over the past decade and a half, is to serve for a year as a teaching assistant in English in Spain. The Spanish Ministry of Education runs a program called the North American Language and Culture Assistants Program (NALCAP: educacionyfp). It places dozens of English-speaking American and Canadian students in Spanish schools every year as teaching assistants to teachers of English. (This program has continued through the pandemic.)

Graduates have their expenses covered, learn about teaching, and get to spend a rewarding year abroad honing their knowledge of the language and culture. Many have found this so rewarding they have renewed their teaching assistantships for two and even three or four years! Needless to say, these students find their competitive advantage immeasurably enhanced when they return home to take up professional or graduate studies or seek work.
What Foreign Language Professor skills would you recommend for someone trying to advance their career?
Michael Armstrong Roche: Many recent graduates have discovered that they can just as well adapt to confinement and pandemic-related protocols abroad as they can stuck at home. A year abroad in a non-English speaking country can pay off disproportionately not only in fluency but also in your confidence and ability to adapt creatively to many kinds of challenges in the future. Even students who study abroad for only a semester before they graduate come back noticeably "seasoned," immeasurably more mature and independent as a result of the dozens of small and large adjustments to other ways of doing things they have had to negotiate every day while abroad. You will be more confident in your ability to handle adversity and even thrive with it if you study or work abroad for a year after graduating. (I make suggestions for recent graduates in Spanish after the next question.) Internships that involve use of other languages here in the U.S., particularly if you have not yet graduated and cannot opt for fellowships or teaching assistantships abroad, accomplish some of the same ends on a more modest scale.
What are the biggest trends we'll see in the Foreign Language Professor job market given the pandemic?
Michael Armstrong Roche: I won't dwell on the obvious, such as a command of video-conferencing and remote-collaboration tools. Everyone knows that. So, while necessary, they won't help job seekers stand out. The most interesting long-term trend in modern languages (including Spanish) is that, even as many colleges and universities have been short-sightedly shutting down modern language departments across the country in response first to the 2008 financial crisis and now the pandemic, over the past 15 years many corporate employers, medical and law schools, and graduate departments of all stripes have been snapping up our majors and double majors in languages. The reason is that they recognize, based on documented results over the last 50 years, that deep study of another culture through its language (including literature) usually means graduates will be able to put themselves in others' (colleagues' or clients') shoes more easily and communicate more effectively even in English.

In other words, the benefits go far beyond simply being able to make oneself understood in another language. That is why my advice is to favor the more intellectually challenging "humanities" courses in other languages rather than courses in Spanish or other languages for the professions. Once you have that deeper grounding you can learn the medical, legal, engineering, or business vocabulary on your own in a few weeks by consulting technical lexicons. Twenty years ago only 2 percent of our modern language majors were double-majors in the sciences; now it is over 30 percent and climbing rapidly. This has followed a similar, earlier trend toward double-majors that combined modern languages with the social sciences (economics, political science, sociology, etc.). Many of our recent graduates are being told they can learn the "hard" (technical) skills they need for success in a single course, on-the-job, or through a subset of courses such as pre-med or pre-law curricula.

On the other hand, the major or double major in languages shows employers, professional schools, and graduate schools that graduates are likely to have the critical-thinking, communication, and networking (so-called "soft") skills, along with the creativity, adaptability, curiosity, initiative, and intellectual flexibility, they will need to learn continually over a long, rapidly evolving work-life. Majors or double majors in modern languages stand out for all of these reasons in an increasingly diverse and competitive work environment in which automation will make the more rote technical skills increasingly redundant. This long-term trend has only been intensified by successive (financial, health-related) crises over the past 15 years. The intellectual nimbleness trained by modern languages is likely to become even more valued as we face the on-going challenges of globalization and climate change.
What type of skills will young Foreign Language Professors need?
Dr. Vanessa Lazo: Now more than ever, students will need adaptability, critical thinking skills, flexibility, and problem-solving skills. These skills are put into play as students learn a foreign language, regardless of the level in which they seek proficiency in any of our language courses. Beyond our department, these skills are also examined throughout the LIberal Arts curriculum. Skills that can be unique to studying a foreign language would encompass forming a worldview while comparing, contrasting, and, more importantly, connecting with cultures from around our globe.
How do you envision technology impacting Foreign Language Professors in the next 5 years?
Dr. Vanessa Lazo: Technology has always been a tool upon which we have relied. The "old-fashioned" chalkboard and chalk are early forms of technology. These became wipe-boards and markers, and now merely a whiteboard with graphics in Zoom, Collaborate, or Google Meet. This goes back to my commentary on adaptability and flexibility. We need to stay abreast of the newer tools to improve upon our skills, while at the same time, we are ensuring that our students are also comfortably navigating virtual learning with dexterity. This will only add to our students' skillset and make them more marketable. There are so many more advantages to virtual learning via video conferencing tools. All of our students now have a front row seat and can easily be taught one-on-one. The chat in video conferences allows any student to ask a question easily or make a comment.

In contrast, they may not have done so readily in the traditional brick and mortar classroom. Breakout rooms with manual assignment and randomization save time and afford more practice. We can record and post our sessions for all students to have access to their work or review the lesson they attended. Our students may be more familiar with some of the apps and platforms, and so, we can also enter a dual role of teacher and student with a synergistic effect of collaboration. The benefits outweigh the drawbacks. Technology will continue to evolve, and as lifelong learners, we will too.
Are there any particularly good places in the United States for Foreign Language Professors to find work opportunities?
Dr. Vanessa Lazo: The beauty of studying any one of our foreign languages is that each language can be a field of study of its own if the depth of understanding is sought from a historical, linguistic, or literature perspective. The study of foreign languages also merges with any other field of study to build bridges of understanding between several areas. Furthermore, students of foreign languages can better communicate with any given audience, be these clients, patients, students, or any other citizen of the community, and beyond, for whom they provide service.
What type of skills will young Foreign Language Professors need?
Dr. Jonathan Clark: While it may depend on which workforce we are referring to here, I would like to think that graduates entering the workforce will generally need what an excellent liberal arts education will provide: communication skills and the ability to express their thoughts coherently; the knowledge to write cohesive and connected sentences; critical thinking skills (i.e., ability to make a meaningful decision and discern right from wrong); understanding of and empathy with diversity and cultural difference, not only to work effectively with an increasingly diverse workforce but also to question one's privilege and establish meaningful relationships to advance a common cause within the workplace (this could well begin and be developed through second or third language proficiency); facility with computer programs to be able to access information and share it; creative thinking because in this age you will probably be working in a variety of jobs.

Workplaces are looking for people who can write coherently and effectively. They like people who are responsible, flexible, and good at managing their time.
How do you envision technology impacting Foreign Language Professors in the next 5 years?
Dr. Jonathan Clark: If we are referring to the usefulness of German within technological fields, Germany is one of the leaders in computer and environmental technology and software development, automotive technology, engineering, and science. If, however, we are referring specifically to the teaching of language, then there are numerous ways that impact this field:
Use of programs such as Kahoot and Flip Grid for classroom presentations and learning;
PowerPoint or GoogleDocs as tools for student presentations;
Use of Zoom or other formats for on-line teaching, esp. during the COVID crisis.
Of course, this is also changing our considerations on the best way to teach and our options of presenting material;
The greater reliance on Moodle and other classroom organizers;
Use of distance technology for gatherings, such as German Club meetings, participation in virtual events in the community (my class just developed high-quality videos for an international event), and film evenings.

Technology will increase contact with German-speaking cultures, and thus, people familiar with the cultures are needed. Though I think translation programs can be useful, they still make a lot of mistakes that only people who studied languages can pick up on. Plus, linguists are needed to create those programs.
Are there any particularly good places in the United States for Foreign Language Professors to find work opportunities?
Dr. Jonathan Clark: The study of German language and cultures, and languages in general, could apply to just about any field, whether to access information written in German (which is extensive) or to tell prospective employers that you understand cultural difference, make informed comparisons, are open to new ideas, and are up to the task of learning the tools of the trade and other languages, which may benefit the company in question. If you can learn German, you can learn just about any different language and any business. (We just heard a presentation by a representative of Goldman-Sachs, who essentially said that the company can teach you just about anything related to its operations, but that languages are something that is highly prized because it cannot be conducted there, but is needed for many of the reasons mentioned above.)
If the question, however, refers to where German specifically can be used in the workforce, then I would suggest the following:
Financial institutions;
International businesses;
Tech businesses doing business abroad;
Foreign service;
Many academic fields (e.g., philosophy, religion, history, environmental sciences, art history, classics) which still require research and presentations in German (though many conferences are in English as well);
Teaching.
There still are many secondary school jobs in the field and even teaching in German-speaking countries
Museum studies and art-related fields.
Of course, I hope that German study makes you a more well-rounded and insightful employee who understands working well with others in a diverse setting.

If going into business or politics, students will have luck with bigger cities (e.g., Minneapolis, Seattle) where international companies and organizations are located. Of course, with remote work, those options will expand. German teachers are found everywhere, from rural areas to big cities.
Foreign Language Professor Jobs
Foreign Language Professor Trends
Updated April 13, 2021