Swipe left for slideshow. Article continues below.
Advertisement. Article Continues Below.
Everyone hates the lazy person in the office. The guy or gal who manages to offload all of their work to you, but somehow still takes the credit for it.
And if you live in one of these Idaho towns, you might look in the mirror and see that lazy person staring right back at you.
We're not trying to be mean; it's just that the lazy ethos can penetrate from the location into the workplace and no one wants to work with lazy people.
So we got to work late on a Friday night to figure out the places around Idaho that spend the day on Reddit and get by with the bare minimum. Using data from the latest American Community Survey, we identified criteria associated with laziness for each city.
After crunching all the numbers, here are the ten "Laziest Places in Idaho" based on data:
Coeur D'Alene
Read on to see where the couch potatoes call home or skip to the end to find where your town ranked.
Oh, and by the way, Star is the hardest-working place in ID.
Advertisement. Article Continues Below.
How We Determined The Laziest Places In The Gem State
Like all problems here at Zippia, we start with the data to answer the hard questions. Some might even consider us the hardest working data-crunchers this side of the Mississippi.
In this particular case, we went to the latest version of the American Community Survey looking for answers. As luck would have it, the Census Bureau just released the 2010-2014 5-Yr Estimate which would make this analysis the first of it's kind with the new data.
After scrolling through what seemed like hundreds of criteria, we settled on this set for the laziest places in Idaho:
Lowest average hours worked
Shortest commute time
Fewest workers per household (Labor force divided by the number households)
Highest unemployment rate
Fewest adults with a college degree
Our thinking went something along the lines of if you can't bother to go college, don't spend any time at work, and have only one person per household bringing home the bacon, your town is probably pretty lazy.
After we got the data for the 32 places in Idaho over 5,000 people, we ranked each place from 1 to 32 for each of the criteria with 1 being the "laziest".
Next, we averaged the rankings for each to create a lazy index.
Finally, we crowned the place with the lowest lazy index the "Laziest Place In Idaho". And, at the end of the day, Payette slacked off its way to the top.
Read the detailed chart below to learn a bit more about why each place ranked where it did.
Advertisement. Article Continues Below.
1. Payette
Source: Wikipedia
Population: 7,447College Educated: 8.9%
Unemployment Rate: 16.7%
2. Weiser
Source: CGoogle Maps
Population: 5,407College Educated: 10.5%
Unemployment Rate: 12.9%
3. Rupert
Source: Wikipedia
Population: 5,583College Educated: 7.8%
Unemployment Rate: 8.1%
4. Emmett
Source: Flickr user Ken Lund
Population: 6,546College Educated: 15.6%
Unemployment Rate: 22.9%
5. Sandpoint
Source: Boise Blog
Population: 7,497College Educated: 21.2%
Unemployment Rate: 6.7%
6. Burley
Source: The Reloading Center Burley ID. Google Maps
Population: 10,352College Educated: 14.1%
Unemployment Rate: 7.2%
7. Jerome
Source: Family Dollar Jerome ID. Google Maps
Population: 11,046College Educated: 9.5%
Unemployment Rate: 10.3%
8. Garden City
Source: Wikipedia
Population: 11,223College Educated: 35.6%
Unemployment Rate: 12.5%
9. Coeur D'Alene
Source: Wikipedia
Population: 45,848College Educated: 23.7%
Unemployment Rate: 9.9%
10. Lewiston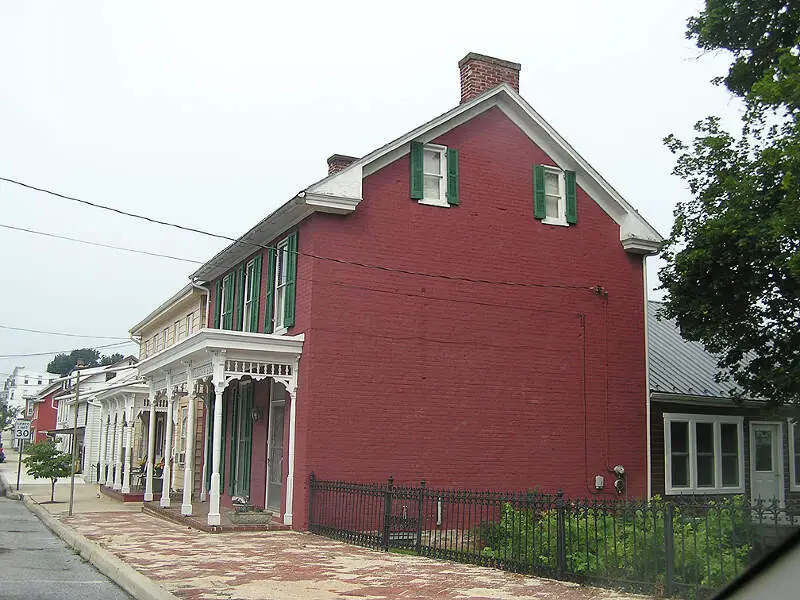 Source: Boomtown American Saloon Lewiston ID. From their Facebook
page
.
Population: 32,178College Educated: 22.2%
Unemployment Rate: 5.7%
Slacking Your Way Off To The Bottom
Like we said earlier, trying to determine the laziest places in Idaho is usually a subjective matter. But if you're analyzing cities where people don't, where a good education is rare, and no one's willing to put in the long hours, then this is an accurate list of laziness.
Detailed List Of The Laziest Places In Idaho