Find a Job You Really Want In
All the great things that make Sparks home to thousands of families and individuals also make it a haven for job searchers of all stripes, some looking for the very first time, others seeking a change of pace, and others still who are desperately calling every business they can find and hoping that their next big interview will be "the one."
But there are new companies springing up across the Sparks area all the time, and this begs an important question for job searchers: which companies are the best for employees to work for?
We were curious, so, we hand-curated a list of the best companies to work for headquartered in and around Sparks, NV using data on salaries, company financial health, and employee diversity.
Legends Landscaping
Pac Machine Co
Interstate Safety amp; Supply
Riddio Construction
David A Nelson Electrical Contractor
Nevada Small Engines
Iron Skillet Restaurant
Western Nevada Supply
Sierra Packaging amp; Converting
Damp;D Roofing Sheet Metal
Does your company make the top nineteen? Read on to the full list to find out.
1. Legends Landscaping
Location: 324 S 18Th ST, Sparks, NV 89431, USA
Company Description: Legends Landscaping in Reno has been creating spectacular outdoor spaces for residential and commercial customers throughout the Reno-Sparks for a quarter century. Their start-to-finish capabilities mean they can design the space of your dreams and install it. From rock walls and outdoor kitchens to unique plants and irrigation systems, they can do it all.
Their staff are well educated in their respective fields. They are given the chance to share their ideas to promote a good working environment. They also earn a decent living by doing what they love.
2. Pac Machine Co
Location: 1649 Greg ST, Sparks, NV 89431, USA
Company Description: Since 1977, Pac Machine has been a small family owned business helping to provide high-quality pumps and portable generators to their California and Nevada customers. They specialize in equipment recommendations and problem solving for Construction, Mining, Industrial and Marine Applications. Whether you have a Dewatering, Process Wastewater or Fluid Transfer issue to tackle, they can help.
If you are looking to start or fulfill your career this is the place to be. They provide excellent compensation packages and benefits. They encourage your personal and professional growth through continued learning. You will also be recognized for your impact.
3. Interstate Safety amp; Supply
Location: 901 Meredith Way, Sparks, NV 89431, USA
4. Riddio Construction
Location: 955 S Mccarran Blvd #103, Sparks, NV 89431, USA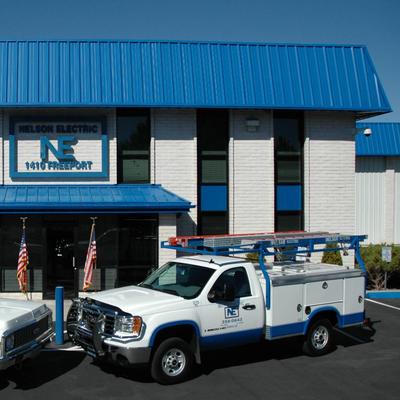 Location: 1410 Freeport Blvd, Sparks, NV 89431, USA
Company Description: Nelson Electric is one of the largest electrical contracting firms in Northern Nevada with an extensive history in all aspects of the construction industry. Nelson Electric has a broad and in-depth background in all types of construction from commercial, industrial, and large custom developments and specializes in design assist, design build, plan/specification, and low voltage systems projects.
Their leadership believes a dynamic team environment leads to innovative advancements in technologies, business practices, and most importantly to the personal development of their employees.
6. Nevada Small Engines
Location: 1750 Glendale Ave, Sparks, NV 89431, USA
Company Description: When you need heavy duty lawn equipment or snow removal, you don't want to settle for inferior tools outmatched for the job at hand. When you deal with Nevada Small Engines you can rest assured that our three decades of experience will have you set up with what you need to get the job done right the first time.
At Nevada Small Engines, you will working in a safe and positive environment where you can make use of your expertise. You will also be compensated appropriately for you hard work and service to the company that the customers.
7. Iron Skillet Restaurant
Location: 1950 E Greg ST, Sparks, NV 89431, USA
Company Description: If you want to relax and have a good time, then Alamo Casino is the place for you. They send out as many winners as the next guy, but you can bet they send out more smiles and satisfied customers than anyone. Come on down and live the Alamo Experience. You'll be glad you did. You might even win a little cash while you're at it.
Their employees enjoy a competitive compensation plan and generous benefits. Be part of a culture that provides entertainment to people. You will work in a fun and safe environment.
Location: 950 S Rock Blvd, Sparks, NV 89431, USA
Company Description: Western Nevada Supply was proud to celebrate their 50th anniversary on February 3, 2014. With two men, one vision and hard work, a business was born. More than fifty years later, that business has grown into a company that serves contractors amp; builders in two states. Adhering to the philosophy "the needs of the customers, employees, and the community are upper-most at all times".
In addition to a competitive salary, eligible employees can participate in benefits programs. Employees will be rewarded for their hard work and dedicated. Be part of their dynamic team.
Location: 1400 Kleppe LN, Sparks, NV 89431, USA
Company Description: Sierra Packaging and Converting is well recognized in the industry as a leader in flexible packaging innovation and customer satisfaction. Their capabilities to print, laminate, wax, and convert everything in-house allow us to effectively produce quality flexible packaging. Their patented technology and highly trained staff will have you covered, from dog food to steamed green beans, their packaging will stand out among the crowd.
Come join a dynamic, innovative team in a hi-tech environment filled with continuous growth opportunities. You will be given a chance to earn a living while working in a place where you can share your ideas.
10. Damp;D Roofing Sheet Metal
Location: 1000 E Glendale Ave, Sparks, NV 89431, USA
Company Description: Damp;D Roofing has a long local history, over 40 years, serving hundreds of satisfied residential and commercial clients. They are financially stable, licensed, insured and bonded. They offer offer 24-hour emergency service. Their employees are professional and customer driven. They are always competitively priced.
From one of the most generous 401 matching plans in the industry to employee stock ownership programs and comprehensive health amp; wellness plans, their benefits package is flexible to meet the needs of you and your family.
11. Plumbing Technologies Inc
Location: 5245 Vista Blvd., Suite F-3-339, Sparks, NV
12. Tholl Fence
Location: 800 Glendale Ave, Sparks, NV 89431, USA
Company Description: Tholl Fence Company provides the installation of all types of fencing, chain-link, ornamental iron, vinyl and wood. In addition they build guard rail, highway signs, playground equipment and electric operated gate systems. They provide expert advice on all fencing installations as well as material sales with over 100 years of experience since 1912.
Their employee retention combined with their commitment to industry education has equipped them to provide the best service to their customers. Their employees are given opportunities to continue developing themselves to improve their knowledge about the different innovations in the industry.
Location: 1100 Nugget Ave, Sparks, NV 89431, USA
Company Description: The Nugget Casino Resort is owned and operated by Marnell Gaming LLC. Marnell Gaming also owns and operates the Colorado Belle and Edgewater casino resorts in Laughlin, Nevada. The Nugget opened in 1955 as a coffee shop with a few slot machines and expanded over the next several decades to become the two-tower casino resort of today.
The Nugget Casino Resort has over 2,000 employees. Today, the resort offers a competitive benefits package in a fun and friendly setting. They have a sterling reputation for the friendliest employees in the industry, who strive to provide the very best in guest services.
14. VALLEY CONCRETE
Location: 601 S 15Th ST, Sparks, NV 89431, USA
Company Description: Valley Concrete Co. Inc. serves subdivisions and residential, commercial and industrial clients, They offer expert installation, repair and maintenance services for all of your routine and urgent needs. They have been in business since 1964, They are fully licensed, bonded and insured to provide services to those in and around Sparks, Nevada.
To help their employees dream, innovate and inspire they work to provide the tools they need to be successful in and out of the office. They provide appropriate wages so that you can provide the needs of your family.
15. Red Hawk Golf and Resort
Location: 6600 N Wingfield Pkwy, Sparks, NV 89436, USA
Company Description: Red Hawk Golf and Resort's setting is nothing short of breathtaking. It's nestled in the long sweeping Spanish Springs Valley and cradled on all sides by spectacular mountain ranges and dramatic desert views. Red Hawk is also home to the best golf shop, golf clinics, wedding packages and golf resort in Reno NV.
For their employees, Red Hawk Golf and Resort strives to cultivate professional growth at every career stage. They believe in positive attitudes, sense of urgency, team-play, purpose, fire-in-the-belly passion, work-life balance, collaboration, humility, persistence, discipline and trust as accelerators of productivity and fulfillment.
16. Jensen Precast
Location: 825 Steneri Way, Sparks, NV 89431, USA
Company Description: Jensen Precast is among the largest independently owned precast concrete companies in the United States. They design and manufacture standard and custom precast concrete products to meet large-scale infrastructure demands for highway construction, retaining walls, electric and gas utility, telecommunications, water, on-site wastewater, and sewage applications.
They provide employees with Medical and Dental Insurance, Company paid life insurance, Voluntary life insurance, Paid time off, Paid holidays, 401 plan with company matching, Tuition reimbursement, Merit review pay increases, and Promotion from within.
17. Sierra Nevada
Location: 444 Salomon Cir, Sparks, NV 89434, USA
Company Description: From engineers and scientists to cyber experts and software developers, SNC brings together nearly 4,000 team members committed to solving the world's toughest and most complex technology challenges. At SNC, they take an entrepreneurial approach to meeting their customers' needs by developing innovative technological solutions in a rapid and agile production environment.
They provide 401 Retirement Savings Plan with generous corporate matching; 150% match of up to 8% of employee contribution. They also have competitive and comprehensive medical, prescription, dental amp; vision plans.
18. Golden Phoenix Minerals, Inc.
Location: 1675 E. Prater Way, , Sparks, NV
19. qdconstruction
Location: 1050 S 21St ST, Sparks, NV 89431, USA
Company Description: Qamp;D is the professional and efficient option to work alongside you and your team whether you are a construction-savvy pro or a beginner with a vision. They will help you realize the best possible value and outcome for your project. Their success is reflected in the well-constructed, efficient, positive projects for their clients.
Qamp;D's experience is made up of the accumulated knowledge of their people. They have the opportunity to share what they have learned working together with others and from personal education and growth.
Never miss an opportunity that's right for you.