All the great things that make Oklahoma City home to thousands of families and individuals also make it a haven for job searchers of all stripes, some looking for the very first time, others seeking a change of pace, and others still who are desperately calling every business they can find and hoping that their next big interview will be "the one."
But there are new companies springing up across the Oklahoma City area all the time, and this begs an important question for job searchers: which companies are the best for employees to work for?
We were curious, so, we hand curated a list of the best companies to work for headquartered in and around Oklahoma City, OK using data on salaries, company financial health, and employee diversity.
Devon Energy
Continental Resources
OGE Energy
American Energy Partners
SandRidge Energy
DKG Enterprises, Inc.
INTEGRIS Health
U.S. Security
Healthcare Partners Investments, LLC
Origins
Does your company make the top twenty? Read on to the full list to find out.
1. Devon Energy
Location: Devon Tower, 333 W Sheridan Ave, Oklahoma City, OK 73102, USA
Company Description: Devon Energy Corporation is a leading independent oil and natural gas exploration and production company. Devon's operations are focused onshore in the United States and Canada. The company's portfolio of oil and gas properties provides stable, environmentally responsible production and a platform for future growth.
Extraordinary work begins with extra ordinary people. They are looking for petro-technical professionals, including engineers and geologists, who live and breathe science and discovery. Here you will be well compensated and you will also improve your knowledge and skills.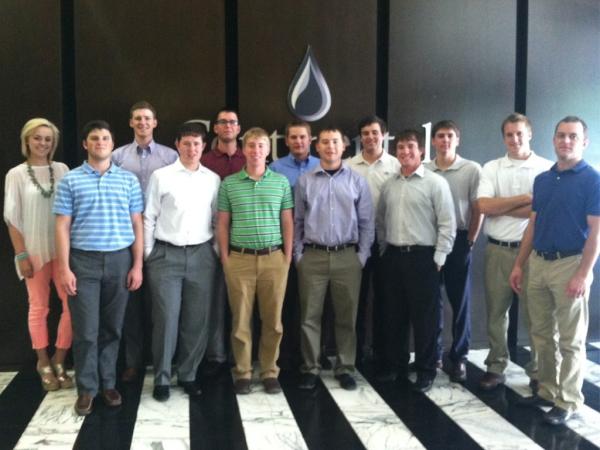 Location: Continental Oil Center, 20 N Broadway Ave, Oklahoma City, OK 73102, USA
Company Description: Continental Resources is a Top 10 petroleum liquids producer in the United States.
3. OGE Energy
Location: 321 N Harvey Ave, Oklahoma City, OK 73102, USA
Company Description: OGE Energy Corp. is headquartered in Oklahoma City, Oklahoma and is publicly traded on the New York Stock Exchange under the symbol OGE. It is the parent company of Oklahoma Gas and Electric, a regulated utility, and holds a 25.6 percent limited partner interest and a 50 percent general partner interest in Enable Midstream Partners, LP, also headquartered in Oklahoma City.
They have many paid internship opportunities that help take you to the next level in your career. At OG&E, they offer more than a paycheck. They also offer generous benefits package open to all employees.
4. American Energy Partners
Location: 301 NW 63Rd ST #600, Oklahoma City, OK 73116, USA
Company Description: American Energy Partners, LP, also known as AELP, was an American natural gas and oil company founded in April 2013 by Aubrey K. McClendon. The company managed affiliates responsible for natural shale gas and oil production and exploration in the United States, as well as management of assets, minerals, royalties and nonoperated properties. It was headquartered in Oklahoma City, Oklahoma, and employed over 450 people as of August 2015. AELP announced on May 18th, 2016, two months after McClendon's death, it would end operations and close by the end of summer 2016.
5. SandRidge Energy
Location: Sandridge Center, 123 Robert S Kerr Ave, Oklahoma City, OK 73102, USA
Company Description: SandRidge Energy, Inc. is an oil and natural gas exploration and production company headquartered in Oklahoma City, Oklahoma with its principal focus on developing high-return, growth-oriented projects in the U.S. Mid-Continent and Niobrara Shale. SandRidge drilling activity is currently concentrated in Oklahoma and the North Park Basin in Jackson County, Colorado.
They have created a culture defined by hard work and an inner determination to never be satisfied with the status quo. No matter the assignment, their employees never stop looking for better, safer and more cost effective ways to accomplish company goals. They are team-oriented and company-focused
6. DKG Enterprises, Inc.
Location: 4201 South Interstate 44 Service RD, Oklahoma City, OK 73119, USA
Company Description: North Pole City has become a year round online store and a retail store is open September through January. The Green family and their employees are busier than Santa's elves setting up a winter wonderland and holiday theme throughout the store. The setting rivals vast displays in the biggest of cities and stores, with dozens of festive trees adorned with the season's latest ornaments.
The safety of their employees, contractors, the public and the environment is their number one priority and reflects their commitment to conducting their business responsibly and living their core values. Their employees work in a safe environment.
7. INTEGRIS Health
Location: 3300 Northwest Expy, Oklahoma City, OK 73112, USA
Company Description: INTEGRIS is the state's largest Oklahoma-owned health system with hospitals, rehabilitation centers, physician clinics, mental health facilities, independent living centers and home health agencies throughout much of the state. Every one of them at INTEGRIS, from doctors to nurses, techs to therapists chose health care for one simple but powerful reason and that is to help other people.
Employees have access to quality, compassionate health care. They have some of the state's best career and development opportunities. With INTEGRIS, you will have a genuine chance to make a difference in your life and your career.
Location: 4544 NW 10Th Street, Oklahoma City, Ok 73127, United States
Company Description: U.S. Security Inc, Home Security Systems, Oklahoma City, Local Monitoring, Wireless Security Systems, No long-term contracts Just $19.99 Security System Monitoring
9. Healthcare Partners Investments, LLC
Location: 14024 Quail Pointe DR, Oklahoma City, OK 73134, USA
Company Description: HPI was founded in 2004 to help improve the convenience and quality of health care to the Oklahoma City metropolitan area through strategic physician partnerships. Their unique partnership with member physicians affords them the opportunity to develop, own and operate their own medical practices and hospitals while providing outstanding medical care to the community.
At HPI they recognize that their physicians are key to our success. So they strive to provide the best management and support services possible for their physicians. If you are interested in joining their team, or one of their physician partners you are encouraged to apply.
10. Origins
Location: 14001 Quail Springs Parkway, Oklahoma City, OK
11. Mathis Brothers
Location: 3434 W Reno Ave, Oklahoma City, OK 73107, USA
Company Description: Shop Mathis Brothers Furniture stores in Oklahoma City & Tulsa, OK; Ontario & Indio, CA; or online at www.mathisbrothers.com. Mathis Brothers
Company Mission: It is our commitment to provide our customers a one-stop destination for the largest selection of quality home furnishings at the lowest prices every day, and strive to enrich, fulfill and reward our employees and the communities we live in.
12. DBH LTD Inc
Location: 123 Robert S. Kerr Avenue, Oklahoma City, OK
Location: 3500 S Macarthur Blvd, Oklahoma City, OK 73179, USA
Company Description: At Master Tile, they distribute the finest selection of swimming pool tile, coping and decking, and pool finishes on the market. They cater to both the residential and commercial markets with the prompt and personal service that their customers deserve. With seven state-of-the-art showrooms across the United States and a carefully selected and maintained inventory
Their employees' innovation, creativity and leadership drive their business. Performance focused and people driven, Master Tile is a great place to work, with high-quality assets and a collaborative, dynamic work environment.
14. LIT
Location: Oklahoma City, OK
15. Enable Midstream
Location: Leadership Square, Oklahoma City, OK 73102, USA
Company Description: Enable Midstream is a publicly traded MLP that owns, operates and develops strategically located natural gas and crude oil infrastructure assets serving major producing basins and markets.
Location: 7501 W Memorial RD, Oklahoma City, OK 73142, USA
Company Description: With Talent Acquisition, it's easy to find, hire and onboard the best candidates quickly. And because the entire process is automated, you, your team and your candidates will never have to wonder whose turn it is to keep the ball rolling. You'll save time and money, too. Manage the entire employee experience from one application
Because they strive to offer the best, they are looking for the brightest and most passionate individuals to join them as they define the future of their industry. Talent Acquisition values continuous improvement and ongoing learning and development for their employees.
Location: 6100 N Western Ave, Oklahoma City, OK 73118, USA
Company Description: Chesapeake's portfolio includes high-quality unconventional oil and natural gas assets in top U.S. onshore plays. Their value-driven strategy focuses on continuously generating capital efficiencies and operating with low, industry-leading production and G&A costs, along with a disciplined approach to liquidity.
Their premiere compensation and benefits package is one of the best in the industry, offering employees Industry-leading 100% 401 employer match up to 15% of an employee's eligible deferral, Tuition reimbursement, Abundant paid time off that can be used for vacation, sick and personal leave and more.
Location: Oklahoma City, OK
Company Description: St. Anthony Hospital provides health care services in Oklahoma. The company offers alcohol and drug abuse, behavioral medicine, breast center, cancer care, diabetes, diagnostic center, emergency care, epilepsy monitoring unit, heart and vascular care, home care, interventional radiology, childbirth center, neuroscience and spine center, occupational medicine, and bone and joint care services. It also provides pain management, palliative care, pharmacy, physical therapy, rehabilitation center, sleep center, surgery, outpatient, surgical weight loss, telehealth, urgent care, wellness, and wound care center services. The company was founded in 1898 and is based in Oklahoma City, Oklahoma. St. Anthony Hospital operates as a subsidiary of SSM Health Care Of Oklahoma, Inc.
Company Mission: Our mission at St. Anthony is to provide you with the highest quality health care possible.
Location: 10600 S Pennsylvania Ave #151, Oklahoma City, OK 73170, USA
Company Description: Prestige Roofing & Construction is a Oklahoma owned roofing company serving all areas of Oklahoma including OKC, Edmond, Norman, Moore, MWC, Yukon, Tulsa and many more. Their roofing contractors specialize in handling insurance claim roof replacements for their commercial and residential customers, often created by catastrophic hailstorms.
Their comprehensive benefits plans and focus on well-being impact not only their employees, but also their families. This approach enables their people to feel secure and to achieve balance in their personal and professional lives.
Location: 304 N Meridian Ave, Oklahoma City, OK 73107, USA
Company Description: General Mailing Equipment, Inc. Is a company that has built its reputation on new ideas and new solutions that grow with the increasing demands of the ever-changing marketplace. Their goal is to help their customers obtain the most effective solutions. They strive to provide superior quality products to multiple businesses and organizations.
They encourage employees to enhance their skills, prepare for advancements and adopt best practices through continuing education, training and strategic career paths. All employees have the opportunity for regular check-ins with their supervisor regarding career path and development opportunities.