Find a Job You Really Want In
If you'd like to get married and wonder why you're attending a lot of weddings — just not your own — we here at Zippia may have the answer to why. Our research shows that the reason may be that you should have just settled — on a different major, not
partner.

Our analysis of the latest Census data shows that your major in college serves as a predictor of when you'll be married, even controlling for income and gender — which incidentally and independently are correlated to the age at which you marry.

So if getting hitched early is a priority for you, there are a few things you can do besides finding a suitable partner: major in education, make more money, and… um, be a woman.

Read on for the findings, but for those of you who just want to know when you're getting married, we've got a complete alphabetical list at the bottom for you.

Are you looking for job opportunities?

Tell us your goals and we'll match you with the right jobs to get there.
The 30-year Marriage Benchmark
I don't know if you've ever watched a romantic comedy or sitcom, but evidently you have to get married by the time you're thirty — and according to U.S. Census data, the median age in the U.S. for a man to marry is around 29 and approximately 27 for a woman.
Who knows when this became a thing or what happens if you aren't hitched by then — you turn into a pumpkin or something, I think.
But for whatever arbitrary reason this societal construct developed, we used census data from the 2011-2015 ACS PUMS to populate our sample group, with our criteria being:
Had a college degree
Were thirty years old
Had at least ten occurrences of the major for men and women
We analyzed the results to determine which majors are the most likely to be married at thirty years old and, in doing so, uncovered some interesting trends.
Build A Professional Resume In Minutes
Our AI resume builder helps you write a compelling and relevant resume for the jobs you want.
1. Your marital status is definitely correlated to your major
Certain majors have overwhelming tendencies to marry, religious vocations and education in particular.
Studies show that you're more likely to marry someone with your major than any other major — but beyond that, your likelihood of being married is also directly correlated to what you studied in undergrad.
We ran an OLS regression in R to control for income and gender variation and found a strong correlation between which major you choose and your marriage rate.
Could it simply be that the personality traits and priorities that lead you to your academic major also impact your other major life decisions?
Probably.
Is it likely that your major directly influences your career choice, leading you to meet others who have similar values?
That's likely too, but we're just talking about your major choice and marital status.
2. Women are significantly more likely to be married at thirty
Maybe it's that rom-com influence — not that men don't appreciate a good Katherine Heigl movie from time to time — because the fairer sex is significantly more likely to be married at thirty.
Almost nine percent more likely, in fact.
The most married major and gender combinations at thirty
You can see that with the one notable exception of male Plant Sciences Majors, the top ten most-married major and gender combinations are female.
If you find yourself asking how it's possible that women are married that much more than men — like, who are they marrying — consider a few things.
This report only includes individuals with college degrees who are 30. The women in our study may simply be marrying men without degrees, or men of a different age.
This is even probable, given that the median age for married women is slightly lower for men and both genders have about the same level of bachelor's degree attainment — 33 percent for women and 32 percent for men.
Create My Free Resume
Build a professional resume in minutes.
3. More money equals more marriage.
Simply put, for every dollar you make you're that more likely to be married.
Because income is also tied to what you major in, we wanted to ensure that our majored-focused results weren't unduly impacted by wages. In the process of controlling for income, we also found that your probability of being married at thirty is directly correlated to your income as well.
Consider the inverse implications of that: not only does more money make you more likely to be married, being married also means you are more likely to have a higher income.
Assuming that income is tied to career advancement, this flies in the face of common beliefs about marriage.
Compare this to those who think marriage makes managing finances easier.

A Pew social trends study shows that both married and single people believe that being single makes career advancement easier— 22 percent of married people and 32 percent of single people.
And they're wrong.
Our resume builder tool will walk you through the process of creating a stand-out Architect resume.
10 Majors Most Likely to be Married at 30
We saw that Theology and Religious Vocations were at the top of the 25-year-old range, but by 30 we're largely seeing a reshuffle of the 25-year-old group — teachers overtake the religious folks.
We've also got Animal Sciences majors coming from out of nowhere to almost lead the herd, with Microbiology and Plant Science types breaking into the top ten — presumably all this studying of life makes them want to settle down and make some.
Build a professional resume in minutes.
Our AI resume builder helps you write a compelling and relevant resume for the jobs you want.
10 Majors Least Likely to be Married at 30
Geography Majors are apparently focused too much on isles to pay attention to walking down any aisles. BOOM!
Those Drama kids are still out there — rolling stones still seeking their names in the shining lights.
But maybe it's time to get real with the arts guys. Film and Photographic Arts Majors have the second highest unemployment rate (12.9 percent) and Fine Arts Majors have the third highest (12.6 percent), so based off of our data this could be why, too.
Our Overall Findings in a Nuptial Nutshell
What we see is that certain majors tend to marry early, particularly ones dominated by women. So the takeaway is that if you want to be married by thirty:
Make more money

Study education
Be a woman
It's tough to make a ton of money as a teacher, but if you're an Education Major then you're almost six times as likely to be female, so there's that.
Want to stay single? Major in Mass Communications, which is the least likely major to be married for both genders — 41 percent for both women and men.
And don't shower or get a job, but if you're not showering then you won't have a hard time avoiding the job.
A List of the Marriage Rates for All Majors at Thirty
And for Further Reading, Our Top Ten and Bottom Ten Ranking by Age Snapshots.
We were able to chart the data and determined your likelihood of being married at the ages of 25, 30, and 35 strictly based off of your major.
For our purposes, we were only looking at whether you were currently married — not if you had been married before or if this was a second marriage.
Also, keep in mind that these age categories are only for that age — not up to it.
10 Majors Most Likely to be Married at 25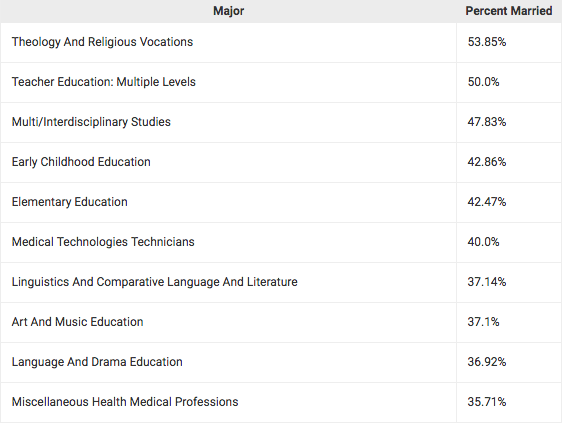 So the moral of the story is: people with morals are marriageable, quickly followed by teachers of pretty much every variety.
We feel that traditional cohabitation values and youthful libidos encourage our religious majors to tie the knot quickly.
10 Majors Least Likely to be Married at 25
One possible explanation for the lower marriage rates for these majors is the percentage of them pursuing graduate degrees — or in the case of Drama and Theater Arts, their dreams.
10 Majors Most Likely to be Married at 35
Agricultural Production and Management has pulled to the front, marginally ahead of Zoology, which is particularly interesting because it wasn't on either of the prior top ten lists.
10 Majors Least Likely to be Married at 35
Never miss an opportunity that's right for you.
Find The Best Job That Fits Your Career
Where do you want to work?
Build A Professional Resume In Minutes
Our AI resume builder helps you write a compelling and relevant resume for the jobs you want.