Find a Job You Really Want In
Ever wondered where in the country people are happiest? Better yet, what cities in your state have the secret sauce for happiness?
Just like where you work and what you do, where you live can have major implications for your quality of life. We set out to find the cities in Nevada where life is sweetest, the wages are high, and people aren't wasting their lives away in cars,
The results? Happiness comes in small packages.
The result is this list of the best cities for :
These are the happiest places in Nevada. Keep reading to see what has everyone grinning so much.
How did we determined the happiest places to live in Nevada?
We turned happiness into a science and scoured the state to find the cities with all the ingredients for happiness:
Being well educated (Population with at least a bachelor's degree)
Percent of households earning above $75,000
Median home prices
A short commute to work (Traffic = unhappiness)
Having a family (Getting, and staying married, has a ton of happiness benefits, on average)
We examined over 33 cities, to find the cities that have all of the above in spades.
While some may be confused to see marriage rates included in our metrics, studies show that married people are typically happier than unmarried people. However, it is worth noting that marriage doesn't cause happiness. In fact, people leaving a bad marriage experience spikes of happiness. However, a happy marriage and positive social interactions are important for mood and mental health.
Similarly, if you're scratching your head to see $75,000 as the cut-off for happiness, blame Purdue University. Their study found that amount meets basic needs and frees people from the pitfalls of deep financial insecurity that cause unhappiness.
All of our data comes from the most recent American Community Survey.
Keep reading for more on why each of these 10 places is brimming with happiness—or hop to the bottom to see where your city landed on the list.
1. Spanish Springs
Population: 16,241
Earners Over $75k: 59.8%
Average Commute: 27
Marriage Rate: 13.0%
Spanish Springs is the happiest city in all of Nevada. What makes Spanish Springs residents so happy? They aren't wasting their lives on long commutes for one. The average Spanish Springs resident only drives 27.4 minuted to work. Toss in affordable housing and the fact that most Spanish Springs residents are coming home to a loving partner and it's easy to see the city has a lot going for it.
2. Enterprise
Population: 164,314
Earners Over $75k: 51.9%
Average Commute: 22
Marriage Rate: 3.0%
In 2nd place we have Enterprise. Residents of Enterprise are highly educated, with an impressive 32.0% having at least a bachelor's degree. And in this modern day, education means options, and folks in Enterprise have plenty of them.
3. Sparks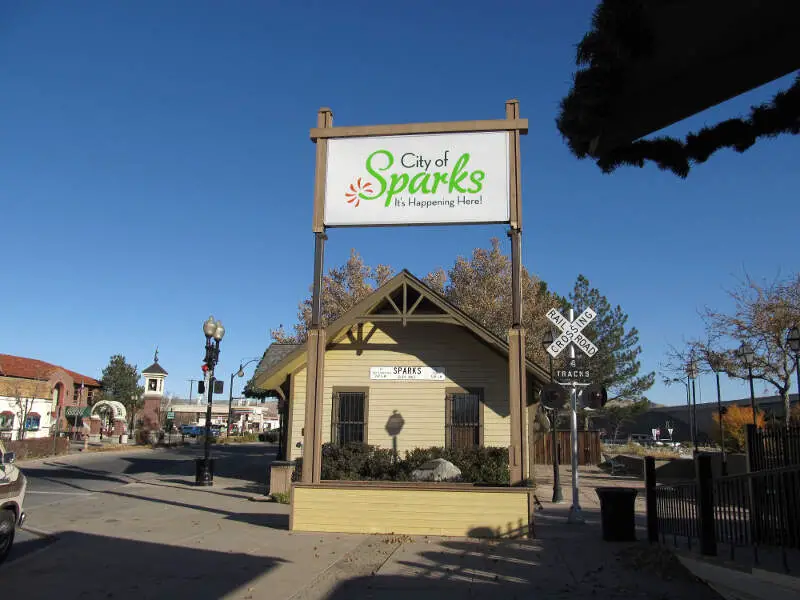 Population: 98,524
Earners Over $75k: 39.2%
Average Commute: 22
Marriage Rate: 8.0%
Sparks is the third happiest city in Nevada. Why so happy? 8.0% of Sparks residents come home to a partner to share their life burdens. Bonus? Short commutes give them more time to spend with all their loved ones or on hobbies they enjoy.
4. Summerlin South
Population: 27,506
Earners Over $75k: 59.9%
Average Commute: 23
Marriage Rate: 4.0%
Folks in Summerlin South have a lot to smile about. An impressive 59.9% of Summerlin South households earn $75,000 or more. That means families in Summerlin South can afford peace of mind.
5. Incline Village

Population: 8,491
Earners Over $75k: 60.5%
Average Commute: 21
Marriage Rate: 2.0%
Incline Village is the 5th happiest city in the whole state. Incline Village residents' moods are kept high by reasonable home prices (the median home price in this Nevada city is only $826,700), happy marriages, and short commutes.
6. Reno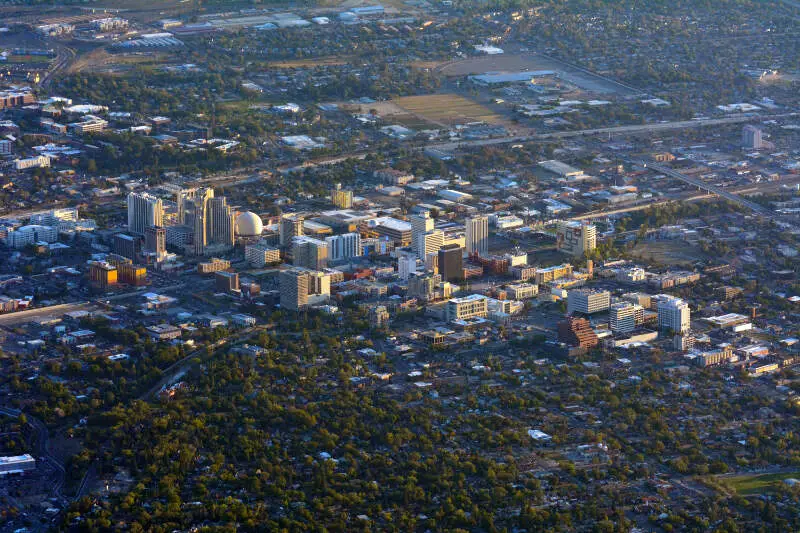 Population: 242,633
Earners Over $75k: 35.4%
Average Commute: 19
Marriage Rate: 6.0%
Looking to relocate? Data says you should give Reno a second look because it has all the ingredients for happiness. A staggering 35.4% of households earn over 75,000. Toss in high marriage rates and reasonable commutes, and it's easy to see those who call Reno home have a lot to be happy about.
7. Henderson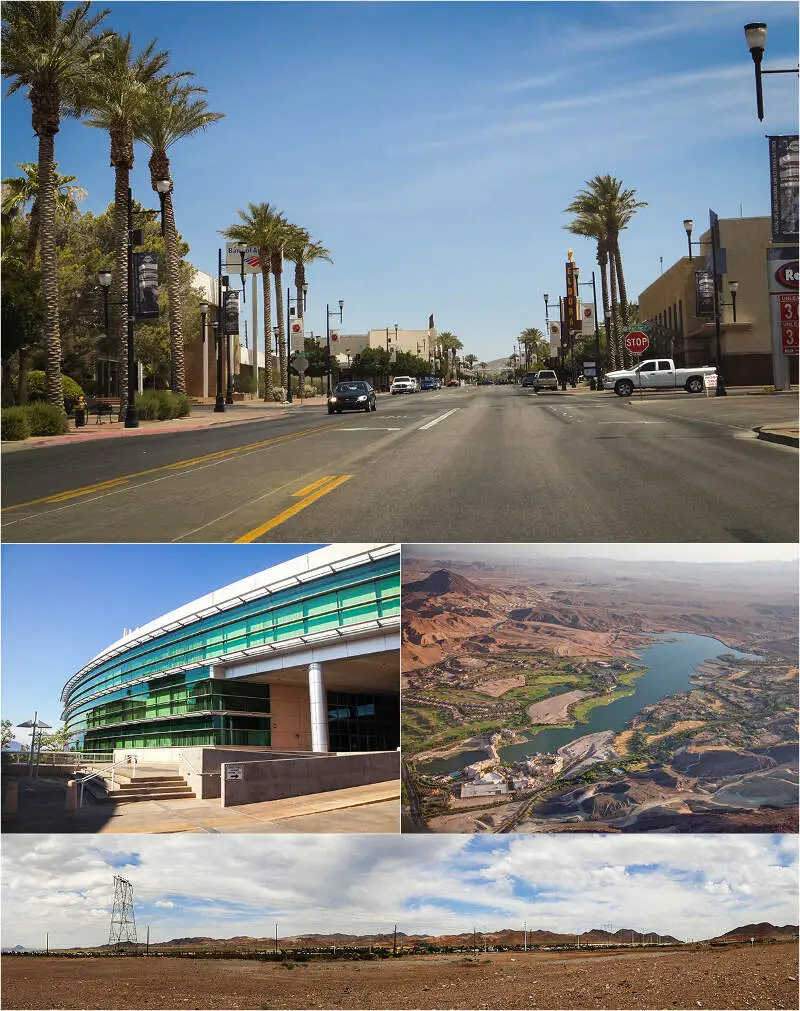 Population: 291,346
Earners Over $75k: 46.5%
Average Commute: 22
Marriage Rate: 4.0%
Henderson is the 7th happiest city. Henderson residents pull in respectable salaries and manage to do it, on average, within 22.9 minutes of their home. They can use all that extra time saved from a long commute to indulge in hobbies they're passionate about.
8. Johnson Lane
Population: 6,065
Earners Over $75k: 59.6%
Average Commute: 24
Marriage Rate: 6.0%
Johnson Lane residents are highly educated with good incomes, decent marriage rates, and reasonable commutes. What's not to be happy about?
9. Spring Creek
Population: 13,805
Earners Over $75k: 66.2%
Average Commute: 44
Marriage Rate: 11.0%
The 9th happiest city in all of Nevada is Spring Creek. The average commute in Spring Creek is only 44.0 minutes. That means they are only 44.0 minutes away from the loving spouse 11.0% of them have.
10. Indian Hills
Population: 6,054
Earners Over $75k: 41.7%
Average Commute: 23
Marriage Rate: 5.0%
In 10th place is Indian Hills, Nevada. What makes Indian Hills so great? Affordable housing, reasonable commutes, and healthy incomes. If happiness is contagious, moving here might be worth a try.
And that's our list of the happiest cities in Nevada
There you have it, happiness is a place.
While we can't guarantee everyone living and working in the top 10 cities is happy, they have a better chance the most.
If you are looking to improve your own happiness, check out how you can help improve your personal factors: housing costs, job satisfaction, income, and education.
If your city didn't make the top 10, check out the list below to see whether it missed the cut by a hair or if folks there are struggling to escape despair.
Detailed List Of The Happiest Cities In
Never miss an opportunity that's right for you.