Find a Job You Really Want In
Nothing like a Bitcoin calculator to humble your salary, no? I mean, as a virtual currency it's obviously just an arbitrary number, but visualizing the value of your life's work as a handful of coins is kind of demoralizing al the same.
Bitcoin has gotten a lot of attention late, and the cryptocurrency's copious media coverage comes largely on the back of it's 600 percent gain this year. But a lot of the interest is people wanting to know what the hell it is.
More on that below, but more than wanting to know how it works, you probably care more about how to make some money off of it. And that's not by speculating on cryptocurrencies — rather, we can tell you how to make money the traditional way, by showing you where the most cryptocurrency jobs are.
Being a completely virtual product, most of the jobs come from tech startups as you'd expect — which means most of the jobs are in these startup powerhouse cities:
San Francisco
Palo Alto
Chicago
Denver
Boston
San Jose
Austin
Seattle
Charlotte
We've got the full list below, but read on a bit to learn a bit about the field.
How we determined the best cities to find cryptocurrency jobs
Bitcoin is the leader in the arena and, for many people, is interchangeable with the more accurate term cryptocurrency. But cryptocurrency jobs and the skills related to it were on the rise before Bitcoin's latest surge made its high-visibility value surge.
We searched more than three million job listings for jobs related to cryptocurrency in municipalities with more than 10,000 people. In a nutshell, Bitcoin and other cryptocurrencies run on the blockchain, a decentralized technology that creates a public ledger using a crowd-sourced system of computers.
When we ran our search for cryptocurrency jobs, we included job listings mentioning all of the related words:
cryptocurrency
crypto currency
bitcoin
bit coin
blockchain
block chain
And this one isn't all about Silicon Valley
As would be expected, we see the usual startup suspects leading this list — the Valley, the Alley, and Kendall Square (Silicon Valley, NYC, and Boston) — and the other tech meccas.
This is one of the few tech and startup sectors that isn't completely dominated by Silicon Valley. In fact, New York has twice as many cryptocurrency positions than Silicon Valley and more positions than the entire state of California.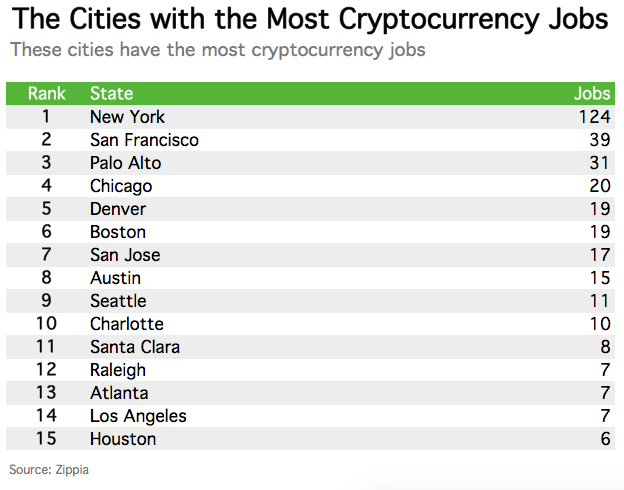 NYC dominating this list is probably because of the "currency" part of cryptocurrency — dark horse Charlotte, the second-largest banking capital of the US after New York, is likely on this list for the same reason. Of course, other positions exist that are project-based, telecommute contracts, so in all likelihood your job for a cryptocurrency company could be as virtual as blockchain assets themselves.
Actually getting your salary in Bitcoins
There are some tech companies that pay their international employees in Bitcoins, and even some who pay a percentage of their regular employees' salaries in Bitcoins. The thing is that Bitcoin's value is very fluid, seeing double-digit fluctuations overnight.
In January 2015 for example, it started the year just over $300, but then crashed to a low of around $170 on 14th January, losing 37% of its value in two days. Of course, Bitcoin salary saved from then would be worth forty times its value today, but presumably you understand the volatility of investing in a good with no inherent value.
There are third-party operators out their that essentially convert your directly-deposited wages into Bitcoin, but think hard about this —besides being at the mercy of volatile markets, your landlord probably doesn't take Bitcoins on the first of the month,
Invest in the skills you need for Bitcoin
Most cryptocurrency jobs are for blockchain engineers or developers with solid skills that are in high demand in pretty much every tech field.
So while rushing out to get a job in the cryptocurrency industry may work out for you, the skills you'd need like Javascript, HTML5, CSS3 and building full stack applications would come in handy at any tech startup.
There's not really this booming job market in cryptocurrency that people should try to hitch a wagon to, and most of the related positions are similar to any you'd find on freelance and startup job boards: computer engineers, data analysts, developers, and maybe some content writers hired on contract to work remotely.
At the end of the day, developing the related skills will benefit you whether you work in a cryptocurrency job or not.
Never miss an opportunity that's right for you.