When most people hear the term "resume," they picture a neat, single page typed resume that lists skills and experience in bullet-point form. While this format of explaining one's professional abilities is the most common, many people choose to use a creative resume instead.
Creative resumes allow candidates the room to customize their profile in a way that paints a vivid and enticing picture of them. It encourages more free-thought and puts an applicant's skills on display before ever walking into an interview.
Want to save time and have your resume ready in 5 minutes? Try our resume builder. It's fast and easy to use. Plus, you'll get ready-made content to add with one click. See 10+ resume templates and create your resume here.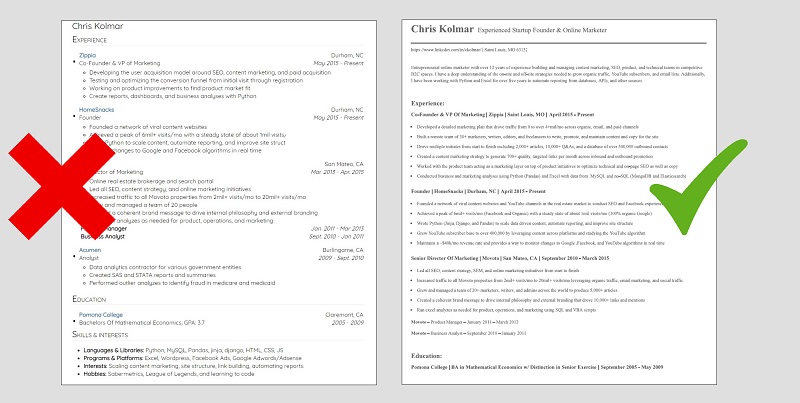 One of users, Diana, had this to say:
I was guided on how to make a detailed and professional resume on Zippia. I was able to download it with unlimited access to all features.
What Is a Creative Resume?
Creative resumes utilize the space for catching an employer's eye by being unconventional while still getting across the information about their professional profile. This can differ from the traditional text style resume dramatically.
The purpose of a creative resume is to showcase your personality and summarize your skills in a way that makes you stand out from the crowd of your competition for a position. Creating a creative resume can be especially useful for people who work in the arts who depend primarily on showing their abilities, rather than be just another candidate who tells.
How Creative Resumes Work
How a creative resume works vary based upon the person creating it. The whole point of choosing the alternative option of a creative resume in place of a classic one is to display what makes you a distinctive candidate. You have to tailor the resume to portray your skills accurately. It emphasizes an applicant's creativity and demonstrates that they're up to the task of handling the job.
A creative resume can be something as simple as implementing color patterns, bold text boxes, or playing around with spacing and margins. Even doing minor changes to the typical format of a resume will make a hiring manager remember you. If you're looking for a reference about where to start, do some research into examples of creative resumes.
People who work in the arts may also incorporate their niche into the performance of their skills. For example, if you work as a video editor, a more impactful structure could be in the form of editing together clips from your reel into a video resume. This shows a potential employer clearly that you're qualified and resourceful.
Alternatively, for people who work in a field like website coding, a strong presentation could be coding a resume website. This will draw a hiring manager into what you have to say because your experience jumps off the page more than if they were reading from a list of hard skills.
Update Your Resume Now To Get Your Next Job Faster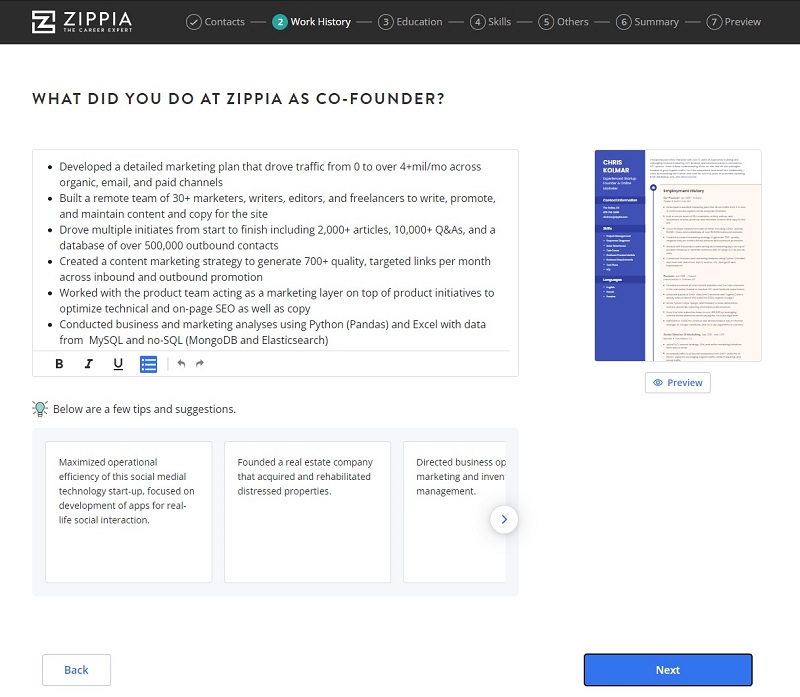 Pros of Creative Resumes
There are a few key benefits to opting for a creative resume for a job seeker.
Cons of Creative Resumes
Even though using a creative format for your resume can have some compelling pros, it can also present some challenges.
Some employers don't appreciate it. While the goal of a creative resume is to wow a hiring manager, sometimes this reaction of surprise won't be a positive one. Creative resumes are growing increasingly popular in artistic positions. However, a lot of jobs still want a traditional resume for applicants they're considering.

In many industries, presenting a creative resume in hopes of landing a position would be considered unprofessional.

It neglects to account for buzzwords. Keywords are an essential consideration to make when deciding how you'd like to format your resume. A creative resume can present limitations in terms of including keywords. This means that although your creative resume may be very innovative, it probably won't pass a company's Applicant Tracking System (ATS), which is the test that scans resumes for skills required to work in a specific position.

The ATS cannot work with anything other than typed, word-based resumes, making it difficult to surpass if your creative resume is in another form.

It can seem like overkill. Creative resumes can definitely be attention grabbers, but once this objective is achieved, many employers may view extra graphics or color in it as overkill. While you want to have a hiring manager's focus, you don't want it to be on how outrageous your resume is. Being nontraditional can have pay-offs, but it can quickly become overdramatic.
Then again, there's one more thing you can do.
Make a new resume and get more interviews.
Plus, a great resume will give you an advantage over other candidates. You can write it in our resume builder here. Here's what it may look like:
Is Using a Creative Resume Worth It?
Deciding whether to format your resume traditionally or creatively can be challenging for many job-seekers. It doesn't have to be a difficult decision, though. You should consider the position you're seeking, your experience level, and what's appropriate for the industry you work in.
For someone whose job and skills are based mainly in visual arts that can be more easily shown than told, making a creative resume may be worth it.
Alternatively, a person whose career is in administration probably won't receive many interview calls from going the non-traditional route.
You should also think about if your abilities are strong enough to be showcased in such an unconventional way. If you're a recent graduate in graphic design without any professional experience in the field, a creative resume that accomplishes the goal of informing an employer about you may be a more difficult task to achieve.
What are simple improvements most people can make to their resume?
Dawn Smith-Camacho
Master Imperfectionist
Whole Life Solutions Coaching
The number one issue I see with clients redoing resumes is sticking to old-school, traditional formatting — trying to get all of their experience in black and white, 12 pt. font, onto as many pages as necessary.
I highly recommend all clients use Canva to find a dynamic resume that resonates with their personality type. Not only does it stand out visually, but all of their resume templates leave little space for work experience — which I love. This forces us to pare down our experience into the handful of bullet points that will most stand out for the person on the other end who's often reviewing hundreds of candidates.
Their templates also help you emphasize your unique skills and abilities — not in a comprehensive list, but through pie charts or bar graphs that clearly illustrate your level of expertise.
Some clients are a bit resistant, and I do acknowledge the level of how design-heavy and modern you should go are industry-dependent, but I also encourage job seekers to really reflect on what position you want. Do you want to work for an employer that will reject your resume because it's not a 3-page, black and white, 12 point Times New Roman one?
Examples of Creative Resumes