Although resumes are often associated with pursuits in a career, you'll also need one when applying to graduate school. A graduate school resume will serve a similar function as a professional one, which is to catch the reader's attention as a promising candidate.
Learning how to write an effective and concise graduate school resume is a crucial part of the higher education application process.
Want to save time and have your resume ready in 5 minutes? Try our resume builder. It's fast and easy to use. Plus, you'll get ready-made content to add with one click. See 10+ resume templates and create your resume here.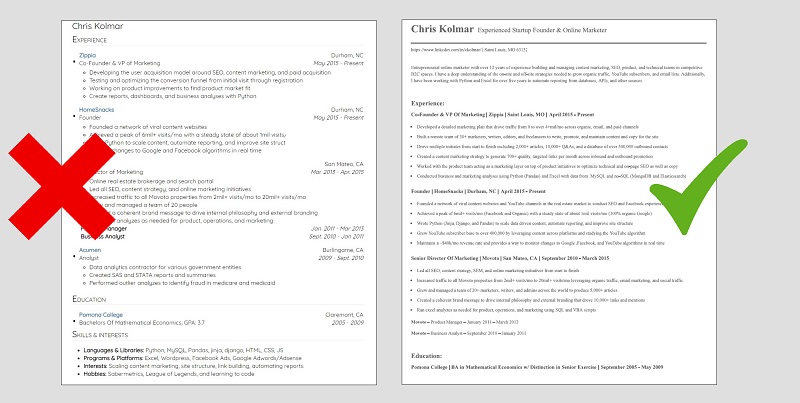 One of users, Diana, had this to say:
I was guided on how to make a detailed and professional resume on Zippia. I was able to download it with unlimited access to all features.
What Is a Graduate School Resume?
A graduate school resume is a brief and organized description of an applicant's background, skills, education, and any other aspects that would make them qualified for admission. It's submitted along with an application to provide all the information that an admissions committee will need in contained space.
Graduate school resumes are used to evaluate many potential candidates easier by establishing a bullet-point list of their characteristics.
Including a graduate school resume in your application package illustrates who you are, what your experience is, and why you should be submitted to the program neatly on a single page.
How to Write a Graduate School Resume in 6 Steps
Writing a graduate school resume can be confusing for many people; should it be more similar to a school application or a professional resume? The perhaps unsatisfying answer is that it is a bit of both.
Complete the following steps to create a graduate school resume containing information needed for admissions while being in a resume format:
Update Your Resume Now To Get Your Next Job Faster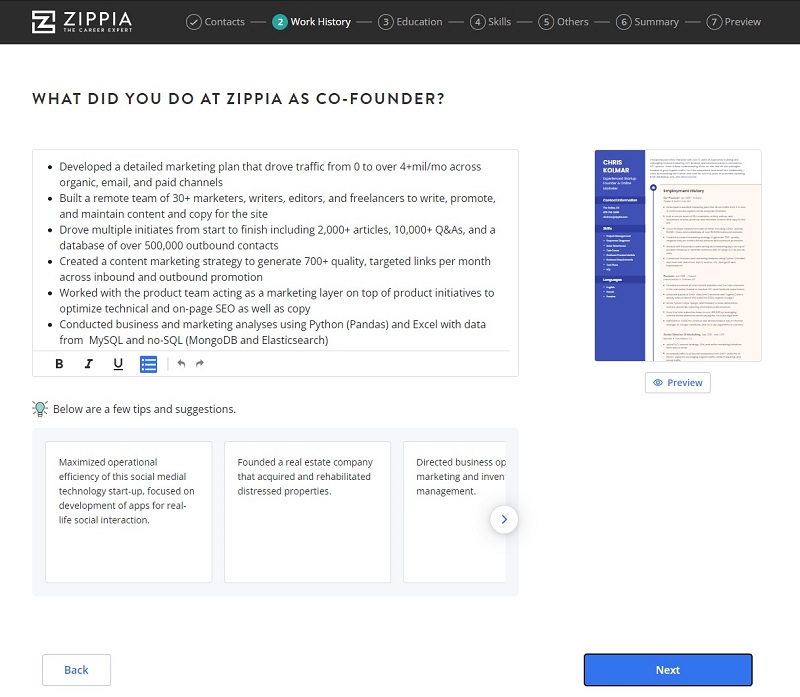 Tips for a Successful Graduate School Resume
Tailor your resume to the program you're applying for. When top applicants apply for new jobs, they go back to their resume and make edits to optimize it for the position they're hoping to land. Successful graduate school applicants do the same. Every graduate program emphasizes different skills and experiences.

Make sure your resume aligns with the program's requirements and ideal candidate profile by highlighting relevant qualities.

It's okay to speak highly of your accomplishments. Many people are uncomfortable with the idea of speaking freely on all their outstanding accomplishments because they worry it makes them out to be conceited.

While you should maintain a humble attitude when discussing your achievements (especially in interviews), it's recommended to get into the nitty-gritty of what you've done well in the past in a resume.

The purpose of a graduate school resume is to impress an admissions team, and that's done by writing about your accomplishments thoroughly.

Use crisp, concise language. Start your bullet points with strong action verbs. Never include the words "I, me, my, or mine" in your resume. Use as few words as possible and embrace white space.

Include both hard and soft skills. There are probably some hard skills that the program you're applying for requires, depending on the field of study. Besides listing the hard skills that you have, include soft skills that apply to your personality and work ethic.

Soft skills describe who a candidate is beyond their accomplishments or technical skills. An admissions team will use soft skills to assess if you're the kind of student they want in their program.

While we don't recommend listing too many (or any) soft skills in your resume's skills section, a few well-placed soft skills in your summary statement and work experience section can be valuable. Soft skills are inherently hard to "prove," so follow the golden rule: show, don't tell.

Be honest about your experience and skills. Although it's essential to catch an admissions counselor's attention with your resume, the information you include needs to be true. Bending the truth eventually becomes evident to experienced admissions professionals.

Graduate school programs are unlikely to invite students into their facility who aren't honest about their experience and skills.

Proofread. Once you've finished writing a graduate school resume, the final thing to do is proofread it. Careless spelling and grammatical errors will turn off an admissions counselor reading your resume because it will portray you as sloppy or lazy.

Reading through your graduate school resume to sweep for errors is a strong professional practice that will increase your chance of a successful application process.
Template for a Graduate School Resume
You understand what information should be included on a graduate school resume. Now you use a template to structure the information properly.
Below is a template to guide you through creating your own graduate school resume.
First and Last Name

City, State | Phone Number | Email Address | Social Media or Website

Resume Summary Statement (Do not label your resume summary statement — just write it)

A few sentences outlining what your graduate school resume will go on to say and what your goals for the future are.

Education

School Name, Degree Title, and Major
Graduation Date
Grade Point Average (GPA) (If 3.5+)
Areas of Study
Prior Research
Awards, accomplishments, and acknowledgments
Extracurricular activities and clubs

(repeat if you have multiple schoools)

Professional Experience

Job Title
Company Name, City, State
Dates Employed

One major achievement with numbers

Job responsibility with mention of your impact on results

More achievements

(repeat for multiple jobs, internships, and volunteer experiences)

Relevant Skills

list 4-8 skills

Give more hard skills than soft skills

Additional Section

(this section can be dedicated to certifications, volunteer experience, language fluency, independent projects, publications, or another optional resume section)
Then again, there's one more thing you can do.
Make a new resume and get more interviews.
Plus, a great resume will give you an advantage over other candidates. You can write it in our resume builder here. Here's what it may look like:
Example of a Graduate School Resume
Example of a Graduate School Resume
Aaron Blakely

Denver, CO | (753)-585-5866 | AaronBlakely@gmail.com| LinkedIn.com/AaronBlakely

A devoted and creative recent graduate from the University Of Denver with a bachelor's degree in computer science and former research experience. Seeking higher education with the University of Washington's computer science graduate program.

Education

The University Of Denver, B.S. in Computer Science
2020

3.9 GPA

Studied computer science with a minor in creative coding

Conducted research into biotechnology and virtual reality (VR)

Achieved the Dean's List all four years of college

Vice President of the computer coding club

Professional Experience

Computer Coding Student Intern
Larson's Technology, Denver, CO
2017-2018

Created a process workflow that reduced average project turnaround time by 12%

Helped mid-level developers write and debug code for client websites of over 1 million monthly visitors

Reviewed engineers code and tested software patches before roll-out

Sales Associate and Tech Help Desk Attendant
Best Bet Computer Repair, Denver, CO
2012-2017 summers

Served an average of 40 customers each day, aiding in selection of electronic goods

Won employee of the month in June 2015

Received an an average customer review rating of 4.89/5 at tech help desk

Scholarships

2016-2020
Outstanding Student Scholarship

Awarded for academic accomplishment and community involvement

The amount of $40,000 over four years of undergraduate education

Relevant Skills

Java

HTML

MS Office Suites

Windows

Mac OS X

Problem-solving

Dependability

Creativity

Resourcefulness

Certifications

2018
HTML Fluency Course, HTML programming language

A 12-week course outlining the basics of HTML language

Accompanied by assignments, six tests, and a final exam

HTML basic fluency achieved