If you've ever wondered what states get flown to the most, then you've come to the right place.
Or maybe you're trying to figure out where to go to next.
Sometimes it's hard picking out a great destination to vacation to. Luckily, we've put together the top 10 states that people are flying to the most.
With so many flights touching down in these states, you know there's got to be something great.
The Top 10 States
With COVID in the air, it's hard to envision stepping onto a plane right now. But with the plane ticket prices down, we'll bet you're itching to go. These 10 states are great destinations to visit, but if none of them tickle your fancy make sure to keep reading for the full list of states.
How We Figured It Out
We used data collected by Champion Traveler to figure out what states were flown to the most in the U.S. The site determined how many flights went to each state, how many flights went over each state and the ratio between those two. We only used the data for the number of flights to each state to determine which states are visited the most by travelers.
1. California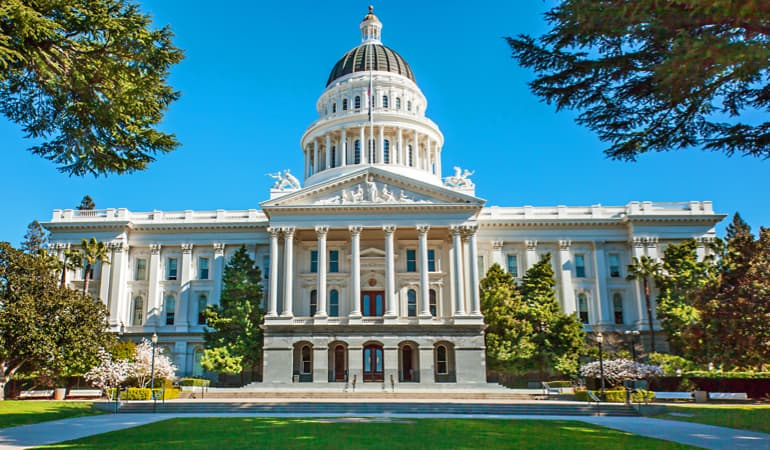 Flights to: $740,782
Everyone is flocking to California. Between the beaches, Disneyland, L.A., and the food, we don't blame everyone for wanting to visit. Over 12 months, the state had 740,782 flights.
2. Texas
Flights to: $565,292
Texas comes in as the second most flown to state. With 565,292 destination flights, the state saw lots of visitors. It's a good thing the state is so big!
3. Florida
Flights to: $452,180
Palm trees, hot weather, Disney World. Do you see a theme? Florida is the third most flown to state with 452,180 over a 12-month period.
4. Georgia
Flights to: $391,889
Georgia has the fourth-most flights with its southern charm and delicious food. Over the course of a year, the state had 391,889 flights that came in.
5. Illinois
Flights to: $352,071
With a big city in its midst with lots of things to do and, of course, a beach, Illinois is the 5th most flown to state. The state recorded 352,071 flights in the span of 1 year.
6. New York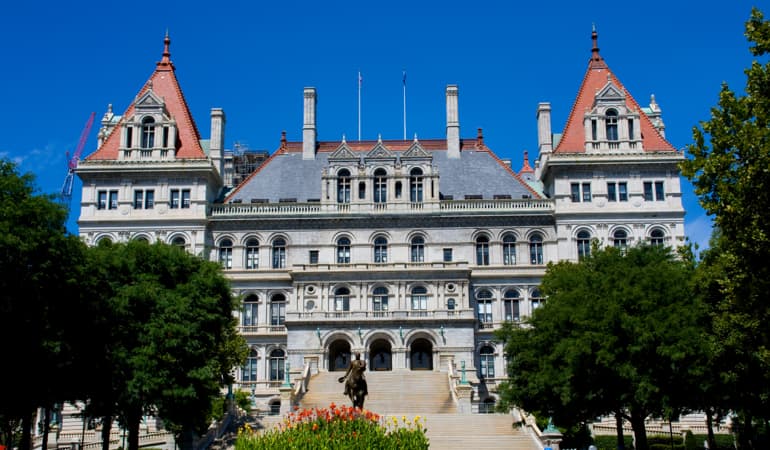 Flights to: $246,409
This next state will have you singing that you're leaving today, so start spreading the news (and packing your bags!). With 246,409 flights, New York comes in at the No. 6 spot. The state is nothing short of an adventure with lots of sights to see and things to do.
7. Colorado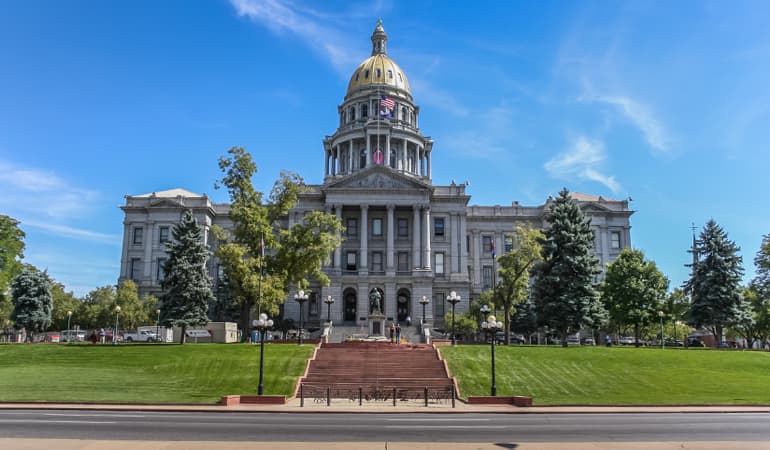 Flights to: $245,548
While Colorado doesn't offer a beach, there is still plenty to do there which is why it's No. 7 on the list. The mountainous terrain brought in 245,548 flights in a year alone. From zooming down a mountain to great hiking trails and hot tubs that are best enjoyed after a day on the mountains, it's no wonder people are flocking to Colorado.
8. Arizona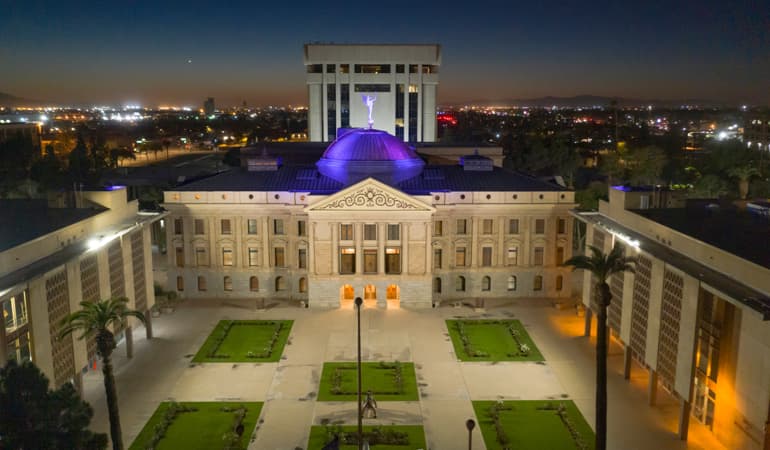 Flights to: $176,531
Arizona with it's dry, desert heat comes in at No. 8. The state saw 176,531 flights in a year. That's a lot of visits for people to just pass out from heat exhaustion as soon as they get off the plane.
9. Nevada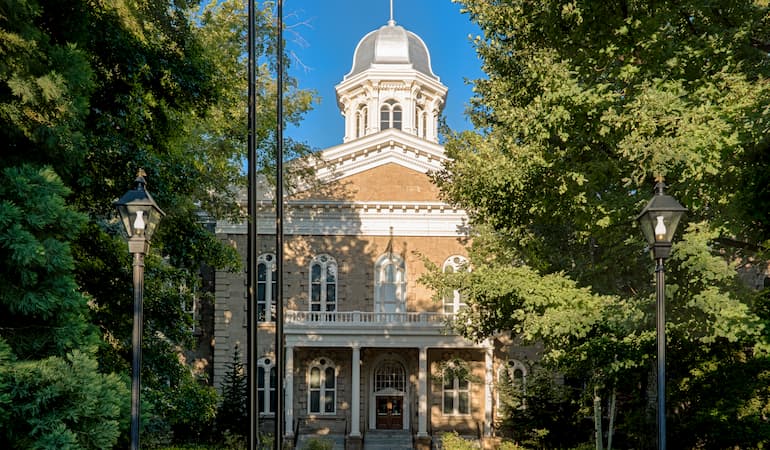 Flights to: $167,198
With 167,198 flights recorded in a year's time, Nevada comes in as the ninth most flown to state. There's definitely plenty to do there with the number of casinos and bars on the strip in Vegas.
10. North Carolina
Flights to: $162,329
We've got North Carolina to cap off this list. With recorded 162,329 flights, the state does not have a shortage of tourists each year.
To Fly, Or Not to Fly
Even though now is probably not the best time to fly, many are still figuring out how to make it work. Masks are required and social distancing guidelines are in place so you probably won't have to sit next to anyone. In fact, now may be a great time to fly in terms of having a row to yourself. If you've decided to throw caution to the wind and fly, then you might want to consider flying to one of these destinations. There's definitely a reason people are flying there.
| Rank | State | Flights To |
| --- | --- | --- |
| 1 | California | 740,782 |
| 2 | Texas | $565,292 |
| 3 | Florida | $452,180 |
| 4 | Georgia | $391,889 |
| 5 | Illinois | $352,071 |
| 6 | New York | $246,409 |
| 7 | Colorado | $245,548 |
| 8 | Arizona | $176,531 |
| 9 | Nevada | $167,198 |
| 10 | North Carolina | $162,329 |
| 11 | Michigan | $155,896 |
| 12 | Washington | $148,410 |
| 13 | Minnesota | $138,461 |
| 14 | Massachusetts | $125,110 |
| 15 | New Jersey | $122,974 |
| 16 | Utah | $114,239 |
| 17 | Pennsylvania | $110,556 |
| 18 | Missouri | $104,404 |
| 19 | Hawaii | $102,602 |
| 20 | Maryland | $99,031 |
| 21 | Ohio | $85,730 |
| 22 | Tennessee | $81,729 |
| 23 | Oregon | $71,099 |
| 24 | Louisiana | $67,165 |
| 25 | Wisconsin | $51,257 |
| 26 | Indiana | $39,282 |
| 27 | Alaska | $35,897 |
| 28 | Virginia | $32,205 |
| 29 | South Carolina | $30,263 |
| 30 | Oklahoma | $30,020 |
| 31 | Alabama | $23,843 |
| 32 | Nebraska | $22,990 |
| 33 | Connecticut | $21,501 |
| 34 | Idaho | $21,500 |
| 35 | New Mexico | $21,399 |
| 36 | Montana | $17,004 |
| 37 | Kentucky | $16,178 |
| 38 | Arkansas | $14,974 |
| 39 | Rhode Island | $13,151 |
| 40 | Iowa | $12,817 |
| 41 | North Dakota | $10,726 |
| 42 | Mississippi | $10,068 |
| 43 | Kansas | $9,703 |
| 44 | South Dakota | $8,052 |
| 45 | Wyoming | $7,917 |
| 46 | Maine | $7,299 |
| 47 | New Hampshire | $6,364 |
| 48 | Vermont | $3,708 |
| 49 | West Virginia | $2,387 |