When you considered your job's benefits package, you probably didn't realize that one of the potentially most important benefits even was a benefit: maternity leave.
But if having children is on your mind, you should — only three states currently offer paid family leave, and the protections for most of the country's expectant mothers are slim.
And interestingly, exploring this charitable institution led us to a surprising statistical insight:
The more religious a state is, the less likely it is to provide paid maternity leave.
Additionally, states with women who both gave birth and were in the workforce in the last year have more maternity laws.
What began as an answer to a question about the quality of maternity leave throughout the country's workplaces led to questions about the charity of religious states.
Here's the map, with the data for each state broken down at the bottom of the page:
How we ranked states' maternity laws
We developed a ranking for all fifty states based off of the types of protections that women (and men) received under state laws, based on whether the state has passed laws that offer better paid family leave or workplace protections than what federal law already provides.
States with the highest scores had a bevy of laws covering pregnancy — the higher scoring states have benefits such as paid leave options, expansive durations, nursing mothers' rights, paid sick days, job protection extensions beyond FMLA, and additional days for pregnancy-related disabilities.
And on the opposite end of the spectrum, you have twelve states that haven't done anything in addition to FMLA.
Who needs maternity leave laws when you have commandments
This study began as a simple ranking, something along the lines of "best states for workers to have a baby," which would be based on the quality of paid maternity leave policies in each state.
But there's a lack of relevant data — companies treat maternity leave as part of a benefits package, and their offerings vary as widely as healthcare packages, pets in the office policies, and the quality of the free coffee.
So, knowing what we didn't know, we started looking what we could find out, and this led us to minimum requirements by states, where the project shifted focus again when we realized that, for twelve states, nothing is required in terms of paid maternity leave.
Where religion comes into the equation
It doesn't take complex analysis to notice that those are predominantly red states, but where do politics and faith fit in?
Laughing at the Deep South is old hat and kind of mean, as many of its problems stem from income inequality. Seeing that big blot below the Mason-Dixon is fairly common in this type of study for that reason — all the same, we have to consider some of the connections.
We looked a little more at some "red" behaviors, in particular at religiosity, because our map of states that have the fewest protections for pregnant mothers also matches another map: one of the Bible Belt.
Scroll back up and compare.
I'll wait.
The data backs it up: states with populations who place high value on religion also lack comprehensive maternity (and paternity) protections. Using state-by-state data from a Pew Research survey that asked respondents about the importance of religion in their lives, we see that there's an extremely strong negative correlation amongst respondents who say religion is very or somewhat important and the maternity leave laws in those states, controlling for income.
To wit, the more religious a state's citizens say they are the less likely it is to provide paid maternity leave for its mothers.
We also find that states with high rates of religiosity also have the lowest percentage of women who worked within a year of giving birth — and even church workers have to be careful when expecting charity from employers, according to this Washington Post story:
Religious organizations that are also pro-life, pro-family and pro-justice provide a wide range of family leave policies, including some that offer no paid options.
We controlled for income, but it still plays a subtle role
The median length of maternity leave far exceeds that of paternity leave (11 weeks vs. one week, respectively). But women with lower household incomes generally took shorter maternity leaves than women with higher incomes.
Also the higher the income, the >more likely it was that all aspects of paid maternity leave were allowed for, such as bonding with newborns, adopted children, and availability for both genders — interestingly, however, the higher a person's income the shorter their stay on full-pay leave. People who had lower incomes were more likely to take advantage of the fullest time allowed for full-pay leave.
The same study indicated that higher-paid individuals were also made aware of the PFL by their employers at a higher rate, while lower paid individuals relied upon word-of-mouth from people like doctors and churches.
So, what gives?
For most of these states who don't have maternity leave laws, it's more a question of "who gives" — and it's not the church, unless you're counting a couple of weeks of postpartum casseroles.
The answer appears to be the federal government.
Income factors into pretty much every major societal study, so we took a look at states' income levels and sources, and not surprisingly the states without maternity protections are also some of the same ones that rely the most on government programs for income.
This New York Times map shows where the largest share of residents' incomes comes from federal government benefit programs like Medicare, Medicaid and Social Security.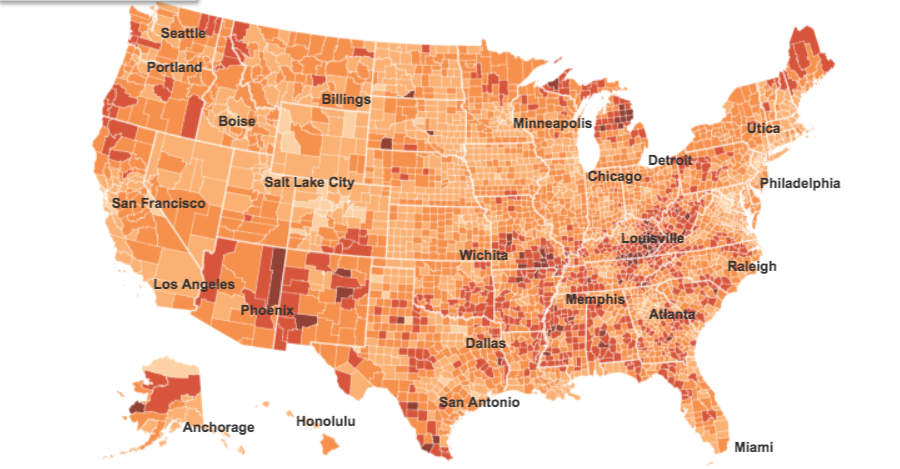 Those who need it the most have the least access to it
That's right: we find that people who live in states with the fewest protections for working mothers also have the largest shares of their incomes come from food stamps, unemployment benefits, and Medicaid.
Economists have found that when people are offered paid leave, they take it, which lessens their likelihood to drop out of the workforce completely.
And this is especially true for low-income parents, who can't afford to take unpaid leave (if they're even afforded it under FMLA). Research shows that women who have paid maternity leave have a higher chance of returning to work.
A note on Family and Medical Leave Act (FMLA) and paid maternity leave?
All FMLA can do is keep you from getting fired, which can make the costly pregnancy adventure a bit of a challenge. But FMLA only covers 59% of US workers, and two in five women do not qualify for leave under FMLA.
It essentially requires most employers to allow twelve weeks of unpaid maternity (or paternity) leave for up to a year after the birth or adoption of a child. FMLA also requires your employer to allow you to return to your position or a similar position with the same benefits at the end of your leave, but doesn't stipulate any type of compensation.
Paid family leave (PFL) like California passed is something else, a program that would do exactly as its name implies: it pays a portion of your salary for a set period of time, either in the form of disability or unemployment benefits in most cases
Our scores range from from one to eleven. We began with a ten-point range, but California is way ahead of the rest of the country in terms of protections for pregnant women — so we put them it its own category and turned the volume up to eleven.
In California, employees are entitled to 55 percent of earnings for up to six weeks, and beginning in 2018, workers will receive up to 70 percent of their income. California also offers job-protected paid sick days, pregnancy accommodations, and protections for nursing mothers.
While that's great for Californians, twelve states took one-point scores for having absolutely nothing in addition to the federal FMLA.
Where does politics fit in all of this?
It's no secret that religious types generally tend towards conservative politics, and in light of this, more conservative states not having legal protections for expectant and new mothers isn't too unsurprising.
It's worth noting here that reasons some states spend more than others on benefits and programs is complicated, and much of it, as mentioned before, has to do with how much money they can collect in taxes. But of the ten states that spent the least on their social programs, all but one Florida voted Republican in the last presidential election, reflecting an allocation of funds based on political values rather than religious ones.
Mandating that employers look out for their employees' general health was challenge enough, and enforcing what can be seen as an entitlement program at the expense of small businesses is quite a hurdle. Laissez-faire folks complain that mandated maternity leave laws can harm small businesses, who can't front the cost of losing a crucial employee — much less pay them for work that isn't being done.
There's value to this argument, but this isn't a discussion of the role of government in business, but rather a dive into data that brought up some interesting — and potentially conflicting — insights.
Religiosity and Maternity Leave by State