You've probably heard that your resume is your first interview. Why do people say that all the time? Well, your resume should tell a potential employer all the important things they need to know about you, so to an extent, that saying is true. Therefore, while putting together a resume can definitely feel overwhelming, doing it right is an opportunity to sell yourself and set yourself apart from other applicants.
Of course, one of the most important aspects of your resume is your work experience. Not only will this section of your resume let your potential employer know how long you've worked, and where you've worked, but it will also inform them on the nature of your previous positions. With that in mind, it's important to really nail it.
Employers are always looking to see if you have experience relevant to the position you're applying for. Given that fact, it's crucial that you display your work experience in a way that peaks their interest.
Perhaps you aren't sure how to format your work experience section, or are unsure how to make your experience relevant for the position you're applying to. How do you sell your work experience to that hiring manager?
Fortunately, this article will cover the basics of formatting, as well as detailed information on what you should include when writing about your work experience.
Want to save time and have your resume ready in 5 minutes? Try our resume builder. It's fast and easy to use. Plus, you'll get ready-made content to add with one click. See 10+ resume templates and create your resume here.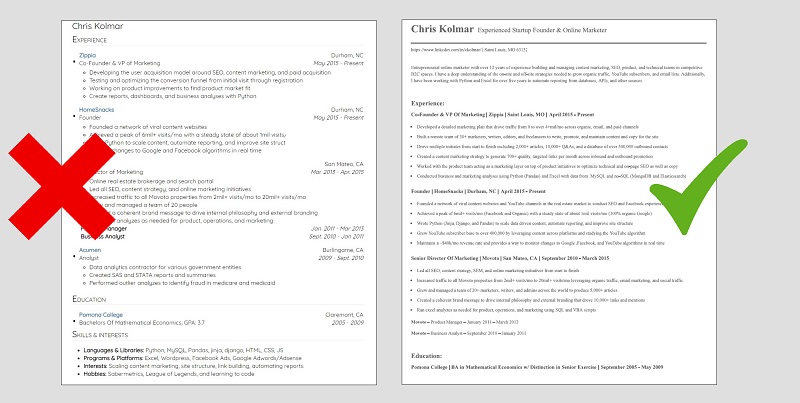 One of users, Diana, had this to say:
I was guided on how to make a detailed and professional resume on Zippia. I was able to download it with unlimited access to all features.
What is a Resume Work Experience Section, and Why is it Important?
The work experience section of your resume presents all your previous jobs to your potential employer in a way that should not only sell your potential, but also be easy to digest.
Having this section as a part of your resume is extremely important, as it will not only outline the experience you have, but also your accomplishments and what makes you a valuable worker. After reading your work experience section, a hiring manager should not only be confident in the fact that you have relevant experience, but also in your personal potential.
The Basics: How to Nail Formatting
First and foremost, it's important that you write your work experience section in a way that not only compliments you, but is also easy to read. Refrain from making descriptions too long, and rather, highlight only the most crucial details of your previous positions.
There are often minor differences in formatting that can be acceptable, but in general, you should always state the name of the position first. Directly after the name, you should include the dates in which you worked that position. For example, your first line should look something like:
Retail Sales Associate, 08/2018 to 03/2020
If you have specific dates you can always include them, however, if you don't have an exact date there's no harm in just writing the months.
Of course, keep in mind that if you only worked a job for a very short period of time, or in the distant past, you do not need to include it in your resume. However, you should never omit a relevant job from your resume because you burned bridges with your past employer, as this will mislead and send red flags to your new, potential employer.
With all that in mind, your next line should simply include the name of the company you worked for, and their address. The two lines together should look something like this:
Retail Sales Associate, 08/2018 to 03/2020
Tom's Groceries — 109 Samson St, Fletcher, PA 12312
Now that you've presented that information, you can include a brief description about the job you worked. This information can be written as bullet notes or in sentences, but make sure you don't get carried away with the word count.
Here are some examples of descriptions:
This is a position focused on teamwork, so I found efficient ways to communicate with my other co-workers. Excellent customer service was a must, so when I spoke to guests I was always polite, and adhered to company protocol. On a regular shift I would manage the register, stock various products from the back room or freezers, make food quickly, but reliably, and clean anything that needs to be cleaned. Many times these tasks had to be performed in a simultaneous manner, so it was a test of efficiency and composure.

Worked as a team and communicated efficiently with at least two other co-workers

Managed money and provided excellent customer service at the register

Carefully stocked delivery items in the back room and freezers

Made food for guests quickly and reliably

Managed all of these tasks in a fast paced, simultaneous manner
As you can see, you shouldn't write more than a paragraph of information about what you did at your previous position. Keep it brief, but do your best to sell yourself and what you accomplished there.
Here are some other important formatting tips to remember:
You should start with your most recent work history, and work your way back in time as you go down the page.

No weird fonts! When in doubt, stick with Times New Roman, Arial, Calibri, Helvetica, Cambria, or Georgia

Writing about your performance and your accomplishments is much more important than a general job description
What should I highlight on my resume?
Shannon O'Brien
Career Development Advisor
Whole U.
At Whole U., we focus on quality over quantity. We encourage clients to make it easy to hire you – by highlighting your experiences that exactly match the key aspects of the job description. Cut the fluff and get right to the points that they're asking for.
It's important to note that your resume alone is not going to get you a job! From mindset to networking — your search for a meaningful career is much more comprehensive than a single piece of paper.
Update Your Resume Now To Get Your Next Job Faster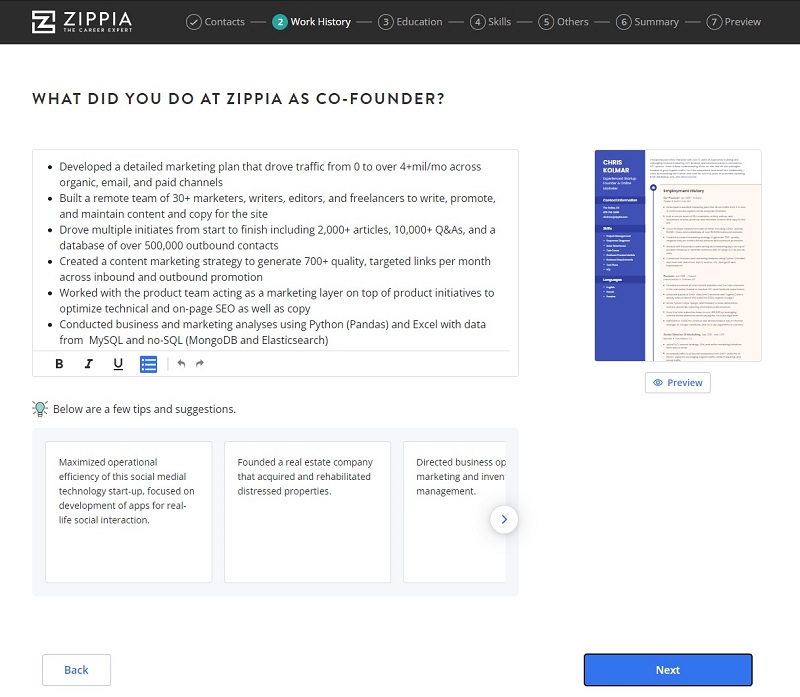 What to Include in your Descriptions
Now that you understand how to format your work experience, it's imperative that you know how to write descriptions about your previous positions. What is the hiring manager looking for? How do you sell your experience even from a previous position that could be unrelated to the job you're applying for?
As mentioned above, the descriptions of your previous jobs are about your own personal success and achievement, rather than what you had to do while working there. For example, if you worked at a restaurant you shouldn't simply write that you had to take food to tables, but rather, that you were timely and excellent at memorizing orders in the context of taking food to tables.
For example:
When I worked this position I relayed orders at a fast pace, and never mixed up two orders or recorded the wrong order. I was often complemented by other customers in regards to my timely delivery of food to their tables.
That being said, you always need to keep relevancy in mind. For example, if you had work experience in retail, but you're applying to be in security, try to make your description of that retail job as relevant as possible. Instead of focusing on making people coffee, maybe talk about how you were very careful when managing the register, good at desculating situations, or mention how you properly handled an emergency.
For example:
While working at Tom's Groceries I was the most senior Sale's Associate when we had a fire emergency. Fortunately, I calmly and efficiently followed company protocol, which ensured everyone's safety.
However, as mentioned previously, you should be careful to not overdue your descriptions either. Stick to a few important achievements or personal skills and then move on to the next position. In addition, using strong words such as: responsible, orchestrated, mentored, accelerated, regulated, promoted, achieved, administered, or fulfilled can really highlight your descriptions.
If you keep all these tips in mind, your work experience section will be able to wow that hiring manager.
Work Experience Example
Assistant Manager, 05/2017 to 08/2020
Zoro Inc. — Fairfield Commons, 55 Ritter Rd, VT 01234
When I worked this position I carefully and efficiently managed many tasks. Due to this I became incredibly skilled in multitasking such responsibilities as:

Meticulously filing financial and customer paperwork

Rigorously cleaning the company facility

Vigilantly keeping track of inventory, and submitting orders when needed

Attending to customers when needed, and providing them with quality customer service

Training new employers to meet company standards

Retail Sales Associate, 08/2015 to 03/2017
Tom's Groceries — 109 Samson St, Fletcher, PA 12312
This is a position focused on teamwork, so I found efficient ways to communicate with my other co-workers. Excellent customer service was a must, so when I spoke to guests I was always polite, and adhered to company protocol. Some of my other achievements included:

Working as a team and communicating efficiently with at least two other co-workers

Managing money and providing excellent customer service at the register

Carefully stocking delivery items in the back room and freezers

Making food for guests quickly and reliably

Managing all of these tasks in a fast paced, simultaneous manner

Barn Assistant, 11/2013 to 06/2015
Equestrian Center — 293 Main St, Fletcher, PA 12312
While I worked at this position I took responsibility for the horses I took care of. Some of my tasks included:

Mucking stalls in a rigorous and timely manner

Helping many first time riders by being an assistant instructor on trail rides

Carefully preparing horses for rides by getting them saddled and bridled