Writing a resume is an art form, one that can determine whether or not you get the job of your dreams. That's why you want yours to be perfectly crafted to fit your qualifications in a way that shows employers that you're the best person for the job.
Some people go crazy trying to get their resumes noticed, with colorful resumes, video and photo resumes, and even scented resumes.
But here's the kicker: You don't need a resume full of bells and whistles to show off what a good match you are for a job, and a good resume header is one great and effective way to get a hiring manager's attention — without having to make your resume smell like a citrus grove.
Here's everything you need to know to make the perfect resume header and get the job:
Want to save time and have your resume ready in 5 minutes? Try our resume builder. It's fast and easy to use. Plus, you'll get ready-made content to add with one click. See 10+ resume templates and create your resume here.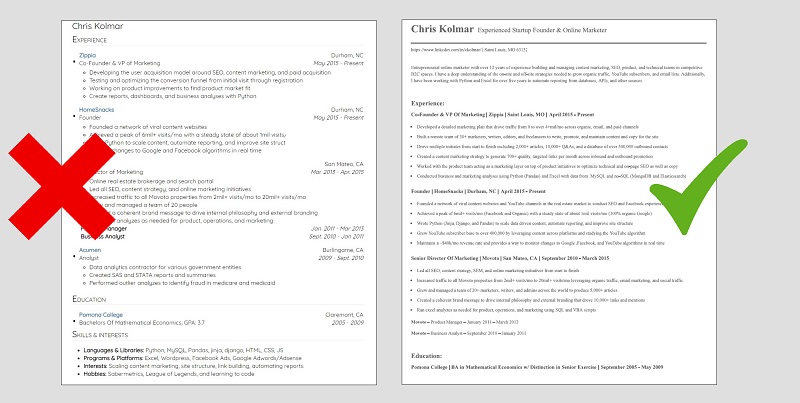 One of users, Diana, had this to say:
I was guided on how to make a detailed and professional resume on Zippia. I was able to download it with unlimited access to all features.
Your Name
First thing's first — employers only spend about six seconds looking at resumes before they decide to keep them or throw them away, so you should definitely let them know whose it is.
Your name should be the first thing a hiring manager sees, so put it at the very top and make it a slightly larger font size than the body of your resume — you want your name to stand out, but not take up half of the page.
This should be your full, searchable name. No nicknames or abbreviations, unless they are the name that you've historically used on social media, as an author byline, or how you're most recognized in your industry.
Your Location
Commute and relocation are things that employers take into consideration when sifting through candidates, so provide your current address in your resume header to help give employers have an idea of where you are in relation to their office.
You also don't need to provide a specific street address. Instead, you can simply list your city and state — that's all the info that the employer really needs anyway.
Hank Rutherford Hill
St. Arlen, Texas | (123) 467-7690 | Hank.Hill@gmail.com
If you're seeking work outside of your home state, you have the option of leaving out your current address altogether. Instead, make sure to write "Open to relocation" or the names of cities or states that you're willing to relocate to. That way, your address won't be able to work against you in your job hunt.
Update Your Resume Now To Get Your Next Job Faster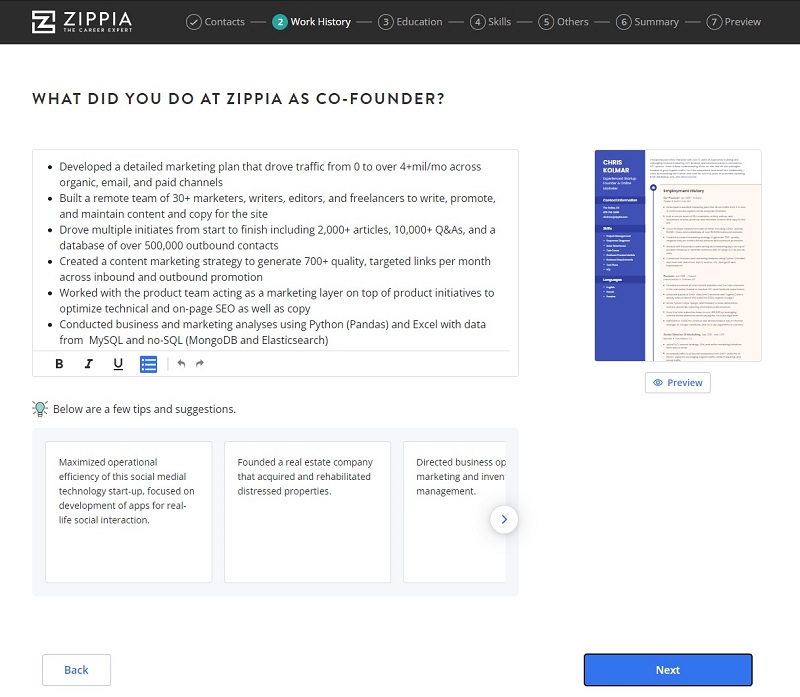 Your Phone Number
In the modern age of email, it's more likely that you'll get a request to schedule an interview by email, but many companies utilize phone interviews to start off the interviewing process, and some companies do still prefer to first contact candidates by calling them.
Make sure to provide your most commonly used phone number in your resume header. Because our smartphones are essentially glued to our hands at all times, this means you should probably only list your cell phone and not your ancient, dust-ridden landline.
Make sure that your voicemail is open and ready to receive messages, and go ahead and take two minutes out of your day to set up a professional outgoing message. Even though they're a hilarious middle school classic, it's time to let your "Hello? …Hello? I can't hear you, are you there? Haha, just kidding, it's my voicemail!" greeting be laid to rest.
You'll also want to make sure that your phone number is free of any typos — one wrong number could result in a missed opportunity.
Your Email Address
Your email address should show that you're professional and want to be taken seriously, so you probably want to leave your personal email address backstreetboyzrcute@hotmail.com out of your resume heading.
Email accounts are free, so if you haven't already, create a new one on a more common platform like Gmail. Make sure it includes some pairing of your first and last name or your initials.
And in case you didn't already know this aspect of job-hunting etiquette: never use your work email address to search for other jobs. That would be a very bad look.
Then again, there's one more thing you can do.
Make a new resume and get more interviews.
Plus, a great resume will give you an advantage over other candidates. You can write it in our resume builder here. Here's what it may look like:
Your Job Title
You can either use your current job title or your most recent one if you're currently out of work. If your job title is sort of nebulous, feel free to go with whatever best hits the job listing's keywords, while remaining truthful.
John Cena
Bodyguard | Houston, Texas | (987) 543-1090 | JohnCena@gmail.com
It's also a good idea to include certifications or licenses alongside your job title.
Jean White
Oncology Nurse, CNA | Tampa, Florida | (543) 213-5544 | JeanWhite@gmail.com
If you want to make your resume header more of a resume headline, you can also opt to include your years of experience in the header.
Any Relevant Links or Social Media Accounts
For most candidates, these four elements are all that's needed for a resume header. On the other hand, some jobs require a link to an online portfolio or other examples of previous work, or an industry-related blog or website.
Simply throw the link to your work in with the rest of the information provided in your header, or clearly label it by writing something like "Portfolio: www.WebsiteName.com"
If you feel that a link to your social media profile could further your standing as a candidate, go ahead and include it. This doesn't mean you should throw in a link to your hilarious Twitter profile, but if you do decide to include your Twitter handle, make sure to keep it PG and professional.
The best social media platform to include, however, is LinkedIn. Make sure to personalize your LinkedIn URL, with something like www.linkedin.com/in/FirstNameLastName. Don't bother providing a link to your LinkedIn if your profile is only partially completed or won't help your chances of landing the job.
Resume Header Tips
Keep these four resume header tips in mind:
Final Thoughts
Your resume heading is the first thing that employers are going to see, you want to make sure that it's informative, professional, and visually appealing.
Make sure not to go overboard with fonts, bold or italics, and as always — make sure to proofread. It would be super unfortunate if the first thing an employer noticed about you is that you don't even know how to spell your own name.
Now, it's time to write the rest of your resume!