Think about the last article that you decided to read. It likely had a strong or compelling headline that made you select it over other pieces and also got you wanting to learn more on the subject matter. The same thought process can be applied when considering hiring managers and resume titles.
These short snippets open your resume just under the header and are used to quickly give the recruiter insight into your professional purpose. Your title will have a combination of primary skills, your experience, and even a few resume buzzwords. A strong resume headline can help you land the job interview and your dream job by simply getting more attention from employers.
Learning how to write titles for your resume or CV is an essential aspect of the overall job application process, and with a few tips and examples, you can curate the perfect headline.
Want to save time and have your resume ready in 5 minutes? Try our resume builder. It's fast and easy to use. Plus, you'll get ready-made content to add with one click. See 10+ resume templates and create your resume here.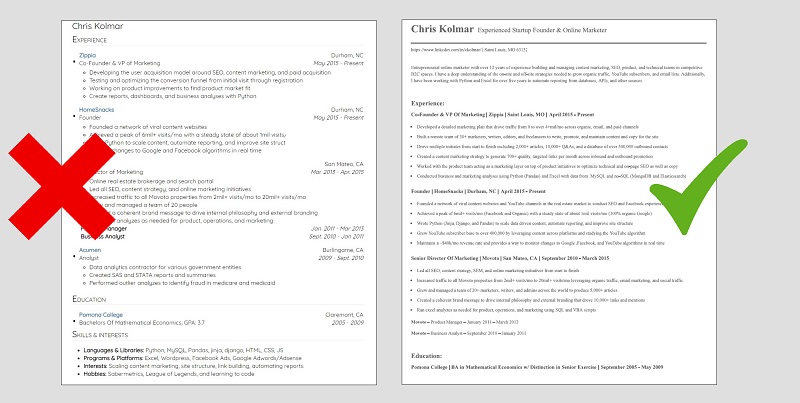 One of users, Diana, had this to say:
I was guided on how to make a detailed and professional resume on Zippia. I was able to download it with unlimited access to all features.
Why Resume Titles Are Important
To fully understand why a resume title matters, you must understand exactly what it is. First and foremost, a resume title is not the same as your job title. The resume title or headline is one or two sentences that serve as an introduction – the job title is simply the name of the role you are currently in or targeting, aka your professional identity.
Another key distinction is between the headline and resume summary. While both are located at the top of your resume, the headline is an eye-catching line that sums up your experience, while a summary statement is longer and provides specific details of your skillset.
The resume title should be of particular importance to job seekers for several reasons:
How to Title a Resume
Less is more when it comes to crafting the perfect resume title. Job applicants already understand how crucial structure is when formatting any resume.
The headline will fit in right below your name and basic contact details, before diving into the bulk of your resume. Capitalize your snippet in title case and bold the font to help it further stand out on the page.
Here is a step-by-step checklist on how to write your resume title:
Understand the position. The best place to begin with writing your headline does not involve writing at all. You should instead start by researching the job title that you are applying for.

Look at key characteristics and skills that employers are searching for, and consider how you can incorporate these into your headline.

Be original. Just as we strongly advise against submitting the same exact cover letter to each potential employer, the same goes for your resume headline.

A generic title that could apply to any position will not help your resume stand out from other candidates, so tailor it to the job.

Keep it relevant. If you are applying for an engineering position, you would not want your headline to focus on your years of customer service experience.

Even if you are applying for an entry-level position with no experience, you can still highlight certain skills that apply to the job rather than work history.
Update Your Resume Now To Get Your Next Job Faster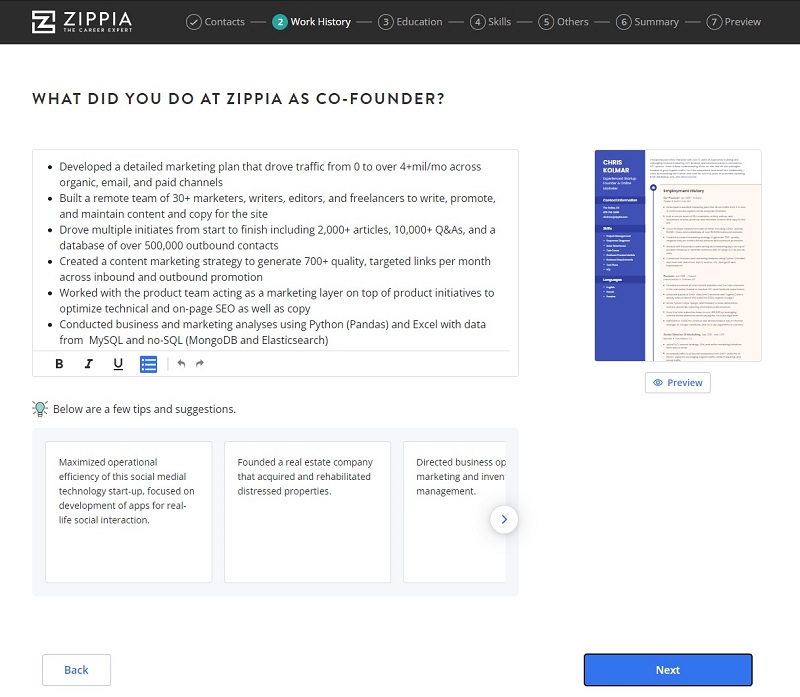 Resume Headline Examples
With the basic foundational components covered, you can look at a few examples of good resume headlines. Remember that these are just meant to help guide you, as you will want your resume title to be 100% original.
Experienced Resume Title Examples
Innovative Software Developer with 3+ years experience in Java

Product Development Coordinator with Proven Revenue Growth in Cloud-Enabled Applications

Human Resources Manager with 15+ Years of Recruiting Experience in Fortune 500 Companies

Business Procurement Specialist with Experience Growing and Scaling Private Sector Teams

Marketing Specialist with Experience Growing eCommerce Stores from 1K to 500K Visits/Month
Entry-Level and Career-Change Resume Title Examples
Proactive Professional Open to New Managerial Opportunities

Customer Service Agent Skilled in Data-Entry and Transcription

Recent College Graduate and Recipient of A.B. Langston Leadership Award

Bilingual Graduate with 95 WPM Typing Speed and Tutoring Experience

Analytical Professional with Advanced Proficiency in Excel
Additional Tips for Writing a Resume Headline
With the basic foundational components covered, you can use these tips for writing your resume titles:
Declare your skillset, not your intent. Your resume headline is an opener to who you are, versus a resume objective statement that states what type of employment you are seeking.

There is no need to express that you are looking for work in your headline – this goes without saying. An exception would be if you are putting your resume into a pool where the specific role is flexible.

Keep length in mind. Your resume summary describes your overall work history and professional accomplishments in a few lines.

You can consider your headline to be a summary of this summary, a one-sentence introduction to your overall resume. Be as concise as possible when writing your headline.

Remember keywords. Keywords help in several ways, and one is by serving as flags to recruiters. When employers look at resumes, they are automatically looking for specific skills mentioned throughout the job description.

Try to find a keyword used several times throughout the posting and fit it into your headline.

Highlight what's most valuable first. Being that recruiters scan resumes quickly, structure your headline with the most important details up front.

For example, start your sentence with years of experience or a specific accomplishment that immediately tells them who you are and sets you apart.

Make it unique. Try to avoid clichés at all costs. Saying that you are "highly organized" will not differentiate your resume from a pool of others, and it does not tell the employer how you have proven to be organized.

Speak to your actual accomplishments and proven skills.
Resume Headlines vs. Resume Profiles
There is one more resume component that you should be aware of to understand resume titles better. They are sometimes confused with resume profiles, which are an entirely different concept.
While the headline is short and just one sentence, your resume profile is a section that gives a breakdown of your skills. Job seekers can make this a bulleted list or a paragraph highlighting relevant qualifications.
If you include both a headline and profile, the latter will come after and will not be capitalized. You also do not need to bold this section as you would your resume title.
Then again, there's one more thing you can do.
Make a new resume and get more interviews.
Plus, a great resume will give you an advantage over other candidates. You can write it in our resume builder here. Here's what it may look like:
Examples of Resume Titles With Profiles
If you're curious as to how to add both a headline and profile to your resume, here are examples across several industries:
Resume Title Example #1
Director of HR with 10 Years Experience in Technology Sector

Highly productive in developing and executing training protocols across all company verticals. Global human resources certificates with international team experience. Certified in Oracle and lead implementation of technology audits for 500+ employees. Masterful in selecting and retaining top talent, with a 98% employee retention rate over the last 24 months.
Resume Title Example #2
Social Media Consultant Assisting Startups Grow Online Presence and Drive More Sales

Over 5 years of experience transforming the social media reach of small businesses. Responsible for creating social media strategies that increase lead generation with various SEO optimization techniques. Amassed more than 3M followers across Instagram, Facebook, and Twitter for clients across health, fashion, and food industries.
Resume Title Example #3
Confident Retail Manager with 6 years of High-Volume Store Experience

Results-driven manager producing the highest-grossing store in the district. Responsible for talent management, resource allocation, and merchandising efforts. Analysis of annual budget resulted in implementing an action plan to improve loss prevention efforts and reduce shrink.
More Resume Title Examples
No matter your profession or desired career, having a proper headline can improve your overall resume. Below are additional resume titles that you can build off of to create your own unique headline:
Seasoned Retail Associate with Key Holder and Training Experience

Sales Representative with 5 years of Experience, Specializing in Health Care

Regional Manager who Increased Territory Revenues by 58%

Personable Daycare Provider with Accreditation and Special Education Experience

Veteran Marketing Professional who Scaled Startup Growth by 82%

Award-Winning Author with 7 Years Experience in Self-Publishing and Marketing

Eager College Graduate with Teaching Assistant Experience Focused in Meteorology

Graphic Designer with 10 Years Experience at Ad-Tech Companies