Find a Job You Really Want In
One of the many qualities that people look for in a potential location or company is the intelligence of those around them. This factor can play a huge role in one's experience at a particular company and can make or break an employee's time there.
So finding a state with an intelligent population makes sense for both companies and employees. That's where Zippia comes in; to help you identify those places in America that might have skipped a grade…or two.
You may be wondering how does one determine how intelligent a state really is?
Well we went to the source of all things demographic data – the Census – to figure out what criteria about a state would identify it is a smart cookie.
We set upon the percentage of adults (over 25) with at least a college degree and the percentage of young adults without a high school education (aged 18-24). We then crunched the numbers and were left with this set of the brightest states America has to offer.
As it turns out, the majority of the smartest Americans have decided that the Northeast is the place to be.
Smartest States In America
The northeast dominates this list, with 9 states on the list. Hawaii is a sunny exception. Read on to see why these states got into a four-year college or skip to the end to see a full chart of all the states.
For more information check out:
How we determined the smartest states in the country
While there are "objective" criteria for intelligence like IQ scores and SATs, we went with something a little different for this analysis. Many of those tests have been shown to be biased against certain people and places, so we went with criteria that strips away a bit of that bias.
Specifically we used the following two criteria to determine the cream from the crop when it comes to smarts:
Percentage of adults over 25 with a bachelor's degree or higher (Higher is smarter)
Percentage of 18-25 year olds with less than a high school education (Lower is smarter)
Our data comes directly from the latest American Community Survey from the Census (2014-2018).
We thought this criteria was representative of the current state of smarts with the potential for a place to improve the education levels of the next generation.
In order to determine the smartest, we ranked all the states for each criteria from one to 50 with one being the "smartest" in any category.
We took the average rank across all criteria, with the place posting the highest overall score being given the diploma for "Smartest State In America".
If your state isn't among the top 10, jump down to the bottom of the post to see a detailed chart. Otherwise, learn more about how the top ten states achieved their potential.
1. Vermont
Source: Flickr Community College Of Vermont
Population: 626,299
Bachelor's Or Higher: 37.3%
Less Than High School Education: 7.7%
Vermont is the smartest state in the nation, proving you don't need a big population to have big brains. Most Vermonters are highly educated with a high percent having a bachelors degree of greater, and young Vermont adults being more likely than most to have at least a high school degree. We should have guessed the state that invented Ben and Jerry's and has the most libraries per person would be pretty smart.
2. Connecticut
Source: Flickr US Department of Edu
Population: 3,572,665
Bachelor's Or Higher: 38.9%
High School Dropout Rate: 9.9%
Connecticut jumped three spots to the #2 smartest state. Connecticut does a great job of educating young adults, and the older adults are pretty educated themselves.
3. Massachusetts
Source: Flickr Roger W
Population: 6,902,149
Bachelor's Or Higher: 42.9%
Less Than High School Education: 10.6
While Massachusetts dropped from the #1 spot to #3, the state is still pretty smart. Adults over 25 are more likely to have a bachelors in Massachusetts than any other state. Way to go Bay State.
4. New Hampshire
Source: Flickr Ken
Population: 1,356,458
Bachelor's Or Higher: 36.5
Less Than High School Education: 9.2
New Hampshire might be known for its tiny small and lush wilderness, but they should be known for being pretty smart, too. Only 9.2% of New Hampshire residents 18-24 have less than a high school education.
5. Virginia
Source: Flickr Taber Andrew Bain
Population: 8,517,685
Bachelor's Or Higher: 38.2
Less Than High School Education: 10.4
Virginians, neck and neck with New Hampshire and Massachusetts, are one of the smartest states in the nation. Virginians are fairly likely to have graduated high school and college, which are pretty smart moves.
6. New Jersey
Source: Flickr Harshil Shah
Population: 8,908,520
Bachelor's Or Higher: 38.9%
Less Than High School Education: 10.6%
The garden state is the 6th smartest state and the 6th northeastern state on the list. New Jersey made the list last year and kept hitting the books to make their spot for this year.
7. Maryland
Population: 6,042,718
Bachelor's Or Higher: 39.6%
Less Than High School Education: 10.7%
When you think Maryland, you might think of blue crabs and beaches, but you should be thinking of how smart Marylanders are. Maryland is second to only Masschusetters in percent of the population that has achieved a bachelors degree.
8. Rhode Island
Source: Flickr
Population: 1,057,315
Bachelor's Or Higher: 33.3%
Less Than High School Education: 8.7%
Rhode Island is the 8th smartest state. Up in the Ocean state, residents are big on using their smarts. Rhode Islanders are highly educated.
9. Maine
Source:
Population: 1,338,404
Bachelor's Or Higher: 34.9%
Less Than High School Education: 10.4%
Maine comes in at #9, which is nothing to frown about. Maine residents are pretty bright, with great education rates.
10. Hawaii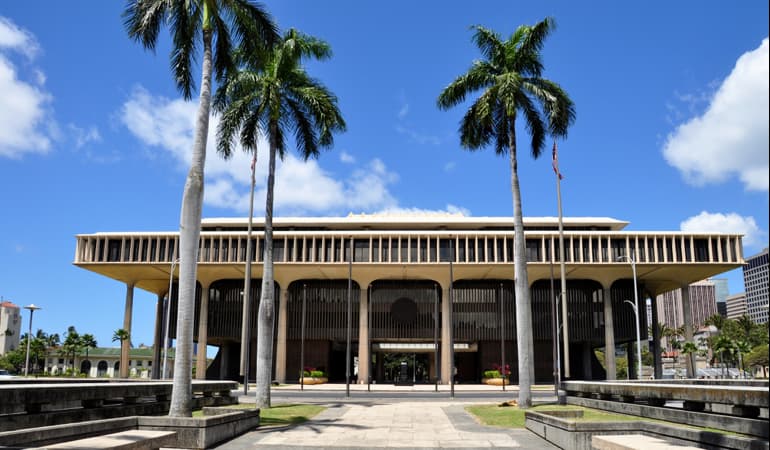 Source:
Population: 1,420,491
Bachelor's Or Higher: 32.5%
Less Than High School Education: 8.4%
Aloha to Hawaii, who made the top 10 for the first time. Hawaiians are pretty clever- with 32% of adults over 25 having a bachelors degree
Full List of Smartest States
Want the latest research and most engaging stories first? Email Kathy Morris at kmorris@zippia.com to be added to our weekly newsletter.
Never miss an opportunity that's right for you.