America is beautiful, with truly awe-inspiring nature and other sights worth seeing.
However, it's not all beautiful. In fact, sometimes it can be a little, dare we say it, gross.
Don't believe me? Just get a good whiff of landfill on a hot summer day or go to basically any Walmart.
But where are the grossest places in the US? We set out to make gross a science and uncovered the grossest states in America.
The Grossest States
Keep reading to see what won these states the less than sought-after title of grossest states in America.
How We Determined This
We started with undisputed metrics of gross-ery.
Dirty air
Trash, or the percentage of each state that is landfill
Spread of illness like the flu
To measure the dirtiness of the air, we referred Air Filters Delivered thorough ranking on air quality.
For the trash rating, we simply used the EPA's data on the percentage of each state's land that is taken up by landfills.
We then looked at the CDC's ranking on the spread of illnesses in each state like the flu. Because sneezing, coughing, and spreading diseases is pretty gross.
From there, we decided to add some cultural factors that are a bit…well, gross. AKA Google search interest in:
Mayo recipes
Croc wearing
Sorry Mayo lovers and Croc wearers. A line had to be drawn somewhere.
Keep reading to see what set the 10 states apart (in a bad way) and where fared the best in our rankings.
1. Virginia
Sorry Virginians, but Virginia is the grossest state in the US. What makes Virginia the capital of gross? Cruddy air quality. However, their fondness of Crocs and recipes based on buckets of mayo doesn't help.
2. South Carolina
In 2nd place is South Carolina. The Palmetto State in general has mediocre air quality and more trash than most other states.
3. North Carolina
Right behind South Carolina is its neighbor North Carolina and is a pretty similar story. One difference? North Carolina likes Crocs even more than South Carolina does (hard as it may be to believe.)
4. Pennsylvania
Pennsylvania is the 4th grossest state. 0.0191% of the otherwise beautiful state is used just to store trash in landfills.
5. Texas
Texans might want to invest in some hand sanitizer, because the state is the worst for spread of illnesses like the flu. You know what's pretty gross, spreading disease and the flu in general.
6. New Jersey
The tiny, densely populated state of New Jersey has a trash problem. In fact, 0.0421% of the state is landfill- More than any other state in the country. To put that into perspective, Alaska only has 0.0001% of its land mass dedicated to being filled with trash.
7. Connecticut
Connecticut is the 6th grossest state. Connecticut is a pretty friendly place: Maybe that's why they so freely share their germs. In fact, Connecticut is the 3rd worst state for spread of illnesses like the flu.
8. Georgia
In 8th place is the state of Georgia. While Georgia could be known for its peaches, being home to Coca Cola, and some beautiful slices of nature, judging by the rankings it's also kind of gross.
9. Delaware
Delaware is 2nd to only New Jersey in trashery. 0.0399% of "The First State" is landfills. And did we mention they like Crocs more than all but two states? We rest our case.
10. New York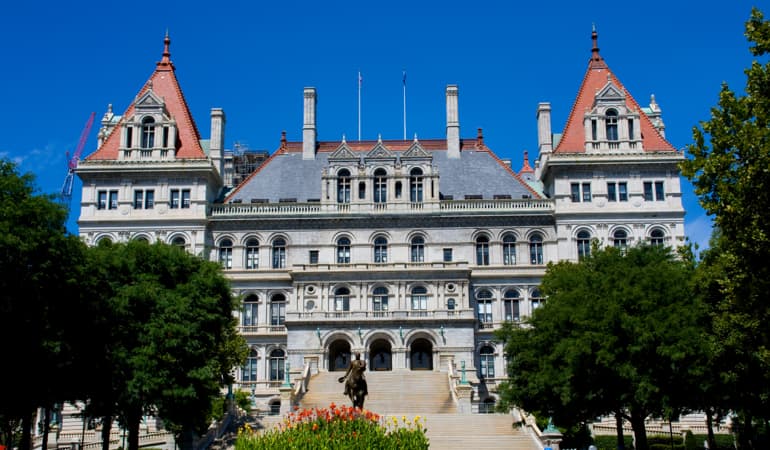 New York, New York…what a gross state? New York may be wonderful and full of both beautiful nature and cultural landmarks but the state is also home to trash, mediocre air quality, and sneezes that are traveling pretty far. Yuck.
These states aren't all gross
While these states may have pinged our gross radar, that doesn't mean they're absolutely disgusting.
In fact, each of them has some pretty charming and downright jaw dropping sights. Luray Caverns, Boneyard Beach, and Big Bend National Park are just a few gorgeous places worth a visit.
They could also stand to improve their air quality, be a little less trashy, and consider foods not based around mayo. But hey, who are we to judge?
You can see the full ranking of all 50 states below.
Grossest States