So you're in your first year of college, you're experiencing a brand new world, and you're ready to start branching out and seeing how far your achievements and experiences can take you. But there's a small obstacle in your way. You aren't quite sure how to craft a professional resume that shows your true potential.
As a freshman college student, it's likely that you don't have much (or any) work experience in your field of choice. And while you may have had part-time work, you may not know how to describe this work along with other experiences in a way that shows off the full breadth of your ability.
Traditional resume tips and tricks can be helpful, but they are tailored towards those who have a slightly more established professional life. Most of your accomplishments are likely in the academic or extracurricular realm, or even in your personal projects and hobbies.
No matter what you're applying for, you need a polished and well-thought-out resume to demonstrate your value as a candidate. This article will give you a basic rundown of what a freshman resume is, how you can create one of your very own, and an example resume that can help you get started.
Want to save time and have your resume ready in 5 minutes? Try our resume builder. It's fast and easy to use. Plus, you'll get ready-made content to add with one click. See 10+ resume templates and create your resume here.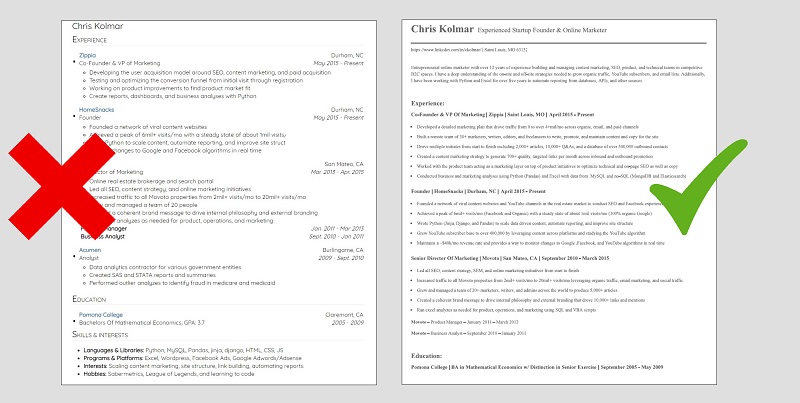 One of users, Diana, had this to say:
I was guided on how to make a detailed and professional resume on Zippia. I was able to download it with unlimited access to all features.
What Is a College Freshman Resume?
A college freshman resume is a resume written by a first-year college student.
As a college student, you're only just beginning to figure out what it is you may want to do for the rest of your adult life. From your place in the career world to your own personal identity, there are a lot of things that you are working on gaining a clear vision for, especially as a college freshman.
In this transition between childhood and young adulthood, you are just beginning to gain experience, specialized skills, and an understanding of how to behave in the professional world. You don't quite have the experience and know-how required for most industries yet, but you aren't expected to either.
Resumes are crucial parts of so many different application processes. From work-study, to internships, student leadership positions, and even scholarships – you need a great resume to get your foot in the door or gain exclusive access. Once you've gained a position, you can use it to further develop your skills and resume.
Typically, resumes only itemize adult, professional experiences. This means that high school (or prior) information is left off. However, as a college freshman, many of your accomplishments may have taken place in high school, and it's acceptable to include them. This is the key difference between a college freshman resume and a typical professional resume.
What to Include in a College Freshman Resume
The following sections should be included in your resume as a college freshman:
Contact information. Your contact information is possibly the most crucial section on your resume, as it links all of the contents of the resume back to you as an individual. It should be the very first thing seen on your resume, in an easy to locate spot, and your name should be the largest piece of text.

You'll want to include all of the following:

Resume objective/summary. Your resume objective or summary goes at the top of your layout. It gives a quick and compelling intro to the contents of your resume.

This section will be no more than 150 characters, and it will describe the goals you have for whatever you're applying for, as well as your demonstrated skills and achievements that will help you meet these goals.

Try not to make this section vague or focused too much on your personal wishes. Instead, be clear and precise in summarizing and quantifying your experience. This might include your field of study, along with the amount of time you've spent engaging in whatever is required of applicants.

Education background. Your education section will likely be one of your most impressive sections as a college freshman, so feature it near the top. Lead with what you're majoring in or your primary focus of study to help give your resume-readers a picture of the skills you're working to build.

Under that, list the institution you're attending and your expected date of graduation. Include any honors or awards you might have achieved in your academic career. To beef up your education and demonstrate your fit for a position, you could even list relevant coursework or classes.

Include high school academic information and achievements if there is something there that would knock a hiring manager's (or scholarship committee) socks off, but it isn't strictly necessary.

Work experience. It's quite likely and expected that you don't have much (or any) professional experience in your field of choice. However, If you have any work experience at all, even if it doesn't seem strictly relevant to the position, you should list it here.

Resume-readers of all types agree that one of the most important aspects of a resume is determining someone's work ethic. If you've held a part-time or summer job or engaged in an internship during your schooling, that's no small feat. Listing these jobs shows that you are hardworking and have begun developing your professional tool kit.

List your work experiences in reverse chronological order, meaning the most recent will be first and the earliest will be last. Each entry should contain the following:

The title of your position

The period you worked there

The name of the organization

Key qualifications and responsibilities

Your most significant achievements in this position, in 2-5 bullet points

Relevant skills. This section will be used to highlight and name what you are good at. You can include hard skills – anything that requires teaching or training to learn, such as HTML coding – and soft skills – anything that comes naturally to you or is a part of your personality, such as interpersonal communication.

While soft skills are incredibly important in action, their subjectivity makes it hard to "prove" you actually possess them. Hard skills or technical skills are more concrete, so they tend to hold a bit more water on resumes.

Make sure that all the skills you're listing are relevant to what you're applying for. It's best to tailor this section according to the job (position, etc.) description.

Extracurricular activities. As a college freshman, it's likely that a lot of your big achievements, valuable experiences, and learning moments have come from your extracurricular experiences. This could be sports, clubs, associations, theater, student government, etc.

Typically, these are left off of resumes (outside of exceptional circumstances), but for a college freshman, they can be a great demonstration of your personality and capabilities. List only significant experiences or extracurriculars you were involved with for an extended period of time.

You could list this as its own separate section, include it with your education section, or put it with other optional sections.

Optional sections. There are some other options for appropriate sections you can include on your resume. You could even combine multiple sections from this category with each other or with your extracurriculars (just make sure to be clear).

Be sure that any information you include on your resume is both relevant and valuable to the specific position you're applying for. Some optional sections you can think about incorporating include:
Update Your Resume Now To Get Your Next Job Faster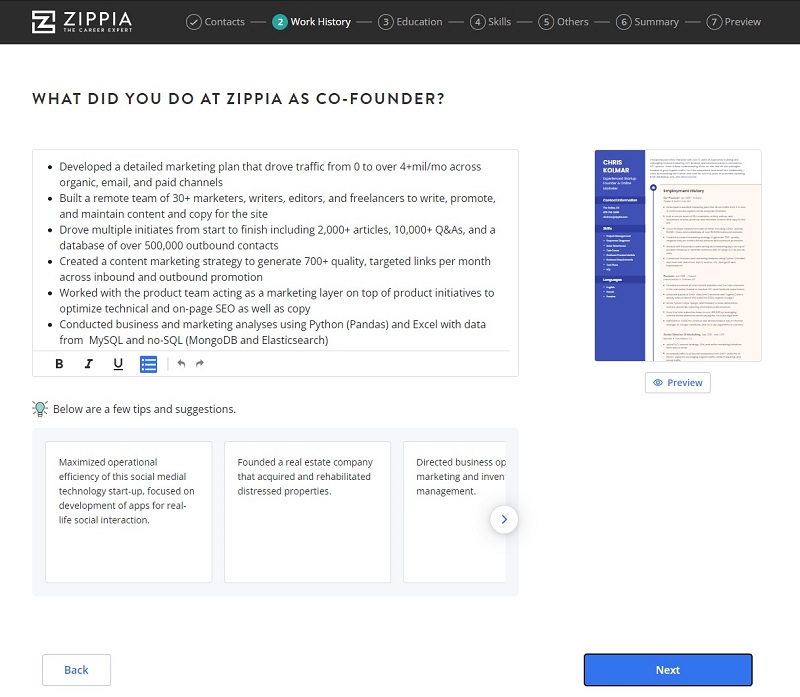 Tips for Writing a Resume in College
Here are three crucial tips for writing a great resume as a college freshman:
Strategically decide on sections. Before you even begin creating your resume, sit down, and have a huge brainstorming session about anything and everything you could possibly include. After you make your mega-list, go through and circle the things you think would be the most helpful to include.

Take these circled entries and categorize them. Based on this, decide which sections you're going to include to show these things off without being redundant. You'll have to include categories like education and work experience, of course, but be strategic with what other sections you include and how you include them.

Write effective bullet points. Within each section, consolidate the details and descriptive information into bullet points. When writing your bullet points, always keep in mind the words used in the job description (or in the description of whatever you're applying for) and try to incorporate them.

Write in a concise, functional way focused on packing as much information into as few words as possible. Avoid using the first-person over and over again to describe your experiences, and just start directly with the verb (action word) that describes what you did. Use vivid, colorful verbs to amp up the power.

Each bullet point should be no more than two lines of text, but ideally no more than one line. Also, be sure to use the active voice throughout for clarity (e.g., "managed a team" rather than "a team was managed by me").

Use the right format. Your resume design and layout can help give resume-readers a better look at who you are and how you choose to present yourself. Pick colors and structures that speak to you and that you feel are best for the task at hand. However, there are some rules you should generally stick by.

As stated previously, you'll want to list the entries in each section in reverse chronological order. Use easy to read, consistent fonts (no more than two distinct fonts) throughout. Keep the margins to at least an inch, and make your name the largest piece of text on your resume.
College Freshman Resume Template
First Name Last Name

email@email.com | (555)-555-5555 | City, State | linkedin.com/firstnamelastname (optional)

Resume Summary

Freshman university student majoring in [major] seeking to use skills in [hard skill] to excel in a [job title] role. A [soft skill] individual hoping to contribute to [company name]'s broader goals of [company's publically-stated goals].

Education

[Name of Major] | [X.X] GPA (only if over 3.0)
[Name of College/University] | [City, State]
Expected Graduation Year: 202X

[Honors/Awards]
[Relevant Coursework/Extracurriculars]

[Name of High School] | [X.X] GPA (only if over 3.0)
[City, State]
Graduation Year: 20XX

[Honors/Awards]
[Relevant Extracurriculars]

Relevant Experience

[Most Recent Job Title] | [Start Date] – [End Date] (Month, Year or MM/YYY)
[Organization Name] | [City, State]

[Impressive accomplishment]

[Quantifiable experience]

[Use present tense if still working this job]

[Previous Job Title] | [Start Date] – [End Date] (Month, Year or MM/YYY)
[Organization Name] | [City, State]

[Use past tense verbs to start each sentence]

[Strong action verbs work best]

[Use numbers when possible]

Extracurriculars

[Brief 1-2 line description of your involvement with a relevant extracurricular activity]

[Don't include the same item twice; if you listed an extracurricular in your education section, don't add more here]

Relevant Skills

[Hard skill 1] (Be specific with names of software/tools you're skilled with)

[Hard skill 2]

[Hard skill 3]

[Hard skill 4]

[Soft skill 1] (Make sure soft skills are reflected in your experience, education, and summary/obective also)

[Soft skill 2]
Then again, there's one more thing you can do.
Make a new resume and get more interviews.
Plus, a great resume will give you an advantage over other candidates. You can write it in our resume builder here. Here's what it may look like:
College Freshman Resume Example
Here's an example of a college freshman resume utilizing all of the above tips. You can compare this example against your own during your resume-writing process:
Malia Davis
Contact Information
Phone: 608-281-4823
Email: Maliabdavis@gmail.com
Linkedin: Linkedin.com/in/maliabdavis
Website: maliadaviswork.com

Objective
Digital Marketing and Communications student with academic experience in social media content creation. Looking to utilize writing, marketing, and design skills to increase customer engagement with Pinecone Ltd.'s social media accounts.

Education
Digital Marketing and Communications Major,
Ohio State University, Columbus, Ohio
2020 – 2024 (expected graduation year)
Relevant Coursework: intro to social media marketing, intermediate social media marketing, understanding algorithms, intro to graphic design
Extracurriculars:

Member of OSU writing group that meets weekly to practice and hone writing skills.

Member of Marketing and Communications Fraternity, collaborating on monthly volunteer marketing projects

Grand Rapids Montessori High, Grand Rapids, Michigan
Graduation Date: 2020
GPA: 4.0

Work Experience
Marketing Intern
Lovepups Rescue Center, Wyoming, Michigan
2020-05 – 2020-08

Collaborated on a variety of marketing materials for print and web.

Wrote and designed pamphlets and flyers independently to increase community awareness

Organized digital marketing files

Increased Lovepups membership rates by 20%

Server/Team Member
Starlight Cafe, Grand Rapids, Michigan
2018-06 – 2019-09

Managed customer orders in-person and via phone

Balanced cleaning and customer service duties to ensure the best customer experience

Influenced customers through promoting new items and special deals

Skills

Good knowledge of Facebook, Twitter, and Instagram algorithms and content strategies

Intermediate HTML and CSS coding

Academic and professional writing

Adobe Photoshop

Great teamwork and collaboration skills

Spanish language fluency

Project leadership

Awards and Honors

Top 2% of graduating class of 100 at Grand Rapids Montessori High

Achieved GRMH perfect attendance award for four consecutive years

Earned Linda Everly Honors Scholarship, a competitive OSU scholarship for outstanding academic achievement