In This Article
Skip to section
Making a good first impression with your resume is not only important, but also a necessary way to land a great gig. Many hiring managers spend days sifting through an incredible amount of candidates, each with their own unique resume.
After a while, it can be a bit over-saturating. Unfortunately, great candidates get passed over all the time due to lackluster resumes that didn't stand out from the crowd. But this doesn't have to be you.
Well-designed resumes can lure in hiring managers and make them want to keep reading on and looking into your application's details. And getting your application read in full is often half the battle.
Give yourself a leg up in the job-searching game by using a free, easily customizable, and great-looking resume.
This article gives you a rundown of some of the best options to make your resume or CV shine in no time.
Want to save time and have your resume ready in 5 minutes? Try our resume builder. It's fast and easy to use. Plus, you'll get ready-made content to add with one click. See 10+ resume templates and create your resume here.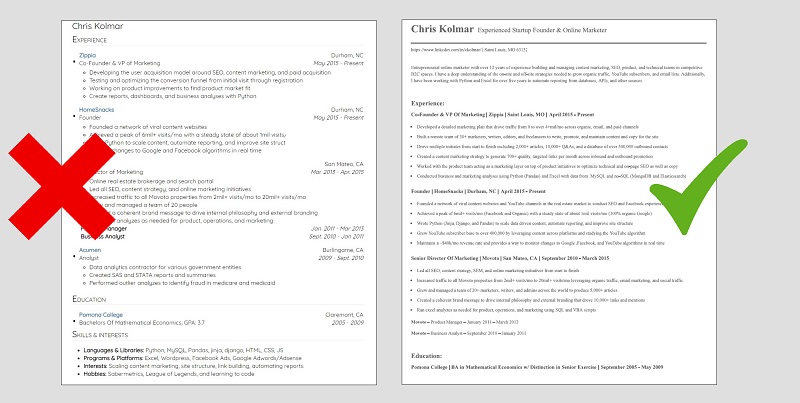 One of users, Diana, had this to say:
I was guided on how to make a detailed and professional resume on Zippia. I was able to download it with unlimited access to all features.
20 Blank Resume Forms and Templates
Simple Resume. This is a great, engaging, and well-designed resume with tons of personality. It comes pre-made with a light blue color scheme with a personable and friendly effect (and the specific color can be changed as you wish).

It includes a large headshot to help you stand out from the crowd. Putting a face to your name is an excellent way of increasing your chances of sticking in the hiring manager's mind. It also includes a profile section and all the standard sections of a resume, laid out in an easy to understand way.

This resume works well for anyone with limited work experience, as it helps to enhance and draw attention to the overall picture of your professional life. According to the template-makers, it's also an excellent choice for teachers.

Zety Concept Resume. This is an incredibly crafty resume that gives both a professional and a fresh look. It utilizes both graphics and text in a way that helps highlight your most significant professional accomplishments.

This template has a modern feel but is still versatile for many industries and professions. The icons help to save space as well as communicate your skills and experience visually. The timeline feature also helps to show the progression of your career effortlessly.

Simple Resume for Microsoft Word. This is a simple and tidy resume template that can help you make a good first impression. The layout is a basic format with sections for objective, education, experience, awards, and acknowledgments. Your name is bolded at the top to help you stand out.

This resume is formatted specifically for Microsoft Word, and it's easily customizable for any person and any need. With the clean text layout, this resume also has the bonus of being accessible to screen readers for the visually impaired.

This resume is great for formal industries or academic opportunities. Use with a matching cover letter for a professional combo.

LiveCareer Cool Resume. If you want a clean, basic resume that still helps you make a unique impression, look no further. It is simple but modern, and it brings all the attention to your name at the top in a professional way.

This resume adheres to the general rule that your name should be the largest piece of text on your resume to create ownership over your professional experience and ensure that your name is remembered when it comes time to reach out to candidates.

Zety Cubic Resume. This is the perfect resume template if you have a lot of information you'd like to get across in a way that is still neat and well-formatted. No matter how much you write, this resume retains readability and makes sure that no detail gets left behind.

This resume works well for seasoned employees but can be utilized by workers of all skill levels. It's also a great choice to explain and elaborate on the different sections and details if you'd like some extra space.

Modern Chronological Resume for Microsoft Word. This is a sleek, modern resume or CV that relies on a simple text layout with great readability. The chronological ordering helps to both emphasize your experience and show the progression of your career. It's great for someone with lots of experience.

It's a basic and minimalistic template, and the lack of visual elements makes it a great accessible choice. The color scheme, fonts, and other details can be easily changed for a personal touch. It's a good option for anyone looking for something simple, straightforward, and elegant.

Professional HR Resume. This template mixes graphics with text for an easy-to-read, impactful resume. It includes a section for a personal headshot, and the overall look is very friendly, personable, and warm.

This template has space for lots of information and includes all the traditional sections of a resume that you might need. But the fun graphic design keeps it from ever looking like an unreadable block of text. It's currently formatted for HR professionals, but it can be reformatted for any career.

Contemporary Resume for Microsoft Word. This is a fun and stylish resume that'll help you stand out in a sea of applicants. It has a sleek and vibrant design while still drawing attention to your skills and work experience.

The pop of color on this resume is bold and contemporary, and it shows off that you're a unique candidate with an eye for design. This template has tons of personality, and it's very user friendly. It can be easily customized to suit your tastes and aesthetic.

Zety Diamond Resume. The unique motifs in this resume give it a cohesive and fresh look, and the use of simple graphics optimizes readability. It has a single column, reverse-chronological format.

This template is simple but not plain. It makes your work history and experience the star of the show, and it reels in interest by highlighting your job title.

This would be an excellent choice for anyone in a specialized field, as it contains both software and certification sections. Keep in mind, however, that the sections can be retitled as you choose.

Physician Resume. This resume is the height of personal meets professional. It includes a headshot to increase your chances of standing out (people are more likely to forget a name than a face and a name). The template is well-designed while still keeping the contents of the resume as the primary focus.

As it's currently formatted, this is the perfect choice for a physician or anyone looking to land a job in the medical field. It includes an extensive education section and a certification section so that you can specify the necessary credentials. It's great for conveying an upbeat attitude due to its fun and personal look.

Entry Level Resume for Microsoft Word. If you need a resume template, but you have little or no work experience, this one has got you covered. This template can be used to create a great resume or CV for any entry-level position, and it's also a great choice for recent graduates or those switching careers.

It's striking while still being relatively simple, and it helps to highlight sections other than "work experience" to show your true potential as a worker.

Software Engineer Fresher Resume. This is an elegant and contemporary resume utilizing two columns for maximum impact. It includes a headshot and engaging graphic symbols to enhance the look and feel of your resume and make it all your own.

This resume will help you stand out from the crowd with its mix of incredible graphic design and ample space for showing off your experience and personality.

This is a great option for anyone in a newer or more creative industry, such as tech, and is currently formatted for software engineer positions (but can be reformatted).

Zety Initials Resume. This resume template has a fun, creative flair with elegant design features. This template includes a graphic at the top, highlighting your initials for a personal touch and drawing attention to your name to increase your chances.

The splash of color gives this resume a cool look while highlighting your strengths as an employee. The double-column format is great for packing info onto your resume while keeping it organized and readable. This is a great choice for creative industries.

LiveCareer Impactful Resume. This is a two-column resume that offers a lot of information while still being very simple and neatly-organized. It's professional and draws attention to your skills, and it's great for anyone who loves a minimalistic layout but needs the extra space of a double-column template.

It includes a bit of color that can be changed to fit your style, and it can help you stand out in a stack of resumes. It's an excellent choice for management positions of all stripes.

Zety Nanica Resume. This is a nice, simple, and traditional resume layout. It's very neat and text-focused while still utilizing small graphic details that make your resume more enjoyable to read. The template is tidy and puts all the focus on the highlights of your career.

This resume is the right choice for formal industries, such as legal professions, as it conveys a formal and business-like tone. It's also an excellent option for anyone who prefers clean, minimalistic styles.

Bold Monogram Resume for Microsoft Word. This stylish resume uses bold color (which can be changed) and a graphic at the top, highlighting your initials as its standout features. It's great for showing off and taking ownership of your talents and experiences.

Formatted for Microsoft Word users, the fonts and colors of this resume template can be easily customized or used as is to make your mark. It also includes unique and valuable "communication" and "leadership" sections to help you better demonstrate these skills (or customize them and add your own).

Zety Primo Resume. This is an infographic-style resume that utilizes two columns and multiple graphic sections to help you demonstrate your value as an employee. It also adds a personal touch with an initials graphic at the top.

This resume template is both fresh and classic in its presentation. It has a classic structure while including graphs and timelines to optimize the design and help you get across more information faster.

Anyone with special or unique skills will benefit from the "skills," "language," and "software" sections on the right-hand side (which can all be changed and customized to fit you).

LiveCareer Classic Resume. This is a basic, bare-bones traditional resume for anyone who wants their skills and work history to do all the talking. Anyone looking for a straightforward, simple, and unambiguous format will love this option.

While this resume template may not be the most visually exciting pick, it's perfect for anyone with a more conservative style. It's also the right choice for very formal industries and other places where fun graphics may not be so welcome.

Recent College Graduate Resume for Microsoft Word. If your most significant accomplishments thus far have been in the academic realm, this resume or CV template was created with you in mind. It includes all of the necessary sections of a resume while keeping the focus on what you're most proud of.

This template is an excellent choice for recent college graduates or anyone who is still in school. It puts the highlight onto your education and allows you to show off unique academic experiences. This is also a great option for anyone with limited work experience or looking to change careers.

Zety Vibes Resume. This is our final resume offering. It's a two-column template that's clean and offers lots of space for elaboration while still having fun and useful details in the form of graphics and graphs.

This template is sleek with excellent readability. With its many different (customizable) sections, including "certifications," "software," and more, it's great for well-rounded candidates or those with a lot of great stuff to share.