In This Article
Skip to section
A two-page resume could very well crush your chances of landing the job, but only if you are an entry-level or less experienced candidate. Asking "can a resume be two pages" turns out to be a bit of a trick question, as there are scenarios in which a two-page resume is appropriate and scenarios where it isn't.
Creating a resume that will impress and set you apart from the crowd is a delicate process. A great resume should only contain the most important, impressive, and relevant details of your professional life.
The ideal of a one-page resume is born out of the nature of the application process. One page resumes are more readable and easily digestible to hiring managers who go through countless applications each day. A one-page resume allows them to find the information they are looking for quickly.
However, there are cases where paring down your resume to only one page may hurt you more than it helps you. If you find yourself leaving off crucial details simply to fit it all onto the same page, you may benefit from a well-designed two-page resume.
In this article, we'll look at how to decide on your correct resume length, how to fit as much info as you can in a small space, and how to write your perfect two-page resume.
Want to save time and have your resume ready in 5 minutes? Try our resume builder. It's fast and easy to use. Plus, you'll get ready-made content to add with one click. See 10+ resume templates and create your resume here.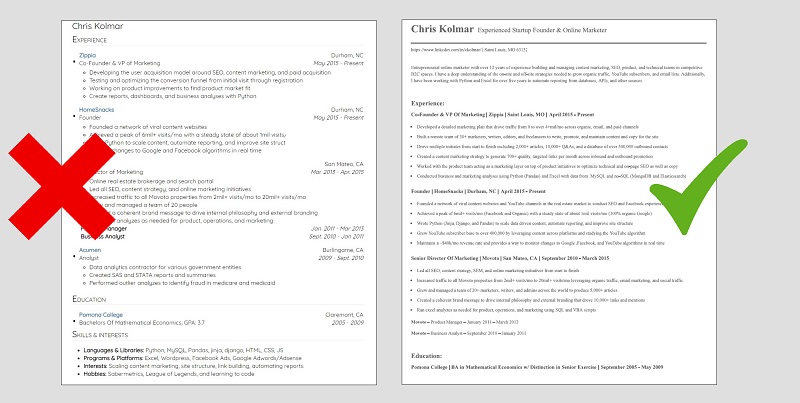 One of users, Diana, had this to say:
I was guided on how to make a detailed and professional resume on Zippia. I was able to download it with unlimited access to all features.
How Long Should Your Resume Be?
You may have heard the general rule of thumb that a resume should only be one page in length. Typically this is true, but there are some instances where a two-page resume is perfectly acceptable.
When crafting your resume, the two most important factors to consider are the relevance of the information you're providing regarding the job and your resume's overall readability. Great readability means being as concise as possible, but if all your most relevant, important information ends up taking up two pages, that's okay.
For entry-level candidates or anyone with less than five years of experience in a particular field, the one-page resume rule should be followed. Seasoned workers are allowed, and in some instances even expected, to have a resume that is two or even three pages long.
While the one-page resume rule is useful, it is often followed by workers who have advanced their careers past the need for this rule. While hiring managers expect (or even require) a resume of at least two pages for positions that require high levels of accomplishment, many otherwise qualified candidates lose out for fear of submitting an overly-long resume.
The length of your resume is also determined in part by your industry or specific title. For instance, in academia, you are often required to itemize all of your publications, leading to multiple-page resumes. You will also likely have a multiple-page resume if you hold or are applying for a manager position.
To answer the question again, it is perfectly acceptable for an experienced worker to have a resume of two or more pages. For some employers and positions, it is even expected. The key is to make your resume as short as possible and tailored to the position while still showing that you are highly experienced.
What's the goal of a resume?
William M. Mitchell CPRW
Resume LinkedIn Profile Development Consultant
The Resume Clinic
The resume is not a place for soliloquies or grandiose musings. Respect your reader's time and strained focus by keeping content compact and simple.
Recruiters spend 63% of their time on the phone. Because of that they skim resumes for an average of only 7.4 seconds each. Use various strategies to deliver information in easily digestible bites.
Keep sentences to 20-25 words or less wherever possible. Make good use of whitespace and seriously consider for each and every line whether the advantage gained by its presence is worth the extra page real estate occupied and the impact on the reader's time and concentration.
Tips for Writing a Two-Page Resume
Writing a great two-page resume begins in the same way that writing any resume begins. You'll have to include the following sections:
Your name and title

Relevant contact information
You'll also need to include any other sections that round out your resume and demonstrate your relevant experience. This could be volunteer work, publications, hobbies and interests, awards, or any other section that helps you demonstrate your fit for the position.
Here are some other tips for appropriately crafting your two- (or more) page resume:
Put contact info on all pages, skills, and summary only on page one. This is crucial for clarity and for increasing your chances of being remembered. It also acts as a safeguard in case one or more of your resume pages gets lost.

Decide the format and maintain consistency. You have the choice between a functional and a reverse chronological resume. A functional resume prioritizes your skills and qualifications, while a reverse chronological resume shows your career mobility and experience.

List your most important information first. Don't let the most important aspects of your resume get lost. Be sure to highlight and emphasize your most important works and achievements on page one.

Don't continue a section on a different page than you started on. Your second (and third, etc.) page should begin with a new section, not the runoff from a previous section.

If it's between one page and one-and-a-half pages, consider revising. If the second page of your resume is less than half a page in length, it gives off an unfinished feel. Consider editing your resume down to one page, or see if there is important information you've left out.

Focus on the past ten years. You may have a career that spans multiple decades, and we congratulate you on the hard work. However, focusing on the last ten years keeps your resume up-to-date (and prevents novel-length resumes).

Be concise and focused. Just because you've decided upon a multiple-page resume, that doesn't mean you can be extra wordy in your bullet points. You're going to want to use as few words as possible to get your point across well.
Update Your Resume Now To Get Your Next Job Faster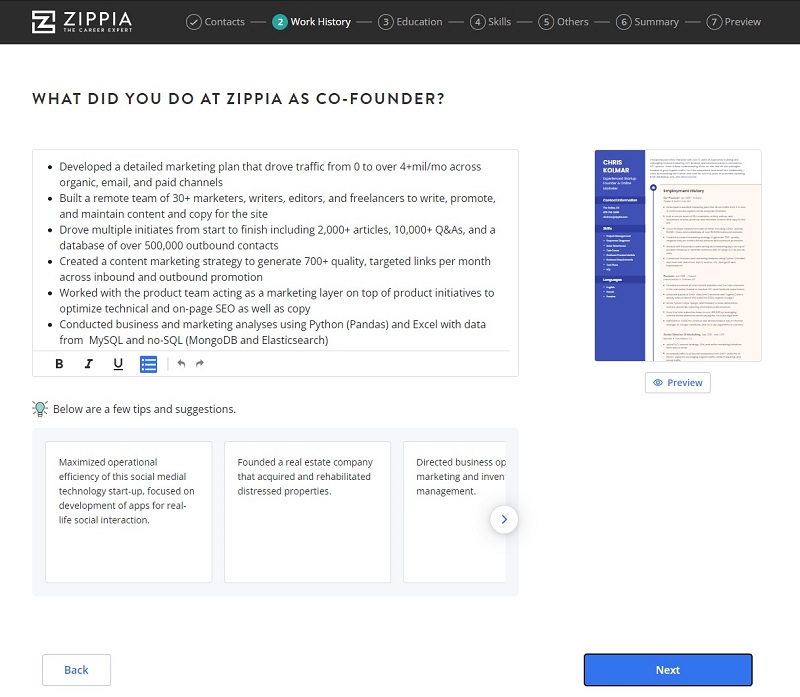 Tips to Make Your Resume Shorter
Regardless of the resume length you've decided to go with, you'll want to be sure that the page length is absolutely necessary for the purposes you're trying to accomplish. If you suspect that your resume ought to be single-page, but you can't quite fit it, try implementing the following tips:
Focus on the main idea of each sentence and re-word as needed. The ideas you present in each bullet point or sentence should be brief and precise. Re-read your sentences and decide what key idea you're trying to get across, then shorten them accordingly.

This goes for any section, including your summary statement. No sentence or bullet point should have more than three lines of text.

Take out filler words and extra information. Many article adjectives ("a," "an," "the"), conjunctions ("and," "or"), and prepositions ("to," "for") can be omitted with no sacrifice to clarity. It creates a functional style of writing that is considered appropriate for resumes.

Also, see if there are any places where you are giving supplementary information, and see if you can edit that out.

List important accomplishments rather than job duties. As a seasoned worker, listing out all of the duties and responsibilities you held in each one of your jobs can end up taking an incredible amount of space. Further, your most essential responsibilities may get lost amongst all the others.

A good solution for this is to list only your highest and most relevant accomplishments from each position. Tailor it to the job you're applying to, and use numbers and hard data whenever possible.

Remove anything that isn't 100% relevant and necessary. If you've included any info that is either irrelevant, optional, or doesn't add much value to your prospects, now's the time to take it out. Any optional section, such as "hobbies and interests," should be removed at this stage.

You'll also want to remove any info that is a bare minimum expectation for almost anyone in the professional world. Being proficient in Microsoft Word or working independently are not qualifications that will set you apart as a stellar candidate.

Remove high school educational information if you've graduated from college, as your graduating from high school is already assumed. Also, remove your physical address from the contact information unless you expect to be contacted by mail.

Change the formatting. Finally, if your resume still isn't fitting, you can make different design choices. Try widening your resume margins to give yourself more space, though don't make them smaller than one inch.
Two-Page Resume Example
"[PAGE ONE]

Maya Auerbach

Studio Arts Educator and Professional Artist

Contact Information

Phone number: 801-629-2834

E-mail: Mayaauerbach@coloradocollege.edu

Mayaauerbachartist.com

linkedin.com/in/mayaauerbach

instagram.com/mayaauerbachart

Summary

3D visual artist and studio art educator with 5+ years of experience. Seeking to enrich Denver Arts Space with creation and education. In my academic career, I've consistently received stellar reviews from students due to my unique approach to arts education. As a professional artist, I've won awards and recognition on behalf of galleries and drastically increased monthly visitors.

Experience

Associate Professor

Colorado College

2015–Present

Sustained a teaching load of 14 hours, full-time undergraduate courses per semester

Challenged and engaged students with a combination of lectures, demonstrations, and guided art creation.

Initiated thought-provoking, yet independent 3D art projects that helped students discover their own unique styles

Organized and oversaw 20 total senior art shows through individual mentorship of students each spring semester.

Served as an academic advisor each year and maintained regularly-scheduled advisor meetings to help guide students on their academic track

Achieved excellent student course reviews for 12 consecutive semesters.

Designed and sculpted the piece "True Views" during academic quad reconstruction, now a landmark distinguished by Colorado State Tour Guide.

Thompson Gallery

2016–2017

Produced 10 unique pieces for 2016 exhibition and gallery revamp

Assisted in curating three independent exhibitions

Worked with Thompson Gallery design and architecture teams to optimize gallery space for creators, curators, and visitors.

Improved visitor relations through promotional education work.

Education

Master of Fine Arts: Sculpture, Rhode Island School of Design
2012–2014

Awarded Mariana Fellowship for fine arts study.

Bachelor of Arts: Fine Arts, University of Denver
2007-2011

Awarded Student Excellence in Art honor for senior art exhibition

Portfolio

www.Mayaauerbachartist.com

Skills

Hard Skills: Ceramics, sculpture, 3D art, Photoshop, printmaking, site-specific installations, architectural design consultation

Soft Skills: leadership, creativity, communication, mentorship, interpersonal intelligence

[PAGE TWO]

Maya Auerbach

Studio Arts Educator and Professional Artist

Contact Information

Phone number: 801-629-2834

E-mail: Mayaauerbach@coloradocollege.edu

Mayaauerbachartist.com

linkedin.com/in/mayaauerbach

instagram.com/mayaauerbachart

Exhibitions

Exhibition 3
2019

Collaborated with three artists to create a multimedia installation focused on climate change and environmental consciousness for the Colorado College Art Museum.

Created site-specific outdoor sculptures in the tradition of Earthworks

Managed organization and scheduling deadlines for our team of four artists.

Exhibition 2
2016

Created ten unique sculptural pieces out of found materials for a solo exhibition at and for the permanent collection of Thompson Gallery.

Enacted chief curatorial decisions, including writing and organization for the exhibition.

Increased paid gallery memberships by 50% for the 2016 fiscal year.

Achieved Martha Mcnay Award for outstanding work on the merits of my artistic and curatorial work.

Exhibition 1
2014

Created 18 unique sculptures made out of wood, wax, and plastic for a solo exhibition at Zauberstab Gallery

Recognized by Rhode Island Local Magazine as a "triumphant display from an emerging artist with a bright future."

Increased gallery surplus profits by 10%

Awards and Honors

2019 — 1st Place, Sculpt the World competition, OATA

2018 — Distinguished Educator Recognition Award, Colorado College Board

2017 — Martha Mcnay Award — competitive award with one recipient each year, recognizing outstanding work in studio art and curation.

2015 — Big Time's 40 under 40 — Annual recognition by Big Time Magazine of 40 young artists and creatives who have managed outstanding accomplishments.

Volunteering

Sexual Harassment and Assault Response and Prevention (SHARP) chief faculty volunteer for Colorado College arts department.

Hold monthly free workshops for young local artists, discussing networking and self-marketing within the art world.

Teach annual sculpture course for incarcerated women at Colorado State Women's Penitentiary.

Certifications

Colorado Teacher Certification

Adobe Certified Instructor – Photoshop

Certified Applied Arts Facilitator

Conferences

2019 Colorado Arts Conference— Spoke on a panel about sustainable design.

2018 Feminists in Academia Conference — Led session on sculpture.

2017 Other Worlds — Spoke on a panel about land art and sustainability.

2017 Martha Mcnay Conference — Spoke as a keynote speaker on the intersection of curation and art creation.