A major component of the 2 trillion dollar CARES Act was the Paycheck Protection Program.
The mission of the PPP was to help small businesses keep the lights on and their workers employed. However, after the Small Business Administration released information on the companies who received loans- some as high as 10 million- doubt was cast. After all, Kanye West's Yeezy brand is hardly a mom and pop store.
It begged the question- were the PPP loans fairly distributed and who received them? Did some states, in particular those of certain political leanings, receive more than their share?
We examined the data to determine which states received the most in PPP funds, and which were short changed.
The 10 states that received the most in PPP funds
From a regional look, the Northeast and Midwest took home the most in funds– making up the entire top 10. You can see the total amount they received below, after a breakdown on the states that received the lion's share of funds.
How We Determined This
The bulk of our data came from the US Treasury's release on PPP loan level data. Loans less than $150,00 had an exact dollar amount that we added to the total loan amount per state. For loans higher than $150,000, rather than provide a specific value, the Treasury provided brackets:
$5-10 million
$2-5 million
$1-2 million
$350,000-1 million
$150,000-350,000
For each bracket, we went with the lowest amount, since we can safely say they received at least that much. We then combined the under 150k and above 150k loan total for each state. After we had the numbers, we then divided the total by the state's population to determine which states received the most in dollar amounts based on their population.
Additionally, from this data, we took the number of job saved by the PPE and the total number of loans issued per state. Not all businesses have reported the number of jobs saved by the loan, and have 26 weeks to do so– so these numbers may change as more businesses report their totals.
Other numbers used throughout the article such as the percent of jobs saved come from the BLS.
1. North Dakota

Amount Loaned: $1,358,372,594
Jobs Saved: 176,208
Number Of Loans:19,724
Amount Per Person: $1,782
North Dakota saw the larges amount of loans for their size. A total $1,782 for every person who lives there was distributed to businesses owners in the The Peace Garden state. The staggering 19,724 loans issued secured 176,208 jobs during these troubling economic times. If that number small when compared to larger states, the fact that it accounts for about 40% of jobs in the state will put it into perspective.
2. Massachusetts

Amount Loaned: $10,736,321,118
Jobs Saved: 1,143,511
Number Of Loans:112,996
Amount Per Person: $1,545
In 2nd place, we have Massachusetts. Business owners in the state received an impressive $10,736,321,118 in loans under the PPP. Those businesses employ 1,143,511 Massachusetts residents.
3. Vermont

Amount Loaned: $927,958,248
Jobs Saved: 113,838
Number Of Loans:11,929
Amount Per Person: $1,487
Vermont is a tiny state– but it received a disproportionately high amount of PPP loans. The $927,958,248 in loans saved a reported 113,838 jobs. That is 36% of the jobs held by Vermont residents.
4. Minnesota

Amount Loaned: $8,373,169,779
Jobs Saved: 1,090,506
Number Of Loans:98,136
Amount Per Person: $1,485
The Land of 10,000 Lakes received 98,136 Paycheck Protection Program loans for $8,373,169,779. That comes out to $1,485 per Minnesota resident given to Minnesota businesses and over a million jobs saved.
5. New York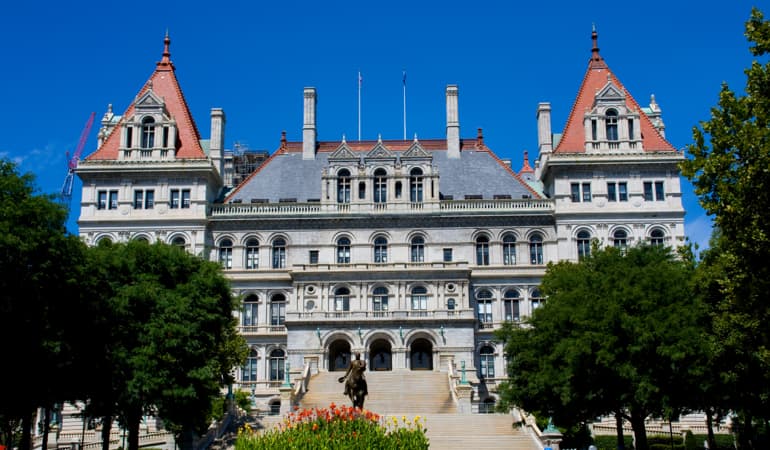 Amount Loaned: $28,682,495,350
Jobs Saved: 3,162,720
Number Of Loans:323,900
Amount Per Person: $1,474
In 5th place we have New York. Not only did the state receive a large part of of the trillions of dollars administered (7%), it received a large chunk per resident. The impressive 323,900 in loans secured over 3 million jobs.
6. New Jersey

Amount Loaned: $13,001,347,334
Jobs Saved: 1,456,455
Number Of Loans:147,548
Amount Per Person: $1,464
Right below New York is it's neighbor New Jersey. New Jersey received $13,001,347,334 in loans. Those loans totaled an impressive $13,001,347,334.
7. South Dakota

Amount Loaned: $1,288,486,588
Jobs Saved: 181,633
Number Of Loans:22,507
Amount Per Person: $1,456
South Dakota only received 0.33% of the total PPP loans. However, that .33% goes pretty far in sparsely populated South Dakota. The $1,288,486,588 in loans comes out to $1,456 administered to business for every person living in South Dakota.
8. New Hampshire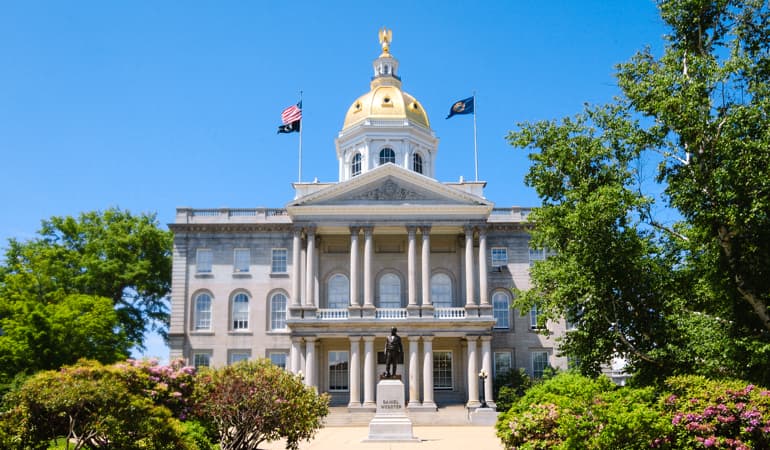 Amount Loaned: $1,959,159,671
Jobs Saved: 209,999
Number Of Loans:23,829
Amount Per Person: $1,441
In 9th place is New Hampshire. The Granite State received $1,959,159,671 in PPE loans, spread out among 23,829 businesses.
9. Wyoming

Amount Loaned: $828,096,606
Jobs Saved: 111,945
Number Of Loans:13,229
Amount Per Person: $1,431
The cowboy's state received $828,096,606. While that amount only accounts for 0.21% of the total funds administered federally, Wyoming business owners still saw a boom. The businesses that received funds saw $1,431 per Wyoming resident.
10. Connecticut

Amount Loaned: $5,063,612,554
Jobs Saved: 602,575
Number Of Loans:60,948
Amount Per Person: $1,420
In 10th spot is Connecticut, where business owners received $5,063,612,554 spread out across 60,948. Those generous funds saved 602,575 jobs.
Now For The States That Received The Least
The 10 states above saw the most generous distribution of funds– and the saved jobs that came with it. However, some states received less than half this total, with the least fortunate state's businesses only seeing $772. You can see the 10 states that saw the least funds, proportionally below, and then a chart of the full data.
The States That Received The Least In PPP Funds
The Amount Of Money- And Jobs Saved- In Each State By The PPP
| State | Amount Loaned | Jobs Saved | Number Of Loans | Amount Per Capita |
| --- | --- | --- | --- | --- |
| North Dakota | 1,358,372,594 | 176,208 | 19,724 | 1,782 |
| Massachusetts | 10,736,321,118 | 1,143,511 | 112,996 | 1,544 |
| Vermont | 927,958,247 | 113,838 | 11,929 | 1,487 |
| Minnesota | 8,373,169,779 | 1,090,506 | 98,136 | 1,484 |
| New York | 28,682,495,350 | 3,162,720 | 323,900 | 1,474 |
| New Jersey | 13,001,347,334 | 1,456,455 | 147,548 | 1,463 |
| South Dakota | 1,288,486,588 | 181,633 | 22,507 | 1,456 |
| New Hampshire | 1,959,159,671 | 209,999 | 23,829 | 1,440 |
| Wyoming | 828,096,606 | 111,945 | 13,229 | 1,430 |
| Connecticut | 5,063,612,554 | 602,575 | 60,948 | 1,420 |
| Colorado | 7,938,013,494 | 931,911 | 104,403 | 1,378 |
| Nebraska | 2,656,291,172 | 327,536 | 42,497 | 1,373 |
| Rhode Island | 1,441,590,032 | 157,534 | 17,163 | 1,360 |
| Hawaii | 1,888,579,559 | 225,436 | 24,533 | 1,333 |
| Illinois | 16,878,097,943 | 2,162,739 | 202,157 | 1,331 |
| Alaska | 956,776,237 | 114,049 | 11,167 | 1,307 |
| Maine | 1,751,499,180 | 243,371 | 27,198 | 1,302 |
| California | 51,447,516,002 | 6,505,547 | 581,125 | 1,302 |
| Montana | 1,386,898,666 | 215,257 | 23,102 | 1,297 |
| Kansas | 3,766,097,572 | 521,322 | 51,873 | 1,292 |
| Wisconsin | 7,419,630,304 | 999,041 | 85,459 | 1,274 |
| Oregon | 5,311,227,370 | 612,322 | 62,775 | 1,259 |
| Maryland | 7,546,635,031 | 938,434 | 81,317 | 1,248 |
| Utah | 3,993,871,587 | 796,849 | 50,691 | 1,245 |
| Iowa | 3,894,963,766 | 523,205 | 58,463 | 1,234 |
| Washington | 9,256,393,359 | 906,622 | 101,051 | 1,215 |
| Pennsylvania | 15,468,845,586 | 1,821,069 | 165,909 | 1,208 |
| Louisiana | 5,593,386,382 | 800,221 | 73,827 | 1,203 |
| Michigan | 11,959,464,571 | 1,554,024 | 121,137 | 1,197 |
| Delaware | 1,143,358,493 | 136,533 | 12,504 | 1,174 |
| Florida | 25,037,679,363 | 3,224,664 | 393,016 | 1,165 |
| Ohio | 13,625,162,845 | 1,880,625 | 140,278 | 1,165 |
| Missouri | 6,969,656,140 | 936,019 | 91,494 | 1,135 |
| Idaho | 2,023,434,075 | 305,422 | 30,168 | 1,132 |
| Virginia | 9,503,532,022 | 973,961 | 109,227 | 1,113 |
| Texas | 31,097,439,954 | 4,519,665 | 389,387 | 1,072 |
| Oklahoma | 4,197,725,648 | 620,353 | 64,278 | 1,060 |
| Indiana | 7,096,284,777 | 951,593 | 79,147 | 1,054 |
| Georgia | 11,146,482,406 | 1,471,782 | 156,810 | 1,049 |
| Nevada | 3,170,917,392 | 525,691 | 42,147 | 1,029 |
| Tennessee | 6,843,062,837 | 916,996 | 93,287 | 1,001 |
| Alabama | 4,767,238,051 | 672,861 | 65,803 | 972 |
| North Carolina | 9,512,416,544 | 1,246,594 | 121,913 | 906 |
| Arizona | 6,531,794,443 | 1,027,521 | 81,011 | 897 |
| Kentucky | 3,961,015,547 | 599,372 | 48,370 | 886 |
| South Carolina | 4,458,937,343 | 657,957 | 63,168 | 866 |
| Arkansas | 2,602,591,861 | 375,741 | 42,433 | 862 |
| Mississippi | 2,511,877,576 | 412,492 | 45,814 | 844 |
| New Mexico | 1,735,970,028 | 247,939 | 21,927 | 827 |
| West Virginia | 1,384,083,517 | 204,241 | 17,325 | 772 |