Find a Job You Really Want In
Perhaps the most American food you could sink your teeth in is some good old-fashioned BBQ.
From ribs that fall off the bone to brisket that doesn't even need barbecue sauce, the food category is definitely loved throughout the nation.
But not everyone can love it as much as these states do.
We looked into how many BBQ restaurants were available per capita and checked in on the search volume for brisket, ribs, BBQ and BBQ sauce.
If you're in the mood for some BBQ, you might visit one of these states. We have an inkling that they may have the best BBQ food.
After all, you wouldn't love something if it wasn't good right?
Keep reading to find out where all of the states land on their love for BBQ!
How We Determined The States That Are The Biggest Fans Of BBQ
Summer is for BBQs. To find out which states are eating the most meats slathered in delicious bbq sauce this summer and upcoming Labor Day weekend, we ranked each state in 2 areas:
BBQ restaurants per capita
Search volume for: Brisket, ribs, BBQ, and BBQ sauce
Our data on search volume comes from Google Trends. To see where each state stands when it comes to BBQ restaurants, we used Estately's rankings from YellowPages
1. Montana
Search Volume: 100
BBQ Restaurants: 16
Montana is the place to be if you love BBQ. Maybe you should reevaluate your Labor Day plans. It seems the best barbecue is a best-kept secret around there since the state is only ranked 16th for how many BBQ restaurants are in existence per capita. But the search volume of 100 proves BBQ is on most residents' minds so they must know the secret to a really great BBQ. More specifically, the state ranked for the highest search volume for ribs and barbecue sauce in the country. It's clear Montana can't get barbecue off its mind.
2. Kansas
Search Volume: 81
BBQ Restaurants: 14
Kansas is one of those well-known states that has some finger-lickin' BBQ. But did you know that they love it, too? Get this, Kansasians aren't just great at making BBQ, but they're passionate about it. They ranked 14 when it comes to how many restaurants they have compared to the population, but their search volume for brisket and BBQ higher than the rest of the country (with the exception of 3 or 4 states).
3. Missouri
Search Volume: 75
BBQ Restaurants: 4
Missouri probably isn't the first place you think of when it comes to BBQ, but man does the residents love it. The state has a search volume of 75 for all things BBQ, plus it ranked fourth for how many restaurants there are per capita. The majority of Missourians are searching for brisket and, well, BBQ in general. With that kind of search volume, Missourians don't just love BBQ. They eat, sleep and dream about BBQ.
4. Wyoming
Search Volume: 98
BBQ Restaurants: 18
At No. 4, Wyoming loves some good barbecue. In fact, it ranks second in the country for searching for brisket and ribs the most. If you like barbecue, you'll fit right in here.
5. Oklahoma
Search Volume: 79
BBQ Restaurants: 1
The fifth state on this list has an impressive amount of BBQ restaurants. Oklahoma ranked first in the nation for its number of BBQ restaurants per capita. Meaning that Oklahoma residents have no trouble finding some BBQ any day of the week.
6. Tennessee
Search Volume: 73
BBQ Restaurants: 6
BBQ is the only "Ten I See" when it comes to the next state on this list. Tennessee proves its love for BBQ with a search volume of 73 and being ranked sixth for the number of BBQ restaurants there are per capita. But the most impressive feat is the search volume for "BBQ" there is second in the U.S. We get it. You love BBQ!
7. South Carolina
Search Volume: 74
BBQ Restaurants: 5
South Carolina loves BBQ the seventh-most. But it ranks fifth for how many barbecue restaurants per capita there are. And it seems, the residents there are in search for some good BBQ sauce, as the search volume is also ranked fifth in the U.S.
8. Arkansas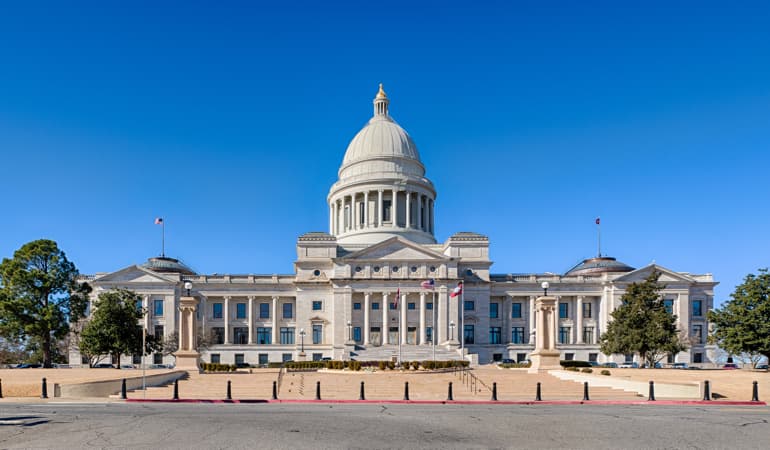 Search Volume: 76
BBQ Restaurants: 8
Well known for having some of the best barbecue food around, it's no wonder Arkansas loves it so much. Of course, if that doesn't prove its love maybe the fact that it ranks eighth for the number of BBQ restaurants located within the state will prove its love. Or the fact that Arkansas searches for BBQ the seventh-most out of all the states.
9. Louisiana
Search Volume: 82
BBQ Restaurants: 15
Louisiana is next up on our list. The state has a proven love for BBQ with its 82 search volume for the food itself. And ranking 15th for the number of BBQ restaurants there isn't something to scoff about either. If the state could marry BBQ, it probably would.
10. Alabama
Search Volume: 73
BBQ Restaurants: 3
Alabama completes our BBQ love list. While a 73 search volume for brisket, ribs, BBQ and BBQ sauce combined doesn't seem that impressive compared to other states on this list, Alabama does rank first in the nation for how many times residents there search for BBQ. In addition, the state ranks third for the number of BBQ restaurants that are located there. So if that's not love, then we're not sure what love is.
Summary of BBQ-Loving States
People are really serious when it comes to BBQ food.
It's the highlight at several summer holiday celebrations and is a food that can be enjoyed at any time of the year.
While most people will tell you they love BBQ food, only the people in these states actually love the food. The rest probably just like-like it.
We don't make the rules.
Keep reading to find out where the rest of the U.S. ranks when it comes to loving BBQ.
See Also: National Food Holidays (Including National BBQ Day)
Never miss an opportunity that's right for you.
Find The Best Job That Fits Your Career
Where do you want to work?