Black Friday of 2017 is over, and if you participated in the mayhem then you likely encountered dozens of inept, seasonal workers — some of the hundreds of thousands of employees only there for the holiday season to handle the surges in travel and shopping.
And according to our post-Black Friday study, many of these positions haven't been filled: we found 301,677 active seasonal job listings nationwide.
"Oh by gosh, by golly," you're probably thinking if you've been listening to too much Christmas music, "That's a ton of people! Where are they working and what positions are they filling?" you're probably thinking if you work in the careers space.
Never fear, we've got the answers:
A summary of our seasonal job findings:
Most of the jobs are in retail, but surprisingly there are a ton of driving jobs
States with lower unemployment rates tend to have more holiday jobs available
Naples, FL far and away has the most seasonal jobs (183 per 10,000 people)
Nevadan and Hawaiian cities individually have the fewest seasonal jobs
A note on methodology
This is pretty straightforward — we scraped our pool of 8 million job listings for all jobs mentioning "seasonal" in the posting title after Black Friday 2017.
We took our populations from the latest Census data, and eliminated cities with populations less than 10,000 and then ranked the cities and states accordingly, with charts showing jobs per 10,000 people.
States with lower unemployment have higher rates of holiday jobs
It may come as no surprise that retail workers and their managers take some of the top positions, but the taxi drivers and chauffeurs came as a bit of a surprise.
This could potentially be due to the high volume of people going to and from airports during this busy traveling season, but also because Lyft has a tendency to flood job posting boards with every type of label or tag possible, such as temporary, part-time, and seasonal.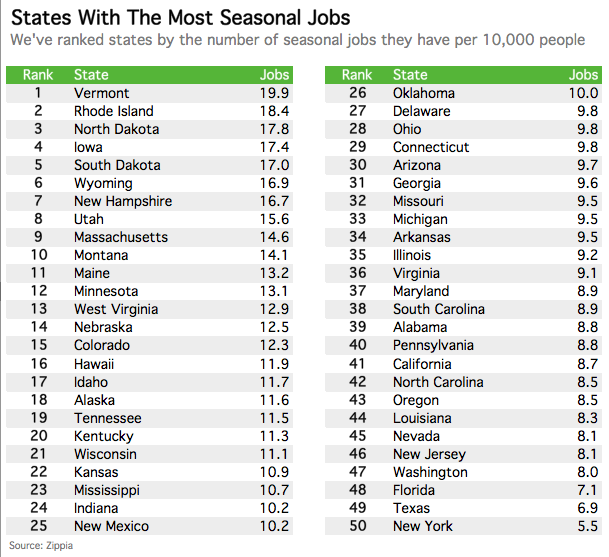 It's Vermont and Rhode Island with the win, but all of the flyover states are coming in close behind. There's no telling why, but it's interesting to note that, with a few exceptions, a high level of holiday jobs seems to be roughly similar to states' unemployment rates.
It's also worth noting that because they're ranked by jobs per capita, the most populous states have a bit of an unfair disadvantage when it comes to the ranking.
Cities' seasonal job rates are independent of states — except Nevada
Interestingly, the cities' overall seasonal jobs ranking seems to be independent of the states' performance.
Some of the cities with the largest number of holiday jobs per person are located in the states with the lowest rates — like Naples, replete with its dozen or so super boujee malls.
Not Nevada and its cities though. For whatever reason, Nevada just seems to be a terrible place to look for a job to make some extra cash for the holiday season.
Places With the Most Seasonal Holiday Jobs Per Person