After a lifetime of work, many look forward to a comfortable retirement.
For many a comfortable retirement means moving, according to the latest US Census bureau over half a million of adults over 65 moved states last year alone. However, not all states are a great place to retire. In fact, a lot of states will leave retirees just scraping by.
Where should retirees go to make the most of their retirement savings and live well for less?
The Cheapest States To Retire
Forget Florida and the west and east coasts. More retirees should be looking towards the south when planning their retirement. Affordable housing and low cost of living make the south the place to be for retirees. Keep reading to see how we determined this, or scroll to the bottom to see where your state lands.
How We Determined The Most Expensive States To Retire
We ranked each state 1 to 50 on the following factors:
Median House Cost
Monthly Home Owner Cost
Cost Of Living
Medicare Advantage Cost
State Medicare Spend Per Person
First, we examined median housing costs using data from the ACS Census. Moving from a state with expensive housing costs to one with cheaper housing costs can drastically elevate retirees standard of living and significantly add to their retirement fund. The cheaper the housing, the better to retire.
Next we pulled in monthly home owner costs from the ACS. We looked at the percentage of people over 65 who are spending 30% or more of their income on house. The lower the cost, the better for retirement. We then used our data on cost of living to provide more context to the costs seniors can expect to face in each state. Living is expensive, even small expenses like toothpaste and a cup of coffee, can add up.
Finally, we examined the cost of healthcare. You might be able to cut coupons or downsize your house, but you can't choose not to get sick. This area is especially important because healthcare costs continue to rise each year and leaves many seniors scrambling.
First, we examined Medicare Advantage Costs, using data from The Kaiser Organization. Note, Alaska does not have individual Medicare Advantage plans so was excluded from this metric. We then looked at state's contributions to Medicare per residence. The more a state spends on Medicare, the better for seniors.
1. Mississippi

Median Home Cost: $114,500
Medicare Advantage Monthly Cost: $38.56
Cost Of Living: $46,084
Mississippi is the most affordable state to retire in the whole country. The median home price in Mississippi is only $114,500, which means retirees relocating from more expensive states can expect to pocket quite the stack of cash. Add in low property taxes and warm, sunny weather and it's easy to see more retirees should give the Magnolia state a second look.
2. Arkansas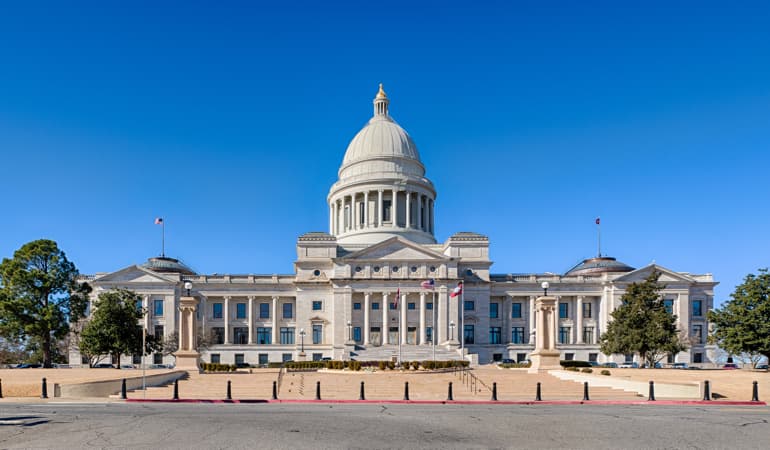 Median Home Cost: $123,300
Medicare Advantage Monthly Cost: $44.49
Cost Of Living: $44,571
Arkansas mild weather and plenty of outdoor activities for retirees who anticipate an active retirement. While Arkansas homes are a smidge more expensive than Mississippi, home prices are still affordable with a median price of $123,300. Arkansas homeowners over 65, also spend a smaller chunk of their income on home owner costs than other states.
3. Oklahoma

Median Home Cost: $130,900
Medicare Advantage Monthly Cost: $48.49
Cost Of Living: $46,613
Oklahoma is the third cheapest state to retire. While Oklahoma doesn't have the warm beaches many retirees dream of calling home, it does have affordable homes and low monthly home owner costs. That's nice.
4. West Virginia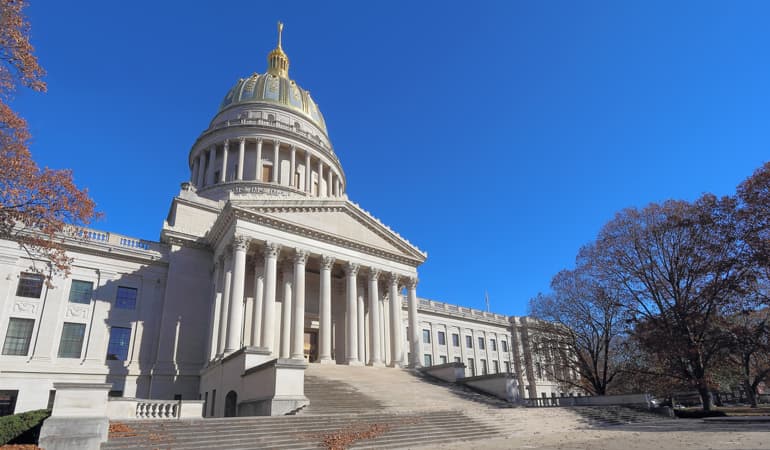 Median Home Cost: $115,000
Medicare Advantage Monthly Cost: $59.75
Cost Of Living: $44,823
In fourth place we have West Virginia. The mountain state has affordability in spades. West Virginia's location near the upper-east coast makes it particularly appealing for those looking to retire away from the expensive Northeast but don't want to go far.
5. Indiana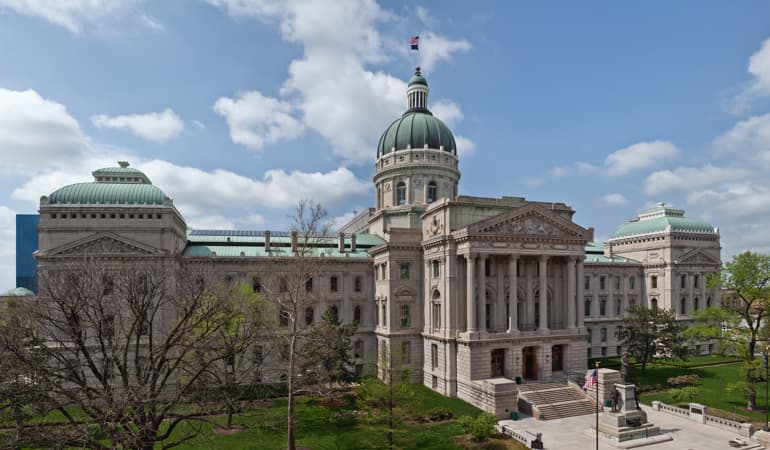 Median Home Cost: $135,400
Medicare Advantage Monthly Cost: $48.04
Cost Of Living: $46,838
Cheap housing, low monthly housing costs, and a favorable cost of living push Indiana ahead of its neighbors. While it may not be as warm as other states in the top 10, Indiana still has a lot to offer retirees. Some people enjoy experiencing more than two seasons.
6. Louisiana

Median Home Cost: $157,800
Medicare Advantage Monthly Cost: $41.98
Cost Of Living: $47,975
The Bayou state is the 6th best state for retiring on a budget. In addition to delicious food, Louisiana retirees can expect low costs of living, affordable homes, and lower healthcare costs.
7. Kentucky

Median Home Cost: $135,300
Medicare Advantage Monthly Cost: $56.36
Cost Of Living: $43,308
If all you about Kentucky is Bourbon and horse races, you may not know the state is seriously affordable. The median home price is only $135,300– 50,000 less than neighboring Illinois and 400,000 than expensive Hawaii. Kentucky also has the lowest cost of living in the nation. Go Kentucky.
8. Missouri

Median Home Cost: $151,600
Medicare Advantage Monthly Cost: $43.15
Cost Of Living: $46,159
Sandwiched between the south and west, Missouri is a great choice for retirees looking to live well on a budget. Reasonable housing and affordable cost of living mean retirees can enjoy more luxuries than in a pricier states. What keeps Missouri from ranking higher? Healthcare costs could be cheaper.
9. Alabama

Median Home Cost: $137,200
Medicare Advantage Monthly Cost: $51.88
Cost Of Living: $45,824
Many retirees may think Florida when they think retirement, but more should look to its neighbor Alabama. Swap out the Atlantic Ocean for Alabama's Gulf of Mexico and you could save a bundle. Alabama has a Medicare Advantage monthly cost average 51$, and only 15% of residents over 65 are overburdened by home owner costs.
10. Tennessee

Median Home Cost: $158,600
Medicare Advantage Monthly Cost: $46.02
Cost Of Living: $46,785
Tennessee is the 10th most affordable state to retire. In addition to affordability, Tennessee overs a vibrant country music scene, the beautiful smokies,
Summary On The Cheapest States To Retire
Look, maybe you have a small fortune to spend on your retirement and can comfortably retire anywhere. But for most people that isn't the case. Where they choose to retire will drastically impact their quality of life and help (or hinder) stretch their retirement savings. The 10 states above are the cheapest states to retire in the nation.
Retirees should keep in mind this data is statewide, so costs may vary based on cities. Which states should retirees avoid if they don't want to drain their retirement savings?
The Most Expensive States To Retire
The Cheapest States To Retire, From Most Affordable To Least
| Rank | State | Avg. Home Price | Cost Of Living | Medicare Spending Per Residence |
| --- | --- | --- | --- | --- |
| 1 | Mississippi | 114,500 | 46,084 | 11,021 |
| 2 | Arkansas | 123,300 | 44,571 | 9,479 |
| 3 | Oklahoma | 130,900 | 46,613 | 10,429 |
| 4 | West Virginia | 115,000 | 44,823 | 10,268 |
| 5 | Indiana | 135,400 | 46,838 | 10,714 |
| 6 | Louisiana | 157,800 | 47,975 | 11,811 |
| 7 | Kentucky | 135,300 | 43,308 | 10,368 |
| 8 | Missouri | 151,600 | 46,159 | 10,457 |
| 9 | Alabama | 137,200 | 45,824 | 10,267 |
| 10 | Tennessee | 158,600 | 46,785 | 10,371 |
| 11 | Iowa | 142,300 | 48,882 | 9,317 |
| 12 | Ohio | 140,000 | 45,853 | 11,038 |
| 12 | South Carolina | 154,800 | 46,568 | 10,298 |
| 14 | Georgia | 166,800 | 47,946 | 10,429 |
| 15 | Texas | 161,700 | 48,160 | 11,895 |
| 16 | Nebraska | 147,800 | 48,076 | 9,956 |
| 17 | Florida | 196,800 | 52,206 | 12,229 |
| 18 | Wyoming | 213,300 | 47,951 | 9,050 |
| 19 | Kansas | 145,400 | 48,054 | 10,126 |
| 20 | Utah | 256,700 | 47,922 | 9,084 |
| 20 | North Carolina | 165,900 | 49,575 | 10,260 |
| 22 | Michigan | 146,200 | 48,837 | 11,318 |
| 22 | South Dakota | 159,100 | 45,410 | 9,315 |
| 24 | North Dakota | 185,000 | 46,814 | 9,461 |
| 25 | Pennsylvania | 174,100 | 49,914 | 11,243 |
| 26 | Alaska | 265,200 | 54,400 | 9,288 |
| 27 | Montana | 219,600 | 47,083 | 8,238 |
| 28 | Arizona | 209,600 | 51,341 | 10,096 |
| 29 | Idaho | 192,300 | 45,801 | 8,737 |
| 29 | Maine | 184,500 | 51,305 | 9,325 |
| 31 | New Mexico | 166,800 | 48,050 | 8,663 |
| 32 | Delaware | 244,700 | 53,112 | 11,460 |
| 33 | Illinois | 187,200 | 52,304 | 11,116 |
| 34 | Nevada | 242,400 | 52,698 | 10,796 |
| 35 | California | 475,900 | 57,315 | 11,833 |
| 36 | Maryland | 305,500 | 58,178 | 12,000 |
| 37 | Wisconsin | 173,600 | 51,120 | 9,608 |
| 38 | New York | 302,200 | 59,128 | 12,179 |
| 39 | Virginia | 264,900 | 54,264 | 9,677 |
| 40 | Rhode Island | 249,800 | 53,240 | 10,901 |
| 41 | Minnesota | 211,800 | 52,115 | 9,917 |
| 42 | New Hampshire | 252,800 | 55,103 | 9,397 |
| 43 | Connecticut | 272,700 | 59,502 | 11,964 |
| 44 | New Jersey | 327,900 | 56,109 | 12,614 |
| 45 | Vermont | 223,700 | 51,977 | 9,231 |
| 46 | Massachusetts | 366,800 | 59,560 | 11,899 |
| 47 | Washington | 311,700 | 51,271 | 8,997 |
| 48 | Oregon | 287,300 | 51,900 | 8,942 |
| 49 | Colorado | 313,600 | 53,792 | 9,287 |
| 50 | Hawaii | 587,700 | 60,700 | 8,592 |