For a lot of people, their dream job is being retired.
While we hope you don't dread going to work, there is no denying that many people look forward to retirement. What better way to celebrate a life of hard work than to focus on personal projects, hobbies, and spending time with your friends and family?
Many retirees will relocate to find a location more suited to their new life of leisure and make the most of their retirement savings. According to the latest US Census bureau over half a million of adults over 65 moved states last year.
However, not all states are a great place to retire. In fact, a lot of states are actually pretty dreadful places to retire unless you're retiring with boatloads of money.
Where should retirees avoid with a 10 foot pole if they don't want to drain their savings and struggle to make ends meet?
The Most Expensive States To Retire
These high costs of living states will leave you barely scraping by. Notice a trend? The Northeast is particularly harsh on retirees, with 5 of the priciest states to retire located there. Keep reading to see why these states break the bank, or scroll to the bottom to see the cheapest states to retire.
How We Determined The Most Expensive States To Retire
We ranked each state 1 to 50 on the following factors:
Median House Cost
Monthly Home Owner Cost
Cost Of Living
Medicare Advantage Cost
State Medicare Spend Per Person
First, we examined median housing costs using data from the ACS Census. Moving from a state with expensive housing costs to one with cheaper housing costs can drastically elevate retirees standard of living and significantly add to their retirement fund. However, vice versa is also true. Many seniors would love to live in Hawaii. However, sky high housing costs wouldn't leave them with a lot leftover.
Next we pulled in monthly home owner costs from the ACS. We looked at the percentage of people over 65 who are spending 30% or more of their income on house. The higher the cost, the more expenses retirees in the state are responsible for. We then used our data on cost of living to provide more context to the costs seniors can expect to face in each state. Living is expensive, even small expenses like toothpaste and a cup of coffee, can add up.
Finally, we examined the cost of healthcare. You might be able to cut coupons or downsize your house, but you can't choose not to get sick. This area is especially important because healthcare costs continue to rise each year and leaves many seniors scrambling.
First, we examined Medicare Advantage Costs, using data from The Kaiser Organization. Note, Alaska does not have individual Medicare Advantage plans so was excluded from this metric. We then looked at state's contributions to Medicare per residence. The more a state spends on Medicare, the better for seniors.
1. Hawaii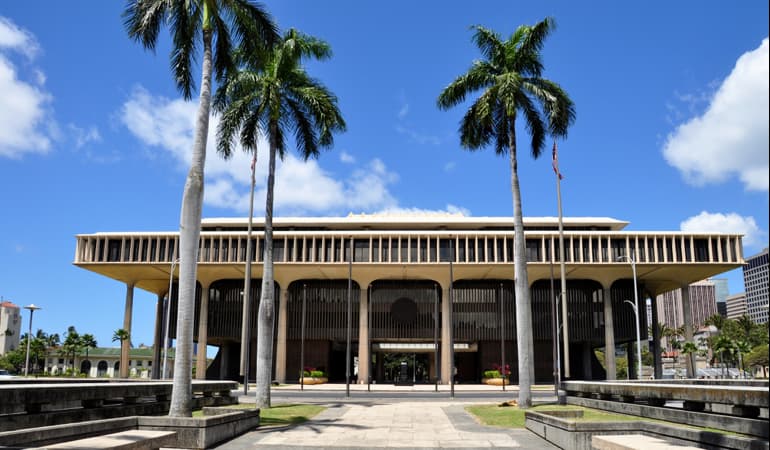 Median Home Cost: $587,700
Medicare Advantage Monthly Cost: $96.40
Cost Of Living: 60,700
Hawaii may be a tropical paradise, but retirees who dream of beaches should consider Florida or the affordable Gulf Coast. Hawaii has the highest cost of living out of all states. Hawaii also has the highest median home cost in the nation at $587,700. Compare that to Mississippi's average home price and you have a whopping $473,200 difference. Yikes.
2. Colorado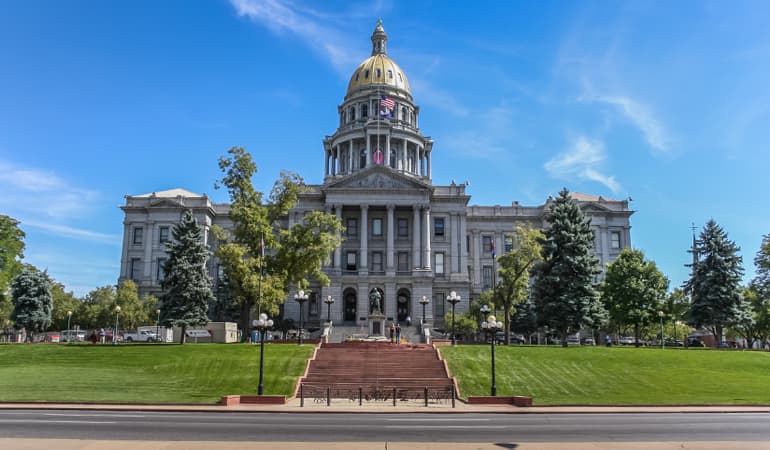 Median Home Cost: $313,600
Medicare Advantage Monthly Cost: $89.52
Cost Of Living: 53,792
Colorado jaw-dropping landscape might make many retirees long to relocate there, but it will cost them. Colorado has the fifth highest home prices in the nation. To make matters more troubling, the Centinnel state's spending on Medicare per person falls behind 40 other states.
3. Oregon

Median Home Cost: $287,300
Medicare Advantage Monthly Cost: $75.28
Cost Of Living: 51,900
This Pacific Northwest state is a pricey spot to retire. Oregon's home prices may not be as expensive as Hawaii, but the $287,300 median home cost will still put a sizable dent in most retirees funds. Throw in low Medicare spending and the fact that 23% of those 65+ spend 30
4. Washington

Median Home Cost: $311,700
Medicare Advantage Monthly Cost: $84.50
Cost Of Living: 51,271
Another Pacific Northwestern state, Washington isn't affordable for many retirees. Washington has high Medicare Advantage plan costs, and the state spends less per residence on Medicare than almost any other state.
5. Massachusetts

Median Home Cost: $366,800
Medicare Advantage Monthly Cost: $85.56
Cost Of Living: 59,560
Massachusetts is the fifth most expensive state to retire. Retirees in Massachusetts (or perspective retirees) should know the median home value is $366,800. This New England state has one of the highest costs of living in the nation. No doubt that is why many take those retirement savings and go south, buy a nice house and live a little instead of just going broke.
6. Vermont

Median Home Cost: $223,700
Medicare Advantage Monthly Cost: $58.66
Cost Of Living: 51,977
If Vermont makes you think of picturesque bed and breakfasts and maple syrup, you might be surprised to see it's such a cruddy place to retire. However, when you look at the numbers, retiring in Vermont doesn't add up for many. 27% of Vermont seniors spend 30% (or more!) of their incoming cash on home ownership expenses.
7. New Jersey

Median Home Cost: $327,900
Medicare Advantage Monthly Cost: $75.18
Cost Of Living: 56,109
New Jersey's coast location, proximity to NYC, and access to airports that fly almost anywhere might tempt some retirees. But with a sky high monthly home ownership costs and a median home price that is a staggering $327,900, it's no wonder so many New Jersey seniors relocate for warmer weather and a more manageable cost of living.
8. Connecticut

Median Home Cost: $272,700
Medicare Advantage Monthly Cost: $71.06
Cost Of Living: 59,502
Connecticut isn't cheap. In fact, it's pretty expensive- especially if you're looking for a place to retire in comfort. Connecticut has the 3rd highest cost of living in the nation and high monthly home ownership costs.
9. New Hampshire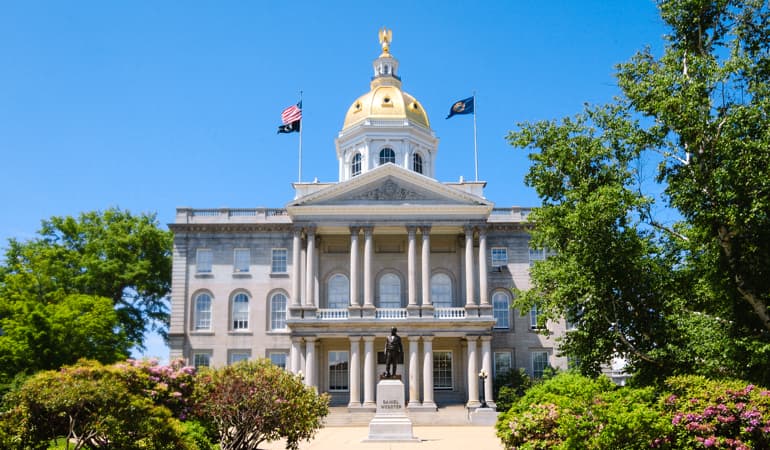 Median Home Cost: $252,800
Medicare Advantage Monthly Cost: $48.67
Cost Of Living: 55,103
New Hampshire is the 9th most expensive state to retire. 25.81% of New Hampshire seniors spend over 30% of their income on home ownership costs. Doesn't leave a lot of cash left to spend on that boat you've always wanted, huh?
10. Minnesota

Median Home Cost: $211,800
Medicare Advantage Monthly Cost: $111.62
Cost Of Living: 52,115
Minnesota may be great for working families, but for retirees the "Land of 10,000 Lakes" might as well be the "land of 10,000 expenses." Minnesota has the lowest average home cost of the top 10 states, but low Medicare contributions and high Medicare Advantage costs keep healthcare costs high. We didn't take into account the winter heating bills for this one, but we're sure they're also a doozy.
Summary On The Most Expensive States To Retire
Look, maybe you have a small fortune to spend on your retirement and can comfortably retire anywhere. But for most people that isn't the case. Where they choose to retire will drastically impact their quality of life and help (or hinder) stretch their retirement savings.
Retirees should keep in mind this data is statewide, so costs may vary based on cities.
The Cheapest States To Retire
The Most Expensive States To Retire, From Most Expensive To Least
| Rank | State | Avg. Home Price | Cost Of Living | Medicare Spending/Capita |
| --- | --- | --- | --- | --- |
| 1 | Hawaii | 587,700 | 60,700 | $8,592 |
| 2 | Colorado | 313,600 | 53,792 | $9,287 |
| 3 | Oregon | 287,300 | 51,900 | $8,942 |
| 4 | Washington | 311,700 | 51,271 | $8,997 |
| 5 | Massachusetts | 366,800 | 59,560 | $11,899 |
| 6 | Vermont | 223,700 | 51,977 | $9,231 |
| 7 | New Jersey | 327,900 | 56,109 | $12,614 |
| 8 | Connecticut | 272,700 | 59,502 | $11,964 |
| 9 | New Hampshire | 252,800 | 55,103 | $9,397 |
| 10 | Minnesota | 211,800 | 52,115 | $9,917 |
| 11 | Rhode Island | 249,800 | 53,240 | $10,901 |
| 12 | Virginia | 264,900 | 54,264 | $9,677 |
| 12 | New York | 302,200 | 59,128 | $12,179 |
| 14 | Wisconsin | 173,600 | 51,120 | $9,608 |
| 15 | Maryland | 305,500 | 58,178 | $12,000 |
| 16 | California | 475,900 | 57,315 | $11,833 |
| 17 | Nevada | 242,400 | 52,698 | $10,796 |
| 18 | Illinois | 187,200 | 52,304 | $11,116 |
| 19 | Delaware | 244,700 | 53,112 | $11,460 |
| 20 | New Mexico | 166,800 | 48,050 | $8,663 |
| 20 | Idaho | 192,300 | 45,801 | $8,737 |
| 22 | Maine | 184,500 | 51,305 | $9,325 |
| 22 | Arizona | 209,600 | 51,341 | $10,096 |
| 24 | Montana | 219,600 | 47,083 | $8,238 |
| 25 | Alaska | 265,200 | 54,400 | $9,288 |
| 26 | Pennsylvania | 174,100 | 49,914 | $11,243 |
| 27 | North Dakota | 185,000 | 46,814 | $9,461 |
| 28 | Michigan | 146,200 | 48,837 | $11,318 |
| 29 | South Dakota | 159,100 | 45,410 | $9,315 |
| 29 | Utah | 256,700 | 47,922 | $9,084 |
| 31 | North Carolina | 165,900 | 49,575 | $10,260 |
| 32 | Kansas | 145,400 | 48,054 | $10,126 |
| 33 | Wyoming | 213,300 | 47,951 | $9,050 |
| 34 | Florida | 196,800 | 52,206 | $12,229 |
| 35 | Nebraska | 147,800 | 48,076 | $9,956 |
| 36 | Texas | 161,700 | 48,160 | $11,895 |
| 37 | Georgia | 166,800 | 47,946 | $10,429 |
| 38 | Ohio | 140,000 | 45,853 | $11,038 |
| 39 | South Carolina | 154,800 | 46,568 | $10,298 |
| 40 | Iowa | 142,300 | 48,882 | $9,317 |
| 41 | Tennessee | 158,600 | 46,785 | $10,371 |
| 42 | Alabama | 137,200 | 45,824 | $10,267 |
| 43 | Missouri | 151,600 | 46,159 | $10,457 |
| 44 | Kentucky | 135,300 | 43,308 | $10,368 |
| 45 | Louisiana | 157,800 | 47,975 | $11,811 |
| 46 | Indiana | 135,400 | 46,838 | $10,714 |
| 47 | West Virginia | 115,000 | 44,823 | $10,268 |
| 48 | Oklahoma | 130,900 | 46,613 | $10,429 |
| 49 | Arkansas | 123,300 | 44,571 | $9,479 |
| 50 | Mississippi | 114,500 | 46,084 | $11,021 |