Find a Job You Really Want In
There's one thing that almost everyone wishes for around this time of the year. A white Christmas.
Snow just seems to make the holidays a bit more special. There's nothing better than sitting by the fireplace, sipping hot cocoa, and watching the snow fall down.
If you're wishing for a white Christmas instead of your two front teeth this year, then you might want to check out one of these states.
Using the NOAA's weather data, we determined the likelihood of a snowy Christmas. That's what led us to these states.
While it's never certain, you'll have a better chance of a white Christmas here than anywhere else in the country.
Since we know you're hooked on the idea of a white Christmas, we included a section on cold-weather jobs that you won't want to miss out on. Be sure to check it out below.
How We Determined This
We used weather data from NOAA to determine which states have the highest chance of a stone-cold, white Christmas.
NOAA uses the latest three-decade averages of climatological measurements- including temperatures, snowfall, temperature variances, among other key metrics
Since data was on a weather-station basis, all stations were averaged together to get each state's chances. Any location with non-calculable data was given a zero.
We didn't take the amount of snow into account for our rankings. However, for fun, we followed the same method to see just how much snow we're talking about. Turns out some states are definitely up to their knees out there!
1. Michigan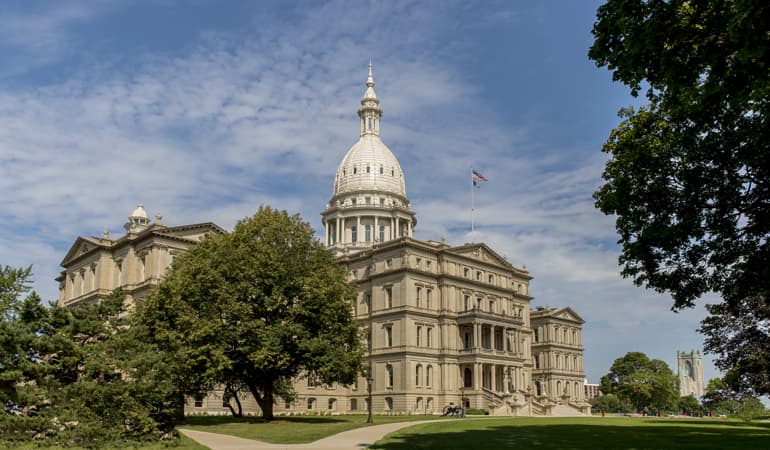 Probability of Snowfall: 36%
Median of Snow Depth: 5.65 inches
Snowiest Station: Bergland Dam
Michigan is your best chance at a white Christmas. With a 36% probability of snowfall on December 25, you can leave your boring, green Christmas behind.
Not only are the chances of snow on Christmas high, but the amount that might fall is enough for a proper snowball fight, some sledding and even enough to build a snowman.
Do you want to build a snowman?
2. Vermont
Probability of Snowfall: 32%
Median of Snow Depth: 6.27 inches
Snowiest Station: Mt. Mansfield
If snow is what you're looking for at this time of the year, there's no better place to be than Vermont. Plus, with a 32% chance of snowfall, you're sure to see some snow on the big day.
And with 6.27 inches coming down, Frosty might even pay you a visit. Don't forget to stop by Mt. Mansfield for a real snowy treat.
3. Alaska
Probability of Snowfall: 30%
Median of Snow Depth: 11.72 inches
Snowiest Station: Haines 40 NW
This one may seem like a no-brainer, but Alaska tends to get snowy around the holidays. Your chances of seeing snow fall on Christmas day is 30% here.
Hopefully, you won't get buried in the cold snow, as you might get to watch 11.72 inches of snow pile up.
4. New York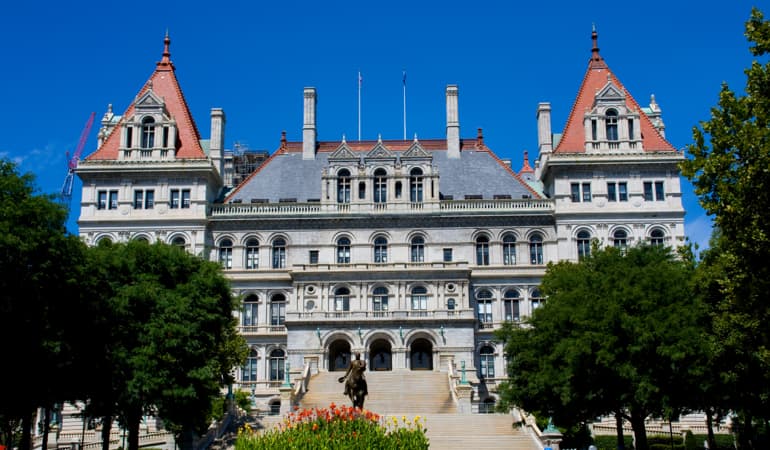 Probability of Snowfall: 29%
Median of Snow Depth: 4.48 inches
Snowiest Station: Newcomb
New York is already a great place to be for the holidays. With the Rockefeller Center Christmas Tree and the ice skating rink, the state really paints a nice picture.
But it's even better that there's a 29% chance of a white Christmas. If you're lucky enough, you might even get to walk through 4.48 inches of snow.
5. New Hampshire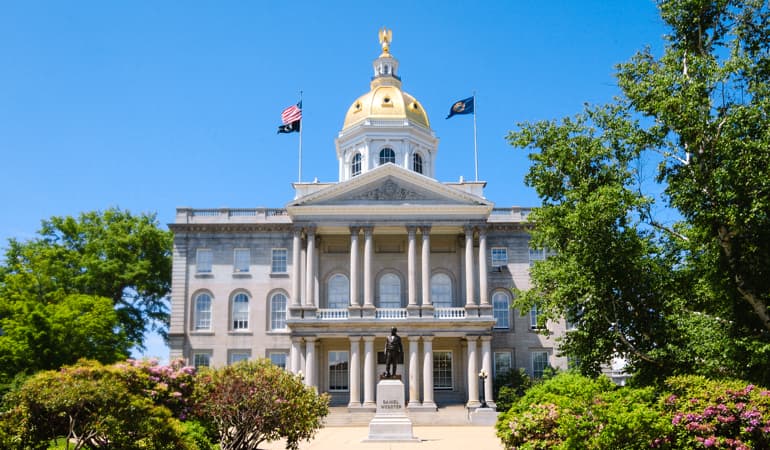 Probability of Snowfall: 27%
Median of Snow Depth: 5.66 inches
Snowiest Station: First Connecticut L
New Hampshire is the fifth-most likely snowy spot in the U.S. on Christmas day. At a 27% chance and the probability of 5.66 inches falling to the ground, we'd say this is a great place for a white Christmas.
6. Maine
Probability of Snowfall: 25%
Median of Snow Depth: 6.58 inches
Snowiest Station: Eustis
If you're dreaming of a white Christmas, take a trip down to Eustis, Maine. That's the snowiest station in the state.
But really, anywhere in the state has a 25% probability of snow on December 25 so you have a good chance either way.
7. Idaho
Probability of Snowfall: 24%
Median of Snow Depth: 6.35 inches
Snowiest Station: Dixie
Idaho is the seventh state on our list for the best chances of a white Christmas. At 24%, there's a good chance you'll wake up Christmas morning to snow flurries out your window.
8. Minnesota
Probability of Snowfall: 21%
Median of Snow Depth: 5.60 inches
Snowiest Station: Littlefork 10 SW
Minnesota is no stranger to snow, especially on December 25. With a probability of 21%, you can count on seeing some snow. Maybe even 5.6 inches!
9. Wisconsin
Probability of Snowfall: 21%
Median of Snow Depth: 5.18 inches
Snowiest Station: Rainbow RSVR Tomaha
Wisconsin doesn't disappoint in the snow department every year. And don't be surprised if you find yourself shin-deep in snow on Christmas day.
The state has a 21% chance of snow on December 25. And with 5.18 inches of flurries, you're game, set and ready for an epic snowball fight.
10. Montana
Probability of Snowfall: 19%
Median of Snow Depth: 4.37 inches
Snowiest Station: Cooke City 2 W
Your last, best chance for a white Christmas is waiting for you in Montana. At a whopping 19%, you're sure to see some snow on the magical day.
Brrr, It's Cold in Here
As promised, we rounded up the perfect jobs for those of you who love all things that are cold.
Whether you want to just be out in the weather all day or just enjoy winter and all it has to offer, these jobs will be perfect for you.
Ski Lodge Employee
Polar Oceanographer
Avalanche Forecaster
Just thinking of working these jobs has us shivering. We hope you don't get frostbite!
Dreaming of a White Christmas
From Vermont where the movie White Christmas was actually filmed to New York with its giant Christmas tree, there are a lot of reasons to visit these states during Christmas time.
Perhaps the reason that trumps them all is the probability for a white Christmas. The holiday seems empty without the fresh powder on the ground.
The table below has all the deets on which states will be enjoying a white Christmas, and which states will not (we're looking at you, Florida).
Never miss an opportunity that's right for you.