Depending on your work or education history, you may be the author of publications. This is a massive accomplishment and something to be proud of. But how do you showcase your publications in an appropriate way to employers? The easiest way to accomplish this is to put publications on your resume or curriculum vitae (CV).
Writing publications on your resume is not common, and you likely won't see it included on any resume templates unless you're looking for something very specific. Including publications is very specific and often used by academics, public relations, or marketing professionals.
However, including publications is important and should be done if applicable. Listing publications can be done in an organized manner and presented based on relevance for the job at hand. For those who have completed a PhD, a resume for both the industry and an academic CV can be created to include the details of any publication in its own section.
The addition of publications isn't just for those looking for roles in academia or a scientific profession. If you have writing work that is suitable for the job at hand, listing it on your resume could help you stand out against other qualified candidates.
However, if the publications are not relevant to the job at hand, it would be more of a harm than a help to include them on your resume.
Want to save time and have your resume ready in 5 minutes? Try our resume builder. It's fast and easy to use. Plus, you'll get ready-made content to add with one click. See 10+ resume templates and create your resume here.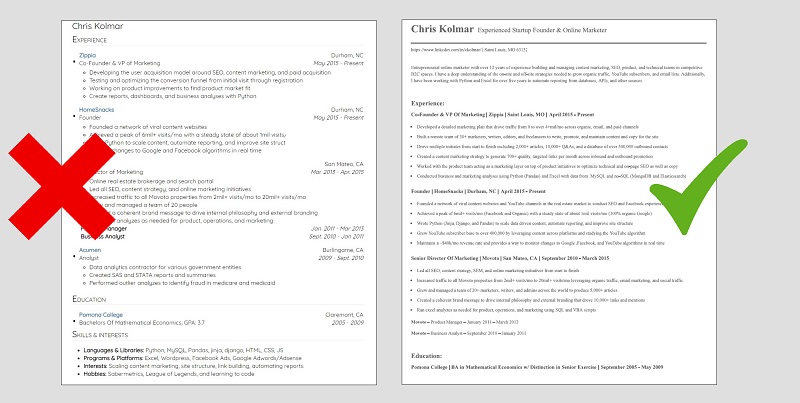 One of users, Diana, had this to say:
I was guided on how to make a detailed and professional resume on Zippia. I was able to download it with unlimited access to all features.
What Is a Curriculum Vitae (CV)?
The curriculum vitae, commonly known as the CV, is a comprehensive document that outshines a resume. It helps to elaborate your skills and expertise beyond the basics of education and work experience. This document is meant to be much longer and more detailed than the traditional resume, typically elaborating on achievements, awards, honors, and publications.
CVs are most popular among academics, and including your published work is an important section of this document. Typically graduate students will have a variety of published works that are important to higher-education establishments. However, CV's can be used in many different industries, including academia, medicine, teaching, and research.
The main difference between a CV and resume is the length. The CV is meant to be a static document, meaning it shouldn't be altered to fit different positions like a resume. The CV should be a detailed overview of the accomplishments and credentials you've built throughout your professional or academic experience.
CV sections can include education, teaching experience, awards, specific achievements, research, publications, conference presentations, and professional affiliations.
Why Is It Important to List Publications on a CV?
Publications arm you with credibility when you begin applying or interviewing for a new job. Publications on your CV can help prove to your potential employer that you have experience and knowledge in a particular area.
It also shows that you're a go-getter who takes the initiative and isn't afraid of rejection. Your publications can show your writing and analytical skills, which is beneficial for applying for academic jobs.
Listing your publications on a CV also allows you to remain humble when it comes to your accomplishments. Rather than walk into an interview with a laundry list of your publications and a description of each, you can simply list them on your CV for the potential employer to read through. This allows them to identify the publications they take an interest in and craft specific questions for you regarding this information.
Listing them on your CV also allows you to keep all of your credentials and accomplishments organized and accessible from one place. Putting together all of the things you have accomplished over any specific period of time may give you the push you need to pull ahead of other candidates interviewing for the same job.
Update Your Resume Now To Get Your Next Job Faster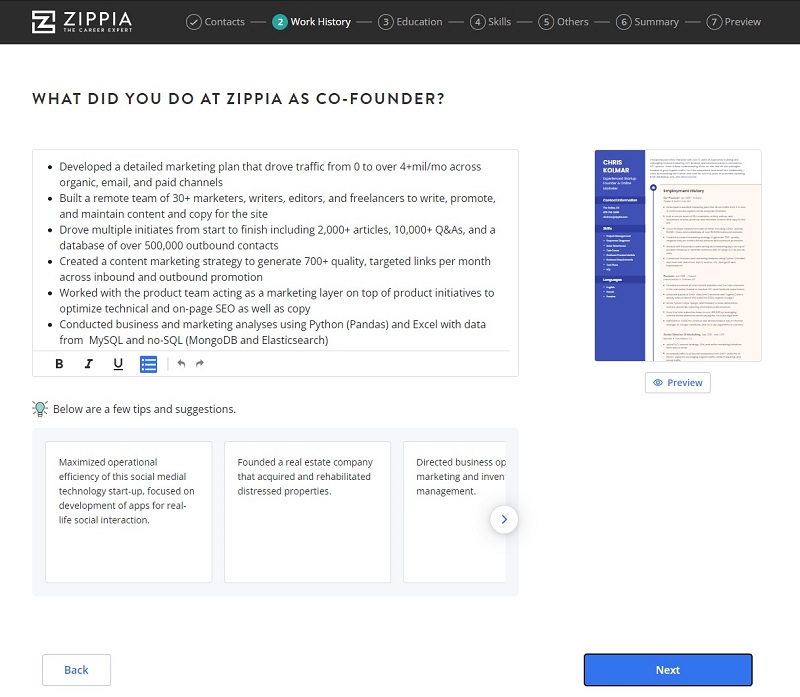 What Publications Should You Include on a CV?
Since there are various publications out there, you may be uncertain about which ones to include on your CV. Any authoritative work should absolutely be included whether it has already been published or in the process of being published. These might include:
For your CV, don't include works such as blog posts, websites, or anything published outside of scientific publications. If you have publications you're considering adding to your resume, they should fit into one or more of these categories:
How to List Publications on Your CV or Resume
The most important thing to include in your CV or resume is your publication's title and where it was published. This information allows the recruiter or potential employer to see what topic you've written about and access the publication if necessary.
When you list your publications, formatting is key. Ask yourself the following:
Resumes are a bit more simple and so require a more straightforward approach. Consider the following when listing publications:
Then again, there's one more thing you can do.
Make a new resume and get more interviews.
Plus, a great resume will give you an advantage over other candidates. You can write it in our resume builder here. Here's what it may look like:
Publication List Template
What does a publication list look like in action? Here are a few templates that you can use to list publications on your CV or resume, depending on the style you'd prefer to use or what your industry standard requires.
For written publications, be sure to include the following:

Author's last name, author's first and middle names or Initials

Title of article/chapter and name of journal, magazine, or website

Publication Year

Publishers or Issue number and Volume number and page numbers (if applicable)

Include the URL if the publication is online

For presentations/conferences, be sure to include the following:

The role, e.g., Presenter; Panelist; Keynote Speaker

Title and topic discussed

Forum or Conference name

Date and Location
Publication list examples
Here are a few different examples of how this could look on your resume.
Journal Article (Print)
Jacoby, W. G. (1994). Public attitudes toward government spending. American Journal of Political Science, 38(2), 336-361. https://doi.org/10.2307/2111407

Chapter in Printed or Online Book
Ray, R.B. (1985). A certain tendency of the Hollywood cinema, 1930-1980. Princeton University Press.

Magazine Article
Luckerson, V. (2014, January). Tech's Biggest Promises for 2014. TIME. https://content.time.com/time/magazine/article/0,9171,2161683,00.html

Article with Multiple Authors
Kafer, Julien, and Walker, Marcella. 'Native fungi of Colorado.' Denver Nature Journal. Volume 3: pages 5-8. 2019.
Final Thoughts
Of course, these are just a few examples of how various publications can look. Depending on your specific type of publication, yours might look slightly different. It's always a good idea to look at industry-specific examples of how this might look.
If you can ask a colleague or friend to take a look at publications listed on their resume, that's a great starting place to help tailor your own CV or resume.