Being part of the Dean's List is a significant accomplishment during your time at university. This is an important academic honor to highlight when entering the workforce.
The best way to do this is to include it on your resume. Including the Dean's List on your resume demonstrates your commitment to hard work and excellence.
But listing the Dean's List on your resume isn't as straightforward as it might seem. It should be done carefully and professionally, so it doesn't seem like you're coming off as overconfident. Similarly, you don't want to hide this achievement so that the potential employer misses it.
You'll want to be sure you format your resume correctly so that potential employers can easily identify this accomplishment among your academic and professional achievements.
Want to save time and have your resume ready in 5 minutes? Try our resume builder. It's fast and easy to use. Plus, you'll get ready-made content to add with one click. See 10+ resume templates and create your resume here.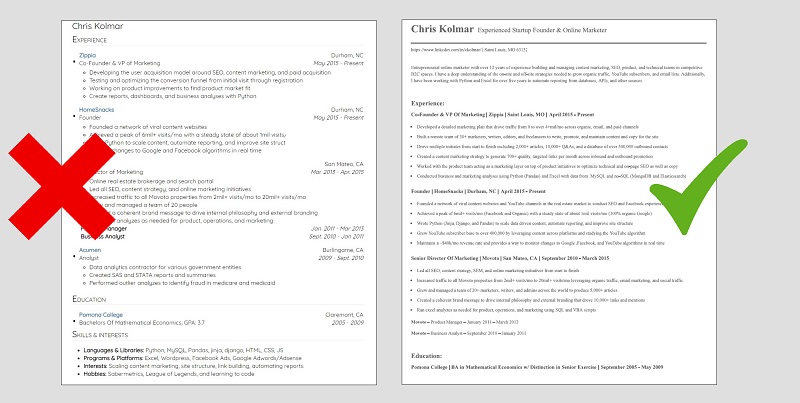 One of users, Diana, had this to say:
I was guided on how to make a detailed and professional resume on Zippia. I was able to download it with unlimited access to all features.
What Is the Dean's List?
The Dean's List is the highest level of academic achievements that you are eligible to receive during your time at a university. If you are able to achieve and maintain a 3.75 GPA or higher, you'll be eligible for this honor.
However, it's important to note that this average will highly depend on the school you attend, meaning it can be higher or lower depending on their qualifications.
You'll likely need to have 12 credit hours or more under your belt to be considered for this accomplishment. If you are interested in making Dean's List as a goal you'd like to aim for, it's a good idea to look at your university's specific criteria for the Dean's List achievement.
When Is It Applicable to Put Dean's List on Resumes?
You might be asking if it's always applicable to put Dean's List on your resume. There are absolutely appropriate instances and inappropriate instances to include this achievement on your resume.
Getting this honor is something you should share with employers unless any of the following are applicable:
Your Dean's List achievement is inconsistent. If you made the Dean's List one or two semesters sporadically throughout your academic career, it might be wise to leave it off completely.

Having this kind of inconsistency highlighted on your resume might actually harm your chances of landing a job in the long run.

You graduated with honors. If you are including your Greek or Latin honors on your resume already, you don't need to add the Dean's List achievement in addition.

It can come off as overkill and paint you to be over-confident even before you get into the interview room.

You have already demonstrated your positive performance. Suppose you have other achievements where you're showcasing your notable achievements during your time at university, similar to graduating with honors.

In that case, it's better to keep the Dean's List achievement off your resume.

The Dean's List criteria are unclear to your employer. If you went to a specific type of school or your employer is unfamiliar with what the Dean's List achievement means, it's better to leave it off your resume entirely.

Although this may be an achievement to many, in some circumstances, it may be inappropriate to include. Be sure to thoroughly research your potential employer before submitting your resume.
Update Your Resume Now To Get Your Next Job Faster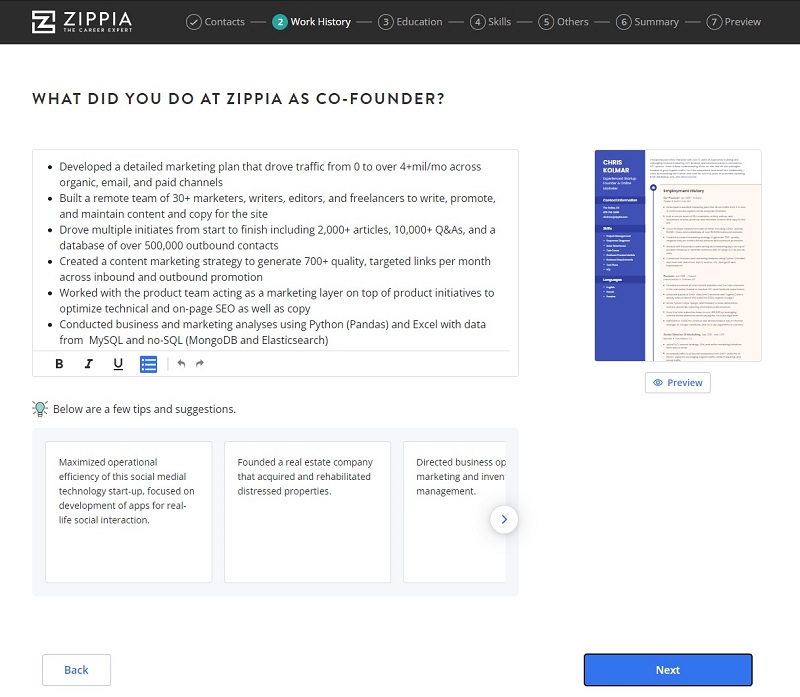 How to Include Dean's List on Your Resume
Once you have taken inventory of what you'd like to include on your resume, you can begin the process of putting the Dean's List on your resume.
How you include it will be the deciding factor in how it presents itself to your potential employer. You'll want to ensure you do this correctly, as it can impact whether or not you land the job.
You should ask yourself the following questions to ensure your Dean's List inclusion on your resume is as professional as possible:
Is it appropriate to include? As we touched on previously, you'll want to be sure including this achievement is appropriate on your resume. Take a look over the existing job opportunity and identify essential skills they're looking for in a candidate.

If it's emphasizing strong academic backgrounds or stellar work ethic, including Dean's List on your resume could help you stand out from the rest of the candidates.

Where should you include it? You can include the Dean's List on your resume in a few different places, but the most common is to include it under your education section.

Depending on the education you're listing on your resume, you'll need to group your accomplishments with the applicable school.

So, list your college or university, your dates of attendance, your GPA, and Dean's List for five semesters or Dean's List for all semesters. You can also include Dean's List in your accomplishments section.

However, it's important to note that if you have a separate section for accomplishments, it's best practice to have more than just one.

Is it formatted properly? Just as with every other part of your resume, you'll want to be sure your inclusion of Dean's List is easily readable and professional-looking on your resume.

Be sure that you're capitalizing "Dean's" and "List" and add how many semesters you received this honor. You may choose to emphasize this part by bolding or italicizing the text.
Remember that including the Dean's List on your resume is optional and should only be added if you truly feel it will help you stand out among other candidates.
Be sure to only include it in the sections indicated above or in a way that doesn't take away from the narrative you're trying to show for your potential employer.
Be aware that most resume experts recommend keeping the Dean's List under the education section of your resume.
Only if it's appropriate and you find this to be one of your most notable accomplishments, it may be applicable to list the criteria necessary to make the Dean's List at your school. If this achievement required any necessary skills, list those as well.
Template for Including Dean's List on Your Resume
This template will differ depending on where you're putting the Dean's List on your resume. You can choose to include it under your existing education section or underneath a separate accomplishments or awards section.
If you choose the latter, be sure you have additional accomplishments to include beyond being recognized on the Dean's List.
Remember, including the Dean's List on your resume shouldn't be flashy or overly confident; it should simply assist.
Below is a template for including the Dean's List on your resume:
Including the Dean's List in Education Section
Education

(Title)
University of Rhode Island, Narragansett, Rhode Island (University of College, City, State)
2006-2010 (Years in attendance)
Bachelor of Arts, English (Degree and Major achieved)
3.8 GPA, Dean's List for all semesters (GPA and number of semesters on the Dean's List)
Including the Dean's List in Awards and Accomplishments Section
Accomplishments and Awards

(Title)
Dean's List for all semesters
Student of the Year Award in 2007
Fiction Short Story Award Winner in 2008
Then again, there's one more thing you can do.
Make a new resume and get more interviews.
Plus, a great resume will give you an advantage over other candidates. You can write it in our resume builder here. Here's what it may look like:
The Narrative of Your Resume
When you think about the narrative of your resume, you should consider the fact that your resume only gets the reader's attention for approximately 2.5 to 20 seconds. To this end, you'll want to make sure your resume is telling a story that registers.
If you can put yourself into the human resources person's shoes and craft your resume around what would register for them, you'll knock your resume out of the park.
Crafting a compelling narrative that includes keywords and topics from the job description can help keep the recruiter or hiring manager's attention. Don't make it too long or too boring, and be sure you highlight key accomplishments you are proud of and feel comfortable discussing in an interview format.
Read through your resume with fresh eyes from the employer's perspective, hoping to understand who you are by reading the short document, and be sure what you have listed accurately reflects that.
Some ways to do this are to use the top of your resume to give the recruiter a good idea of who you are as a professional. Consider turning your accomplishments into stories. This doesn't mean you need to ditch the bullet points completely. It just means you can go more into detail on specific accomplishments.
Include them within your job descriptions, and make sure the accomplishments stand out to differentiate you from other candidates. Be sure not to be too wordy or use too many buzzwords or adjectives that fluff up the descriptions.
Include the Dean's List accomplishment in the section that's most applicable for your resume. As stated before, see if the job description for which you are applying has specific terms or keywords they may be looking for on your resume.
Academic, Driven, Hard-working, Attention to Detail, and more are words to look out for when you're considering whether or not to include Dean's List on your resume.
Final Thoughts
It's widely suggested that providing an accomplishments-driven resume will be more likely to land you the job of your dreams.
Typically, hiring managers know the responsibilities that most jobs hold. Therefore it's more exciting for them to pick up and read through a resume that portrays accomplishments rather than one that describes specific duties and responsibilities.