We all know the importance of first impressions in business, and resumes are no exception. While boring old resume objectives have mostly given over to resume summary statements, there's another contender for the role of resume opener: the statement of qualifications.
We'll cover what exactly a statement of qualifications is, how to write one, and provide examples to help make writing your own that much easier.
Want to save time and have your resume ready in 5 minutes? Try our resume builder. It's fast and easy to use. Plus, you'll get ready-made content to add with one click. See 10+ resume templates and create your resume here.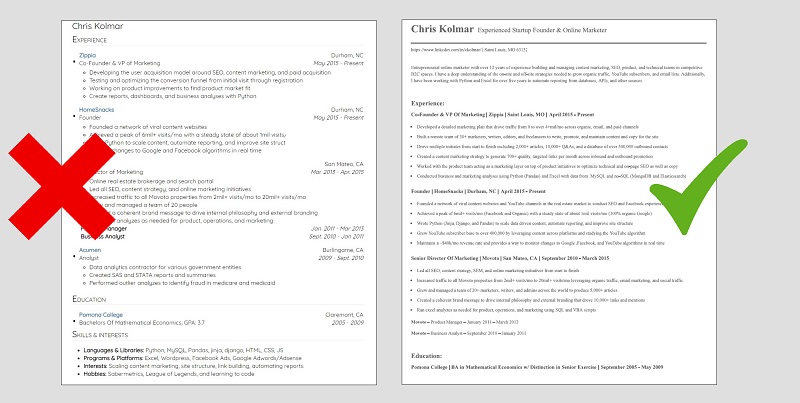 One of users, Diana, had this to say:
I was guided on how to make a detailed and professional resume on Zippia. I was able to download it with unlimited access to all features.
What Is a Statement of Qualifications?
A statement of qualifications is a 4-6 bullet point list of your most valuable skills and qualifications at the start of your resume. Note that the definition of your "most valuable" skills depends on the specific job description, and you'll want to tailor your SOQ (along with the rest of your resume) to each and every job you apply for.
One could argue that a summary of qualifications is essentially like creating a movie trailer for your resume. An SOQ is a teaser that emphasizes your work experience, skills, and achievements.
The old school way of doing resumes is to start with a resume summary statement or career objective at the top. The trouble with a resume summary is that they are very general (and frankly pretty boring). Plus, they are often focused on you. It shares who you are, what experience you have, your competencies.
When you flip the script and put the top benefits you have to offer an employer right at the top in a Statement of Qualifications, it's a powerful way to stand out.
It allows a hiring manager or recruiter to quickly see that you're qualified for the role and inspires them to give your resume a closer look. Plus, putting your qualifications front and center is useful in the era of applicant tracking systems that parse through your resume before it even reaches a human reader.
How to Write a Statement of Qualifications
To write a statement of qualifications, start by reading the job description and jotting down the job skills the employer is looking for. Then make a list of your results and accomplishments that match those areas.
Let's say you come across this job listing for a Pharma Sales Manager job opening:
Regional Pharmaceutical Sales Manager

A pharmaceutical company is currently looking for a Sales Manager who can build maintain national clients/accounts and sell new services to existing clients. The ideal candidate has over seven years of business or sales experience within the pharmaceutical industry with significant management and training capabilities and existing clientele. Travel within the territory will be required.

Territory includes IL, IN, WI, OH, TN, MN.
Notice all the words in bold. These are areas of interest for them that you should include in words to describe yourself on a resume to raise a recruiter's interest. Now we translate that below into attention-grabbing bullet points.
Regional Pharmaceutical Sales Manager State of Qualifications

Meet and exceed previous years' sales target by 25% by attaining a $7,500,000 sales quota and 51% growth as of Dec. 2019

Transformed bottom-ranked Illinois territory to become a top revenue producing region.

8 years of pharmaceutical sales experience

Pharma Sales Rep of the Year for Illinois 2017

Certified Pharmaceutical Sales Representative

5 years of experience managing regional sales teams

Maintained relationship with existing 275 clients to develop and grow sales

Assigned by senior sales management to train and mentor new reps
Update Your Resume Now To Get Your Next Job Faster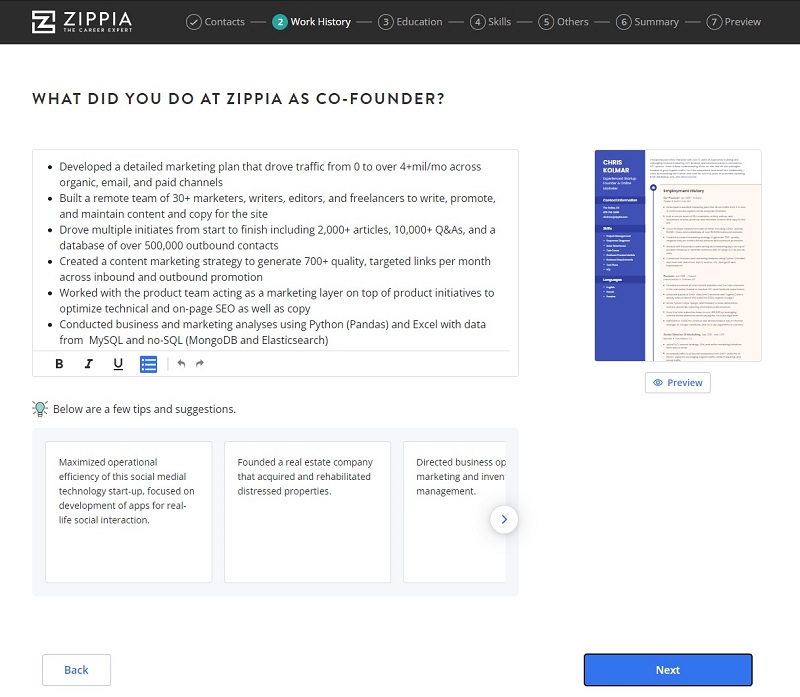 Benefits of a Statement of Qualifications
When a recruiter is sitting at their desk with a pile of resumes to review, they don't have time to sit and thoroughly read every one. They need to quickly identify which applicants are a match for the job qualifications. So having your best information right at the top helps them tell in five seconds if they should interview you.
Placing your statement of qualifications at the top is like saying "Pick me," "Pick me." It is a powerful way to grab the recruiter's attention.
A statement of qualifications shows what's in it for the employer. It's not about the skills you have, but the impact and results you can achieve for that employer.
Finally, when you list these items in bullet form, it's very easy for a hiring manager to scan through them. They are busy. The more you can do to help them quickly see your strengths, the better shot you have at getting an interview.
You want to include a few things in your statement of qualifications:
Quantifiable results achieved — this can be sales volume, contracts, reduction in expenses, increase in profitability, boost in shareholder value, increase in customer base, etc.

Length of industry experience

Years of management experience

The highest degrees/certificates earned

Awards/Honors/Recognitions
Tips for Your Resume's Statement of Qualifications
You want your resume to be engaging, exciting, and thrilling to read. But what does it take to make a truly great statement of qualifications that will convince your recruiters to invite you for an interview?
Here are some tips for creating a professional statement of qualifications:
A strong statement of qualifications grabs attention and keeps recruiters interested.

Hiring managers will read your resume more thoroughly if they think you're a qualified candidate with the right work experience, skills, and strengths.

Hard numbers that show you walk the talk with proof of the results in your past roles.

Action verbs that add power and impact to your resume.

Consistency in font face, size, spacing, caps, bold, and italics usage.

Carefully proofread for correct typos and grammar usage. It's the little details that can reveal how much effort you put into your resume.

Adding keywords boosts how your resume comes up in the applicant tracking system (ATS) and shows recruiters the applicant's compatibility to the position.
Then again, there's one more thing you can do.
Make a new resume and get more interviews.
Plus, a great resume will give you an advantage over other candidates. You can write it in our resume builder here. Here's what it may look like:
Qualifications Examples for Different Industries
This list of statement of qualifications examples should help you think through what would work best when applying for your future job roles:
Summary of Qualifications for Medical Sales Example
10+ years' experience in medical sales.

Handled 10 medical client accounts that resulted in $500K revenue/year.

Exceeded sales goals by 12% every quarter.

Received Employee Recognition Award for Outstanding Achievement.
Summary of Qualifications for Retail Management
8 years of experience in retail management for big box stores.

Increased store revenue by 65% by employing essential marketing and sales strategies.

Oversaw the work of 200 sales and retail staff.

Named Market Manager of the Year.

Graduated Walmart Academy for advanced retail skills.
Summary of Qualifications for Sales Representative
15 years of experience in strategic marketing roles.

Increased sales by 45% in my first year with the company.

Earned Certified Professional Sales Person (CPSP).

Trained and developed a team of 12 sales representatives.

Named the Salesperson of the Year for 2018.
Summary of Qualifications for Travel Agent
10 years of experience in domestic and international travel.

$1.2 million sales quota goal in 10 months.

Earned Certified Travel Associate (CTA).

Experienced supervising team of six travel agents in a fast-paced setting.

Recognized as a top travel agent in the Midwest Region.
Summary of Qualifications for Accounting Supervisor
15 years of experience as a senior accountant.

Accomplished a 35% reduction in costs by re-negotiation of leasing contract.

Certified Public Accountant (CPA)

Recruit, hire, orient, and train new accounting employees.

Member of American Association of Finance Accounting (AAFA).
Summary of Qualifications for Data Analyst
9 years of experience interpreting and analyzing data

Perform market analysis to efficiently achieve objectives increasing sales by 35%

MS in Business Analytics

Lead a team of two data analysts and one data engineer

Winner of TAG Data Science Analytics Innovation Award
Summary of Qualifications for Project Manager
7+ years of experience

Managed Lean Training project that improved quality by 36%, cut lead times 20%, cut costs 52%.

Led project management for a team of 75 employees.

Project Management Professional Certification (3/2018).

Guest speaker at the Midwest Lean Conference in 2019.
Statement of Qualifications FAQ
Final Thoughts
A great resume emphasizes your qualifications in a compelling way and puts you in the best light. With a concise statement of qualifications, you can hook in hiring managers with an easy-to-read summary of why you're perfect for the job.