There's so much to consider when creating the perfect resume. When writing one, you have to think about every little detail – wondering if you have chosen the right font size, the correct spacing, and if the template you have chosen is appealing enough. You even have to think about the paper you choose, whether it is the right weight or color.
Many are under the impression that there is no need to have a hard copy of your resume because everything is done online. Even if this is the case, keep in mind that many interviews take place in person. When getting ready for an interview, you have to ensure that you are well prepared, meaning you will need a printed copy of your resume.
Always keep your primary goal in mind, which is making sure you look presentable and well organized. When applying for a job, you must choose a high-quality paper that will communicate your professionalism. You would be surprised to know that choosing the right kind of paper can go a long way in the hiring process.
Here you will learn more about what a resume paper is and how to choose the best one for your resume.
Want to save time and have your resume ready in 5 minutes? Try our resume builder. It's fast and easy to use. Plus, you'll get ready-made content to add with one click. See 10+ resume templates and create your resume here.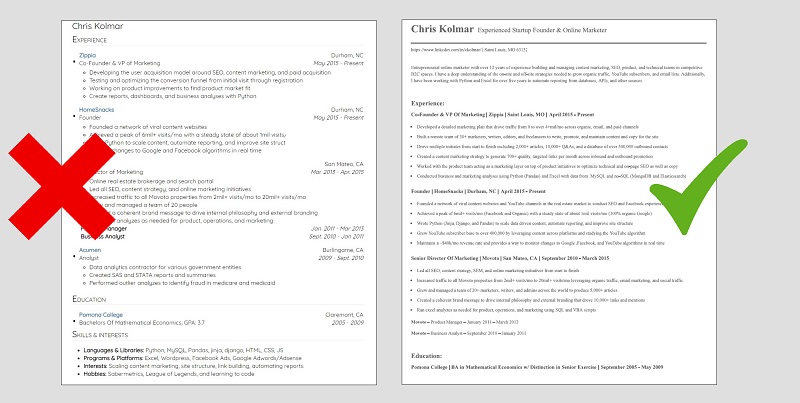 One of users, Diana, had this to say:
I was guided on how to make a detailed and professional resume on Zippia. I was able to download it with unlimited access to all features.
What Is Resume Paper?
A resume paper is a paper that is specifically designed for candidates to print hard copies that break down a person's work experiences. It comes in different kinds of materials such as cotton, linen, recycled paper, parchment, bamboo, etc.
It might be hard to believe something as simple as choosing the right type of paper can increase your chances of getting hired. The reason for that is this paper will help your resume stand out amongst the hundreds of different applicants.
Using high-quality paper can show prospective employers how serious you are about the job and demonstrate that you are willing to go the extra mile to do what's needed.
Make sure that when you print your resume, you keep it in a folder. Nothing screams unprofessionalism like a wrinkled page. One of the advantages of using a resume paper is its durability. Typically, resume paper is more durable and less susceptible to wrinkling or creasing.
Different Types Of Resume Paper
As mentioned above, there are many different types of resume paper. These papers can vary in color, material, texture, and weight.
Color. Even though resume paper comes in a variety of colors, tread lightly. Choosing the wrong shade of paper can come off as unprofessional. Many employers recommend that candidates use off-white colored paper, such as ivory.

When selecting a paper color, however, you also need to consider the industry you choose. Some companies or organizations have specific expectations when it comes to resume papers. One of the safest choices for a resume paper is natural colors. Colors such as light blue, brown, green, or yellow paper can work if you are looking to put a little flair to your resume.

Material. The material you choose is just as vital as anything else. It is something that will help set your resume apart from every other candidate. Cotton is one of the most recommended materials – not only does it give your resume an overall clean look, but it is also more environmentally sustainable.

Linen is another great material to use for your resume. This material gives your resume a clean look and has an excellent texture, which makes it look very professional.

Texture. Using textured paper will give your resume an elegance and professionalism than plain copy paper can never do. Textured paper comes in different finishes such as satin, woven, matte, linen, etc.

Weight. Though the weight of the paper you use is not something you have ever considered before, now would be the best time to start. The weight of the paper often refers to the thickness. Having thicker paper will decrease the chances of your resume getting wrinkled or creased. Most professionals would recommend using 24-pound or 32-pound paper.

Size. Keep in mind that the size of the paper is also something to consider. If you pick a paper that is too big or too small, it can be taken the wrong way. The ideal size for a resume paper is 8.5 x 11 inches.
Update Your Resume Now To Get Your Next Job Faster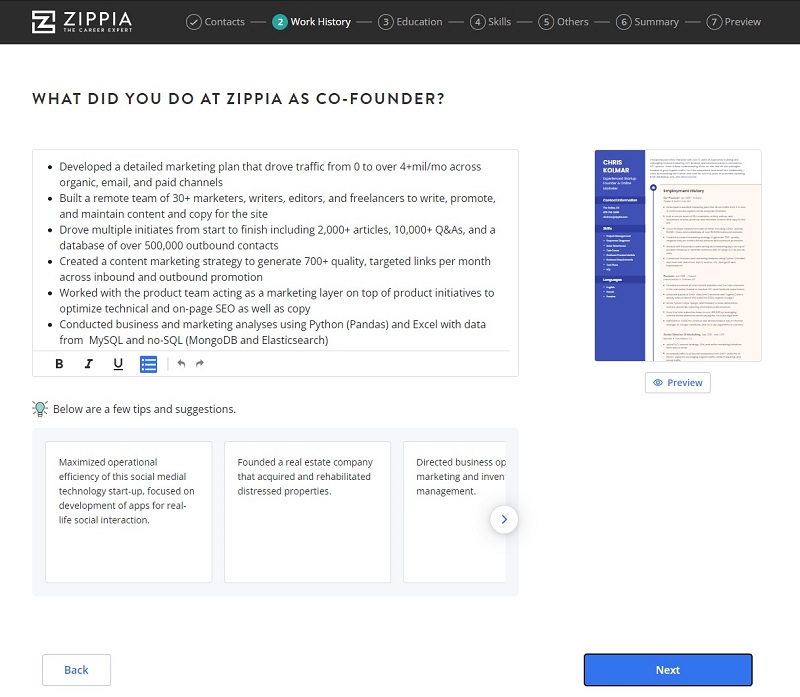 How To Choose The Best Resume Paper
Now that you have a better understanding of what resume paper is and the different kind there is, your next step is to choose the paper that will best serve you in the long run. Remember that choosing the right paper will help you stand out among hundreds of other applicants.
You should know that you do not need to go to a specific paper store to purchase your ream of resume paper. You can either buy the resume paper online or at a run-of-the-mill retail store such as:
Office Depot

Walgreens

CVS

Staples

Target

Walmart
To know which would be the right paper for your resume, you might want to consider buying multiple reams of papers to test which one will serve you better. Print your resume out, trying each one of the papers you have purchased. That way, you will know with certainty which one will work.
Remember that you should also use the high-quality setting on your printer when you are printing your resume. Keep in mind that if you do not change this setting, the quality of the paper you have chosen will not do much if your resume looks blurry. This will use a significant amount of ink. However, it will guarantee a more professional-looking resume.
If you do not have a place to print out your resume by chance, you can always go to a printing service store, a Staples, Office Depot, FedEx, or perhaps your local library. Remember to properly format your document in either a Microsoft Word Document format or a PDF.
Before you start printing your resume, remember to do your research correctly, gather as much information as you can about the company or organization you are applying to. Perhaps this is an entirely green company. They might have a preference for recycled paper.
Resume Paper Brands You Can Use
Now that you know which things you will need to take into consideration when choosing a resume paper. Here is a list of paper brands you can consider when picking a ream of paper:
Southworth specialty paper. Created for special occasions, this high-quality paper would be an excellent choice for you to use for your resume. This paper's brand comes in a variety of materials, such a parchment, linen, and granite.

Magnum opus. Designed to help you make a great first impression, this high-quality paper comes in a whole array of colors. The Magnum Opus resume paper weighs 28 pounds typically.

HP printer paper premium24. Because of this paper's quality, you will be able to print brighter, more vivid colors. Another excellent quality of this paper is how affordable it is compared to other reams of paper.

Mohawk 54301 copier 100% recycled paper. Known as one of the ultimate recycled papers, this paper will guarantee a quick, efficient, and high-quality copy of your resume that is 100% recyclable.
Then again, there's one more thing you can do.
Make a new resume and get more interviews.
Plus, a great resume will give you an advantage over other candidates. You can write it in our resume builder here. Here's what it may look like:
Why Choosing the Right Resume Template Is Important
Once you have gone through all the motions of choosing the right resume paper, the next thing you will need to do is choose the best template for your resume. Your resume says a lot about you. It is a document where you print a breakdown of a person's work experiences.
Picking out the right template can show how organized your resume will look and ultimately help you land a job.
When creating your resume, be sure that you have done your research correctly. Make sure that the resume is specially tailored to the job you are applying for. For example, if you are applying to become a paper processor, you will need to list your experiences closer to this position, like being a receptionist or a logistics processor.
Remember to keep things simple. Many people make the mistake of trying to make their resume sound overly sophisticated. This can actually work against you making it seem unprofessional and wordy. Another thing you need to keep in mind when writing your resume is the language that you use. Many companies use what is known as a tracking system. This program picks up on specific words and forwards it on to the hiring manager.
You should also take the readability of your resume into account. Though you might be tempted to choose an elaborate and fancy font, try to remember that it is essential for the hiring manager to be able to read your resume. Most employers recommend that you use Arial, Calibri, and Times New Roman for your fonts – it should also be between sizes 10 and 12.
Final Thoughts
In the end, when you are deciding how to write and format your resume, you need to keep an eye on every single detail. This means you will need to choose the adequate paper, font, and template to help you stand out amongst the other applicants.