Whether you're seeking an entry-level position with no experience or re-entering the job-hunt after a long-time career, your resume could be in desperate need of polishing. You may have all the skills and work experience to be an ideal candidate, but without a showcasing this in a great resume you could get lost in the sea of applicants.
That's where resume writing services come in.
Want to save time and have your resume ready in 5 minutes? Try our resume builder. It's fast and easy to use. Plus, you'll get ready-made content to add with one click. See 10+ resume templates and create your resume here.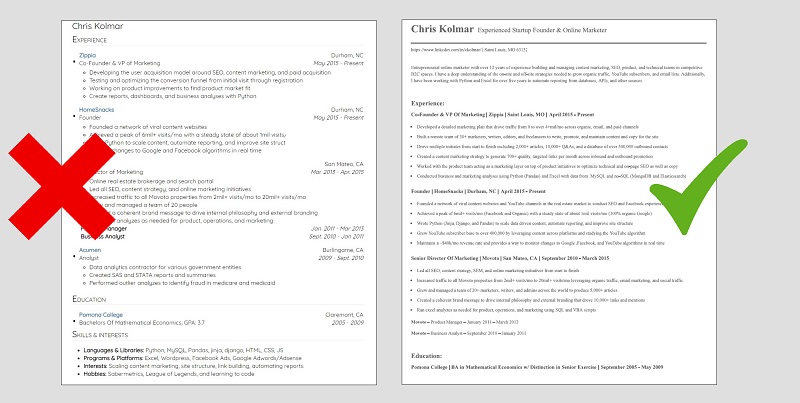 One of users, Diana, had this to say:
I was guided on how to make a detailed and professional resume on Zippia. I was able to download it with unlimited access to all features.
What is a Resume Writing Service?
A resume writing service will provide job-seekers with a professional writer who can take key skills and experience, or lack thereof, and create a resume that will stand-out. Everyone has different needs and challenges when it comes to creating an effective resume.
A professional resume writer can help you with:
Adhering to Proper Resume Format

Translating Relevant Skills for Applicants with Less Experience

Emphasizing Work-Experience in Applicants Seeking a Career Change

Saving You Time and Effort
A professional resume writer caters to these needs on an individual basis to help you sell yourself successfully and land your next position.
How Do Resume Writing Services Work?
Here's a general sense of how working with a resume writing will work.
Choose a Package. Many services create professionally written resumes, and their services can differ slightly. Generally, though, they function in similar ways. Hiring a resume builder will usually start with choosing a plan or tier. Some companies will offer a free review of your resume before committing to a package. Once you've decided to continue, you'll usually be given about three choices at different price points. The lowest price point will include the just resume, and occasionally a cover letter.

The second tier may include more extras such as:

A LinkedIn Profile

Keyword Optimization

Applicant Tracking System (ATS) Consideration

An Expert Writer

The most expensive option will be a comprehensive package of all the possible additions their site offers. This tier will give the most bang for your buck if it's in your budget, often only being around 50$ more expensive than the middle option.

The Writing Process. After deciding which package would best suit your needs and budget, the process usually begins swiftly. If you've already submitted your resume for a free evaluation, your writer will build off these notes and contact you for further discussion.

When starting from scratch, either because it's your first resume or just want a clean slate, you'll have a consultation with your writer. In this consultation, you'll discuss your key skills, prior experience, qualifications, and goals for where you want your career to go. This is your opportunity to explain to your writer exactly what it is you're looking to communicate.

During the writing process, most services offer drafts and revisions for your consideration. Until your resume has met your standard, they'll continue working on it.
Update Your Resume Now To Get Your Next Job Faster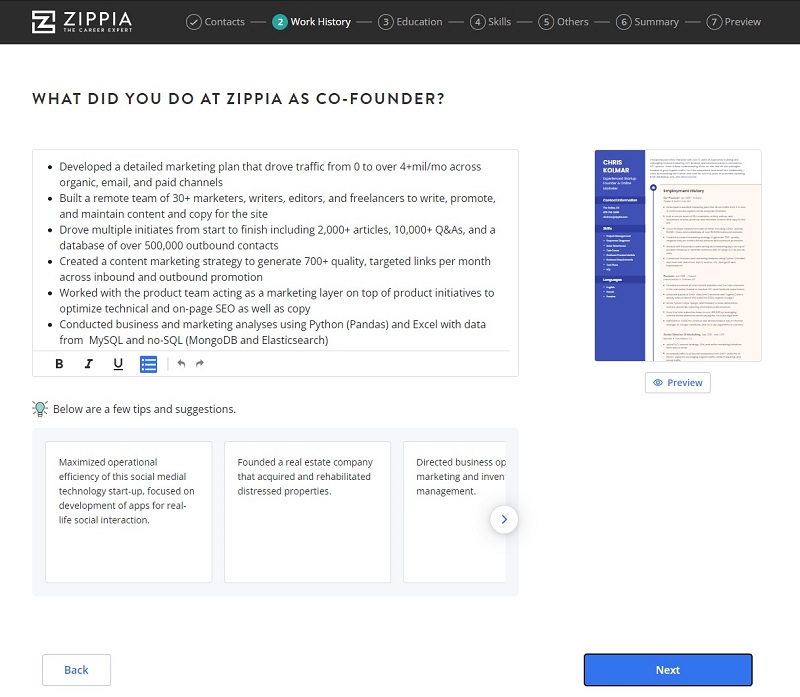 How Much Does a Resume Writing Service Cost?
Pricing for resume writing services can vary drastically between service providers. Some companies charge less than $150 for their least inclusive packages. Others charge over a thousand dollars. You can also find a professional resume writer on platform sites that host writers rather than hire them for usually a much lower price. The price you pay can also be dependent on what type of resume you're seeking (entry-level, professional, CEO).
On average, job-seekers should expect to pay between $200-$400 for an expertly formulated resume.
Is Hiring a Resume Writing Service Worth the Cost?
Hiring a resume writing service can seem like a costly endeavor, especially if you're amid a job-hunt. While using a writing service can be expensive, the potential benefits far outweigh the initial cost.
You're the best person for the job in your field, and you want your resume to be a testimony to that. A resume writing service shares that goal and makes it a reality to
succinctly showcase your skills, with tangible results. Many companies even offer a free rewrite if your new resume doesn't land you an interview.
Time is money, and crafting a perfect resume takes up a lot of it. Hiring a professional writer can save you months of tweaking and editing. That time could be used to find the new jobs you're going to apply for with your new, polished resume.
As experienced as you are in your work is how prepared and diligent your resume writer is. They know what employers are looking for, and how to catch their attention. While you may be able to write an acceptable, simple resume, is that the impression you want to give?
A resume is a crucial part of any application process. It's a foot in the door. The introduction drawing recruiters into a conversation. Hiring a professional writer is worth the cost because it takes your resume beyond "acceptable and simple" to "exceptional and effective".
Then again, there's one more thing you can do.
Make a new resume and get more interviews.
Plus, a great resume will give you an advantage over other candidates. You can write it in our resume builder here. Here's what it may look like:
10 Best Resume Writing Services For 2020
Pricing: $149-$339

Resumable offers many of the greatest benefits of all the services that offer resume writing. They give a free expert review of your resume before making any package purchases. This review takes into account Applicant Tracking System scores and an explanation of these scores. They provide their free expert analysis within 24 hours of submitting your resume. That's heaps of benefits before ever spending a dime. Their writers have expertise in various careers and know how to attract recruiters. Even their least expensive package includes both a resume and a cover letter. In addition to all these benefits, their services guarantee that you'll get an interview within 60 days of finalization, or they'll rewrite it for free.

Pricing: $139-$299

Zip Job is one of the most successful resume writing services. Their technology-based services set themselves apart from the competition. Zip Job takes into account the 'Applicant Tracking System' (ATS), which often screens resumes for companies before they're reviewed by hiring staff. According to Zip Job, over 75% of resumes are rejected by this system, and getting a professional resume crafted by their writers can help avoid being part of that percentage. Zip Job also offers job-seekers the option to pay for their services over three months with 'Affirm', making it a more accessible option.


Pricing: $179-$289

Careers Booster has some very intriguing features for its clients. Their prices are based on turnaround time, and type of resume.

They even include an option to tailor your resume specifically to foster a successful career field change. Careers Booster also offers additional services beyond constructing an eye-catching resume. These include:

Cover Letters

LinkedIn Profiles

Editing

Follow-up Emails

Careers Booster guarantees it's clients to score an interview within 30 days or they'll rewrite your resume for free. During the writing process, they provide 24/7 support, unlimited revisions, and direct contact with your writer. They regularly run discounts on their packages and have specials available. As of September 2020, there is a 15%-20% discount on all of their packages.

Pricing: $119-$479

The Muse is an excellent possibility for new job-seekers. Their services are delivered at one of the lowest price-points available. The lower price isn't in lieu of quality. On the contrary, their packages include a video-chat with your writing coach to discuss your resume needs more personally. This can be a wonderful alternative for job-seekers who prefer less text-based communication and can help identify relevant skills for applicants with an entry-level resume.

Pricing: $129-$349

Monster is well-known as a valuable job-search and career resource. However, you may not have known that they also provide a professional resume writing service to increase your odds of getting an interview.

The professional resume writers who work for Monster have recruiting backgrounds and go through specialized training before getting to work. In addition to experienced writers, their services also include a 60-day guarantee that you'll be happy with your resume, or they'll rewrite it for free.

Pricing: $395-$1295

Find My Profession is one of the more expensive options when it comes to professional resume writing, however, this higher price point comes with excellent package options. Find My Profession is a good option for a candidate who is looking for a resume tailored to a specific position. Their packages system is based on the type of resume you are looking for. These include:

Entry-Level Resume

C-Level Resume

Executive Resume

Professional Resume

The specifics of what comes with each package differ but Find My Profession includes several features that come with every package. These include:

A Personal Strategy Session with your Writer

3-5 Business Day Turnaround

1 Week of Unlimited Revisions

A Guarantee That You'll Get an Interview within 60 Days

LinkedIn Profinder

Pricing: Varies Based on Writer

Unlike some of the other resume writing services on this list, LinkedIn Profinder is more of a professional services network. In addition to resuming writing, you can find countless remote professionals for a variety of services. Instead of having a site-wide package plan, the resume writers on their site provide their own quotes to the job-seeker. You'll receive bids from these writers after submitting a request, and you can browse through these at your discretion. This may be a great option for an applicant who wants to pick their writer and have a variety of price quotes. However, be aware that being a platform rather than a service can have varied quality results, especially when choosing a writer with fewer reviews.

Pricing: $179-349

TopResume stands out off the bat by offering free expert reviews of your resume before choosing a paid package. This gives you a good feel of what you're going to be getting if you decide to purchase a paid option. As well as this free review, TopResume has longstanding success and an impressive presence in its field.

Their website states that their services provide a:

38% increase in contact with recruiters

31% increase in the chance of getting an interview

40% increase in the likelihood of landing the job

Pricing: $169.95-$249.95

ResumeWriters.com gives job-seekers an information worksheet at the beginning of the process designed to give the writer insight into the applicant's experience and skills.

Their writers work on resumes based on career, meaning you're not only getting a qualified resume writer but one whose knowledge is in your field. Another bonus of using ResumeWriters.com for your resume building needs is their turnaround speed. According to their website, both your resume and cover letter will be in hand within 24-72 hours.

Pricing: $135-$245

Resumes Planet is a unique resume writing service because their tiers not only vary based on services included but also the return time of your resume. That means, if you don't need your resume immediately, you can get a discount of $84. Resumes Planet also offers a 24/7 toll-free customer support line. If you have any additional questions or concerns about your resume, they'll always be available to help.