In order to make a great first impression during the hiring process is important to emphasize your most desirable skills, experiences, and accomplishments. The best way of doing this is through the use of powerful action words in a professionally formatted resume.
By using powerful verbs and strong and appropriate adjectives to convey your transferable abilities and job-specific skills, you'll be able to easily create a targeted resume, designed with the intention of getting hired and advancing in your professional career.
When applying for jobs, whether you're looking for a gig right out of college, switching careers, or searching for a new role to grow in your chosen industry, writing an effective resume is an essential step in the hiring process.
Since hiring managers typically review your resume and cover letter before ever meeting or speaking to you, it's imperative that you use the professional documents to professionally introduce yourself, describe your qualifications, and make a lasting first impression.
Using several of the 245 power words outlined in this article will help you highlight your most desirable professional skills and job abilities and make your resume stand out from those of other competing applicants.
Closely following Zippia's resume writing tips and guidebooks and diligently working to incorporate some of the top resume action words into the professional job application document will make your resume shine and bring you one step closer to landing your dream career.
Want to save time and have your resume ready in 5 minutes? Try our resume builder. It's fast and easy to use. Plus, you'll get ready-made content to add with one click. See 10+ resume templates and create your resume here.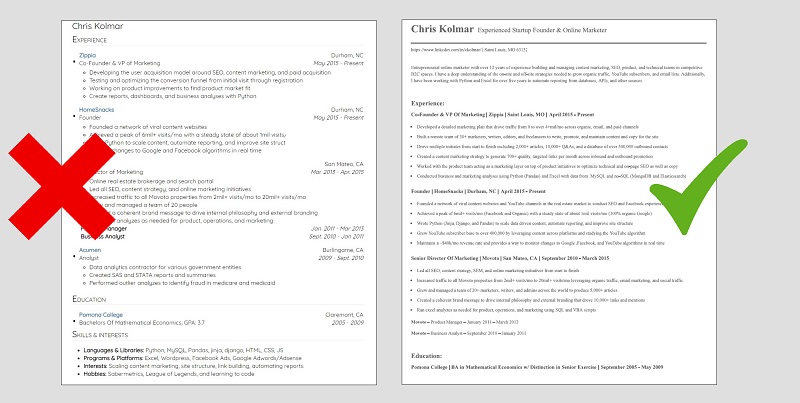 One of users, Diana, had this to say:
I was guided on how to make a detailed and professional resume on Zippia. I was able to download it with unlimited access to all features.
Resume Action Verbs, Power Words, and Buzzwords
So, you might be wondering, what exactly are resume action verbs, power words, and buzzwords?
To put it simply, resume action verbs, power words, and buzzwords, are insightful verbs, adjectives, and words which, when used effectively and deliberately, are designed to bring your resume to life and showcase your hireability and biggest professional strengths, skills, and abilities.
Action verbs are words that show your skills and abilities. These words express action, as their name indicates, and are used to demonstrate your skills and highlight previous work experience and job responsibilities. The best action verbs convey passion, enthusiasm, and drive and perfectly showcase your professional successes.

When writing your resume, no matter what sort of job you're applying for, it's important to use unique and specific action verbs. These powerful words can help you capture a hiring manager's attention and move forward in the hiring process.

Power words are similar to action verbs in that they showcase your workplace skills and abilities, but, instead of expressing an action, power words describe your experiences and qualifications. Moreover, power words are strong adjectives designed for use on your resume or in your cover letter to illustrate your dedication, expertise, and ambition.

When writing your resume, using too many power words can sometimes be cause for concern, but, when used sparingly and mindfully, they can be great tools to enhance your resume and give your job application the "facelift" you need to get hired.

Buzzwords, also sometimes called action words, are words used to describe your roles and responsibilities in detail and are designed to add value to your resume. Buzzwords are important as they can differ from industry to industry.

Usually, buzzwords can be found in job descriptions or advertisements and are used to narrow down the candidate pool.

Nowadays, resumes are analyzed by computerized systems, which search for key buzzwords, before advancing to a hiring manager. Because of this, using the right buzzwords when writing your resume is vital to landing your dream job.

Although important, too many buzzwords can sometimes take away from your skills and experience by crowding your resume with filler words. As essential as it is to use buzzwords, it's also essential to use them sparingly and specifically.

As a rule of thumb, it's a good idea to avoid generalized, vague, and overused buzzwords, and, instead, focus on words that best describe your value as an employee.
What Power Words Accomplish
Resume power words, action verbs, and buzzwords work to convey your strongest professional skills, your qualifying job experiences, and your passion and excitement for working in the role you're applying to.
Using strong and specific power words in your resume will place a bigger emphasis on the job-specific abilities you're illustrating and allow your qualifications to speak for themselves.
Incorporating appropriate power words into your resume and cover letter can also help you avoid overly wordy descriptions that could mask your skills and strengths. Power words will work to keep your resume clean and concise and showcase your most desirable and relevant work experience and education.
Using power words in your resume and cover letter will help you convey confidence and illustrate a "go-getter attitude."
Update Your Resume Now To Get Your Next Job Faster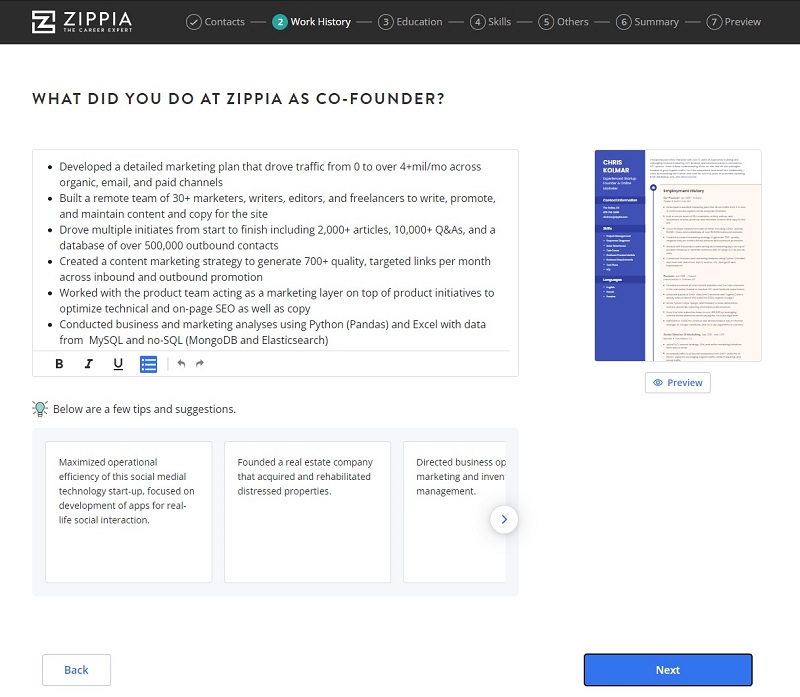 How to Use Action Verbs In Your Resume
Action verbs and power words are only as effective as the way you use them.
If your resume is sloppy, poorly written, and riddled with generic, overused verbs and adjectives, you're not going to get the same effect as you would if you properly structure your resume with significant and relevant action verbs.
In order to reap the benefits of resume power words, you must have a properly structured and grammatically correct resume that highlights your biggest strengths and accomplishments and is appropriately tailored to the job or industry you're applying to.
The key to properly using action verbs and power words in your resume is choosing phrases that specifically enhance your personal skill set and experiences, writing in an active voice, and using the correct tense when discussing your career highlights.
When using action words to describe your responsibilities at a current job or professional skills, make sure to use the present tense. Contrarily, when discussing responsibilities you were tasked with at previous jobs, your action verbs should be in the past tense.
Double-checking your grammar and tenses, and working to only include action words that closely align with your skills and experiences will enable you to properly and efficiently use resume action verbs and power words.
Action Verbs to Showcase Management and Leadership

Having solid leadership and management skills is a huge plus when applying to jobs. No matter the industry or job, hiring managers are always on the lookout for their company's future leaders. If you have experience overseeing projects or coordinating a team, it's essential to showcase this on your resume.

Here are some of the most powerful words you can use to showcase your leadership abilities:

Oversaw

Planned

Coordinated

Headed

Produced

Orchestrated

Administered

Chaired

Hired

Implemented

Cultivated

Directed

Fostered

Enabled

Empowered

Supervised

Shaped

Trained

Refocused

Optimized

Championed

Coached

Then again, there's one more thing you can do.

Make a new resume and get more interviews.

Plus, a great resume will give you an advantage over other candidates. You can write it in our resume builder here. Here's what it may look like:

Action Verbs to Showcase Accomplishments

Since your resume in and of itself is a document used to showcase your professional accomplishments and abilities, it is imperative that you use strong verbs to describe your biggest and most relevant achievements. Using appropriate action verbs will clearly illustrate your work efficiency and allow you to put your best foot forward during the hiring process.

To show your best professional accomplishments, try using verbs like these:

Modified

Replaced

Remodeled

Customized

Clarified

Integrated

Revamped

Streamlined

Upgraded

Transformed

Achieved

Sharpened

Spearheaded

Exceeded

Drove

Capitalized

Surpassed

Enacted

Established

Amplified

Earned

Guided

Action Verbs to Illustrate Job Responsibilities

Clearly and concisely conveying your previous job responsibilities is immensely important when creating your resume and searching for your dream job. Efficiently communicating your previous work experience and the specific responsibilities you were tasked with on your resume will give you a leg-up among competing applicants.

Here are some of the most impactful verbs you can use to illustrate your previous job responsibilities:

Analyzed

Handled

Improved

Executed

Initiated

Created

Accomplished

Delivered

Developed

Constructed

Built

Assembled

Operated

Organized

Facilitated

Engineered

Incorporated

Devised

Launched

Centralized

Led

Grew

Action Verbs to Describe Communication Skills

Being able to effectively communicate, both verbally and in writing, is necessary to find professional success in nearly every industry. Whether you're applying for a job as a delivery driver or a chief executive officer, you'll be expected to have good communication skills. To make your resume shine, it's essential to showcase your stellar communication skills.

When describing communication skills on your professional resume or CV, consider using words like these:

Promoted

Illustrated

Informed

Negotiated

Moderated

Persuaded

Consulted

Corresponded

Explained

Clarified

Defined

Consulted

Advocated

Convinced

Presented

Documented

Collaborated

Campaigned

Edited

Reviewed

Motivated

Partnered

Action Verbs to Express Creativity

Creative thinkers are usually very highly regarded by hiring managers and prospective employers. Showcasing your creative skills and your efficiency in generating new and exciting ideas on your resume and throughout the employee onboarding process will help you continue on in the hiring process and land the job of your dreams.

Here are some of the best action verbs you can use to express creativity and originality:

Imagined

Inspired

Drafted

Customized

Published

Translated

Designed

Visualized

Edited

Curated

Conceptualized

Storyboarded

Modeled

Authored

Redesigned

Piloted

Fashioned

Crafted

Graphed

Drew

Modernized

Bolstered

Action Verbs to Illustrate Technical Experience

Having technical experience and the job-specific skills and knowledge needed to complete tasks and be successful in your role is essential. Showcasing your practical, mechanical, mathematical, or scientific-technical skills on your resume will enable you to stand out during the hiring process.

This is particularly applicable if you're applying for a role in information technology, project management, programming, or business intelligence.

When showcasing technical skills on your professional resume or CV, consider using words like these:

Reengineered

Fine-tuned

Finalized

Formatted

Backed-up

Equipped

Accelerated

Automated

Reconstructed

Balanced

Coded

Tested

Expediated

Installed

Architected

Discovered

Diagnosed

Programmed

Refined

Deployed

Consolidated

Delegated

Action Verbs to Showcase Work Efficiency

If you can't be efficient at work, chances are you'll cost your company valuable time and money. Because of this, hiring managers and prospective employers usually only hire people that they have total confidence in. Using strong action verbs on your resume to showcase your work efficiency will illustrate your passion and drive and help you get hired.

Here are some of the top action verbs you can add to your resume to illustrate your work efficiency and high productivity levels:

Maximized

Stimulated

Furthered

Gained

Generated

Sustained

Lifted

Rewrote

Enhanced

Discerned

Pioneered

Outperformed

Sparked

Steered

Endeavored

Founded

Expanded

Completed

Outpaced

Configured

Obtained

Solved

Action Verbs to Explain Research Skills

These days, research skills are important in a wide range of professional careers, not just science and research analyst occupations. Hiring managers are looking for job-seekers who are well versed in collecting data, exploring and investigating new ideas, and analyzing information.

To showcase your state-of-the-art research skills on your professional resume or CV, try using action verbs like these:

Calculated

Forecasted

Evaluated

Audited

Assessed

Identified

Tracked

Surveyed

Qualified

Investigated

Inspected

Verified

Screened

Inspected

Targete

Detected

Updated

Networked

Troubleshoot

Collected

Classified

Elicited

Extracted

Best Power Words to Add Adjectives to Your Resume and Cover Letter

Resume action verbs are essential in highlighting your strongest skills, experiences, and accomplishments, but, that's not to say that powerful adjectives aren't equally as important. Incorporating a few thoughtfully placed and impactful adjectives around the action verbs in your resume will make your job application even stronger.

Describing words and adjectives, when used sparingly and appropriately, can add an extra punch to your resume and cover letter and even give you a leg up among competing applicants.

When using adjectives in your resume, it's important to select the most relevant descriptors in order for them to have the biggest impact on hiring managers and future employers.

Here's an extensive list of the top adjectives you can add to your resume to help you stand out and get hired:

Fast-learning

Adaptable

Passionate

High-level

Diligent

Driven

Confident

Enthusiastic

Organized

Reliable

Versatile

Innovative

Insightful

Complex

Intelligent

Methodical

Strategic

Meticulous

Practical

Cutting-edge

First-class

Progressive

Robust

Revolutionary

Imaginative

Groundbreaking

Sophisticated

Strong

Significant

Cost-effective

Proficient

Skillful

Sincere

Committed

Devoted

Genuine

Wholehearted

Alert

Focused

Persistent

Detailed

Precise

Structured

Systematic

Timely

Accurate

Loyal

Punctual

Professional

Consistent

Clear

Diplomatic

Personable

Flexible

Multifaceted

Unique

Competent

Ingenious

Knowledgeable

Honest

Disciplined

Dynamic

Astute
Final Thoughts
Making use of powerful and insightful verbs and adjectives when writing your professional resume will help you highlight your key skills, stand out among job seekers, make a great first impression on hiring managers, and get the job of your dreams.
The best resumes stand out during the hiring process through the intelligent incorporation of action verbs, power words, and buzzwords.
By using the resume tips and action words outlined in this article, you'll be well on your way to writing an impressionable professional resume, highlighting your strongest career successes during the hiring process, and landing the job of your dreams.