Knowing how to write a concise, informative, and interesting biography about yourself can help throughout various parts of the professional process. Job-seekers can use their bio to capture the attention of potential employers in a highly competitive market with a candidate profile.
Individuals who already have a steady job use short bios to reach out to their clientele and get them comfortable with the idea of doing business together. Even larger companies can use short bios to reach their consumers.
Want to save time and have your resume ready in 5 minutes? Try our resume builder. It's fast and easy to use. Plus, you'll get ready-made content to add with one click. See 10+ resume templates and create your resume here.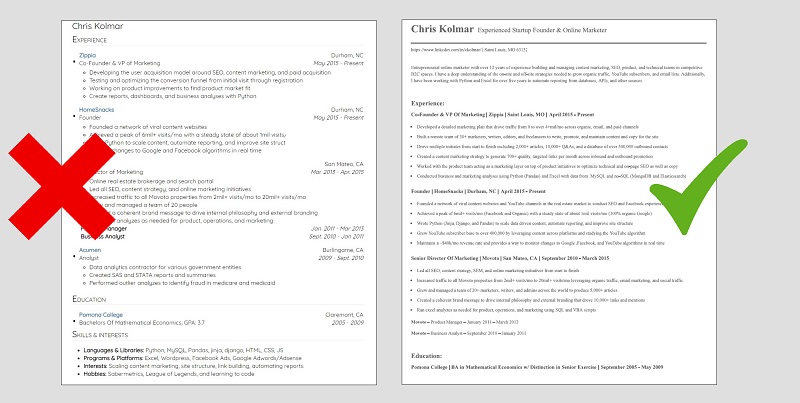 One of users, Diana, had this to say:
I was guided on how to make a detailed and professional resume on Zippia. I was able to download it with unlimited access to all features.
What Is a Short Bio?
A short bio serves as your introduction to the professional world. In terms of finding or expanding on your job, a bio will cover your work history, achievements, and any other relevant professional information.
Think of it as a professional memoir that a hiring manager or consumer can read and understand quickly. It's usually about one to three paragraphs depending on experience.
There's an emphasis on being succinct when it comes to writing a professional bio. This is because a bio is supposed to be a preface to attract recruiter attention and incline them to reach out for more information. Many readers will get lost or bored with a lengthy bio.
Using a short bio can be helpful across very different industries, from marketing to accounting, from psychiatry to sales.
You're probably familiar with providing short bios on social media websites and applications. While the information and skills you include in a professional bio may differ, the general formatting is similar.
A short professional bio includes:
Your full name. You can choose to write your bio in the first person (I, me, my) or third person (he, she, they), but either way, you need to include your full name at some point. Branding doesn't work so well without a brand name (i.e., you!)

Your brand. Of course, if you have an actual brand that you're trying to market, you should include the brand name as well.

What you do. Summarize what you want the reader to know about what you do in one sentence — tricky, we know.

Your accomplishments. For a short bio, you can stick with just one major accomplishment from your professional life. Or, if you have a string of impressive achievements, try condensing all of them down to one sentence.

Your goals and values. Let the reader know what makes you tick — why do you do what you do and what do you hope to achieve with your work? People are compelled by a story more than anything else, so it's important to get this part right.

Something personal (optional). If you have a quirky tidbit about yourself you'd like to include, go for it. Just make sure it doesn't throw off te the tone of the rest of your bio.
How to Write a Short Bio
There's a lot of considerations to take into account when writing a short bio, and it can quickly become intimidating. Deciding what information is relevant and how to keep it near 140 characters is no small task.
If you're having difficulty writing a short bio, follow the outline below to craft an introduction that engages your reader.
Update Your Resume Now To Get Your Next Job Faster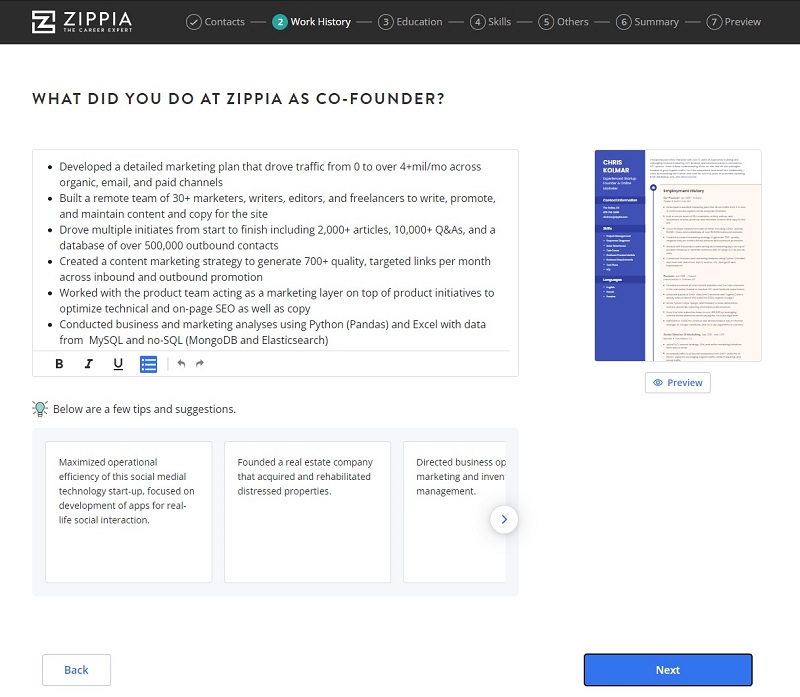 Tips for Writing a Short Bio
You have a firm grasp of the structure of a short bio and what to include. Now, you may need some tips for how to polish your short professional bio and make it stand out from the competition.
Be mindful of length. While you're probably getting sick of hearing that your bio should be short, it's good to keep in mind throughout the writing process. It's easy to go off on a tangent while trying to include everything relevant or rationalize, making your bio too long.

Avoid this impulse. The point of a bio is that it's limited. You want to intrigue the reader enough to inspire them to seek more information about you or your services.

Tailor your bio to your intended audience. Whether you're using a short bio to attract a particular customer base or potential employer, tailoring it to fit their wants and needs is crucial. Consider your intended audience base and what they're looking for in a candidate or service.

The good thing about a short bio is that it's simple to rearrange and edit to incur the best results.

Be genuine. Your short bio should be an authentic representation of your traits, experience, and personality. People are repelled by what they interpret as stretching the truth. If you're being received as disingenuous by the reader, they'll probably move on.

Be realistic, and try not to exaggerate your skills. Being genuine in your representation of yourself and professional history will be more impressive than any embellishment you can craft.

Proofread. The only way to steer clear of errors in your short bio is by proofreading it. Imagine a hiring manager being completely interested in your bio.

They love what you have to say about yourself and find your prior experience enticing. That is, until they come across a mistake that clearly shows you didn't do proofread or edit.

While some employers or consumers may overlook this error, many others won't. You don't want a simple typo to ruin your chances of landing a position or customer. Proofread thoroughly.

Include links to portfolio, website, or networking profile. One way to circumvent the confining factor of keeping your bio short is by including links to more detailed sources.

This can be in the form of linking your portfolio or website to allow the reader to go deeper into your discussed skills if they please, without taking up more space in your bio.

Implement these links seamlessly into your bio by attaching them to anchor words that describe what clicking will lead them to.

If you don't have a portfolio or website, a social networking profile like LinkedIn can also help give them the option of finding more information about your background, skills, and contact information.
Short Bio Templates
Your first choice is whether you want your bio to be written in the third person or first person. These short bio templates show both options, and also include different ideas for what to include, and how. Feel free to pick and choose your favorite parts of each of the two.
Third Person Template

[Full Name] is a [job title] who [believes/knows] in the power of [what you do]. [He/She/They] began their journey in [field] by [how you got started in the field], and now dreams of [what you hope to accomplish].

[His/Her/Their] biggest accomplishment to date has been [your biggest accomplishment].

[Full Name] lives in [where you live] and participates in [a hobby/interest].

To get in touch with [Full Name], call/email/message me on [how you'd like to be contacted].

First Person Template

I am a [job title] who helps [who you help] [what you help them do]. It's my belief that [your unique perspective on the field].

In the past [# of years] years, I've [major accomplishment #1] through [how you accomplished it].

I have a passion for [your professional passion], but on the side, I also enjoy [personal passion].

Get in touch with me today at [contact info] — I look forward to talking with you about [what you want to talk to your readers about].
Then again, there's one more thing you can do.
Make a new resume and get more interviews.
Plus, a great resume will give you an advantage over other candidates. You can write it in our resume builder here. Here's what it may look like:
Short Bio Examples
Example #1: Entry-Level Job-Seeker Bio

Mitchell Morrison is an upcoming video producer and editor who believes in the art of visual organization. He is a recent graduate from the University of Washington and focused on post-production during his time studying there. He was introduced to the magical world of visual art production by watching his father work on editing commercials growing up and has been working towards his dream of becoming a video editor ever since.

During his last year of college, Mitchell participated in a competitive internship with Digital Space Films. He was chosen out of 2,000 applicants based on his academic portfolio and personal statement essay. This internship was an incredible learning experience and resulted in three professional accreditations for music video editing.

Mitchell currently lives in Seattle, Washington pursuing freelance opportunities and spending time with his Dog, Pikachu.

To get into contact with Mitchell:

MitchellMorrisonVideo.com/contact

Example #2: Working Professional Website Bio

Lisa Kennedy is an experienced real estate professional. She knows how important a home is for long-term happiness and has invested her career in putting people in the house they've always dreamed of.

Lisa was driven to pursue real estate from her passion for helping people during life-altering times, and a keen interest in high-end, luxury homes. She's been working in the real estate industry for ten years and in that time has assisted over 3,500 people in finding homes.

She was educated at the University of Los Angeles with a bachelor's in business management. She's worked for some of the most respectable Real Estate companies in Los Angeles and individually under her agency "Kennedy Homes." Lisa has also been published in Real Estate Quarterly Magazine as the 2017 winner of the "Top Luxury Home Seller" award.

Lisa loves the culture of Los Angeles and has been living there with her family of five since she graduated from college. She enjoys spending her free time exploring towns along the West Coast and swimming.

If you'd like to get in touch with Lisa:

Email: Lisa@KennedyHomes.com

Example #3: Professional Networking Profile Bio

Bianca Jones
Marketing Manager
Miami, FL

The first step towards customer satisfaction is being reached by stellar product marketing, and that's what I aim to provide. My professional experience as a product marketing manager has allowed me to assist many organizations in improving their sales margins and audience response to emerging products.

I've brought dedication and positive results to the companies I've worked for because I am passionate about product perception, marketing, and business statistics. What drives a product to success interests and inspires me. I specialize in long-term growth strategies and audience outreach.

In addition to eight years of experience in professional product marketing, I have also published two books on creating a career as a marketer called "What to Do After Your Bachelor's" and "A Marketer's How-To."

If you're interested in learning more about how to market your business better, or just discuss more, feel free to contact me by email at BiancaJones@Gmail.com.