Writing a resume for the first time can be difficult because it's usually unlike any other writing project you've encountered throughout your English and composition classes. Being able to write a strong one is vital to getting a job, though.
One of the unique features of a resume is that it uses bullet points and lists more than paragraphs. It's more like an informational flyer about how awesome of an employee you'd be than it is a letter or email.
In this article, you'll learn why you should use bullet points in your resume and how to use them effectively.
Want to save time and have your resume ready in 5 minutes? Try our resume builder. It's fast and easy to use. Plus, you'll get ready-made content to add with one click. See 10+ resume templates and create your resume here.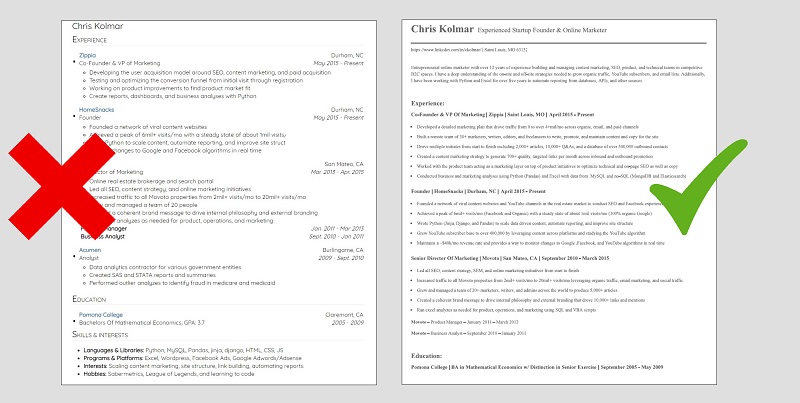 One of users, Diana, had this to say:
I was guided on how to make a detailed and professional resume on Zippia. I was able to download it with unlimited access to all features.
Why You Should Use Bullet Points in Your Resume
When hiring managers are initially reviewing applications, they often have to wade through hundreds of resumes, so they don't want to spend long on each one. They'll usually skim each candidate's documents and quickly decide if they're qualified for a second look or not.
Because of this, you need to make sure your resume is scannable, informative, and relevant. One of the best ways to do this is by writing with bullet points. This helps create visual and mental separation for readers, allowing them to track more quickly and better absorb the information you're sharing with them.
Bullet points also keep your resume organized, which is important for a document that needs to communicate so much information in so little space. By not having to write in paragraph form, you can be succinct without worrying about how well your sentences flow.
Where to Use Bullet Points in Your Resume
As far as actually using bullet points in your resume goes, there are a few different places you can use them.
Your work experience section. While this section will look different depending on whether you structure yours as a chronological resume, a functional resume, or a combination resume, bullet points are generally the most effective way to communicate your work experience and qualifications.

If you're writing a chronological resume, you can use bullet points to explain your responsibilities and accomplishments within each position you've held in the past. If you're using a functional resume, you'll use bullet points to describe the ways you used each skill you list.

If you're creating a combination resume, you'll use bullet points in both of these capacities.

Your skills section. Often resume writers choose to add additional skills sections to their resumes.

This is where you can list out the skills that need little to no fleshing out, such as "Microsoft Office Suite," "Adobe Creative Cloud," or "Bilingual in English and Spanish."

One way to organize this section is by using bullet points. These will look different than the ones you made for your work experience, though, since each one will list just a word or phrase instead of an entire sentence or two.

Any other section that contains lists or could use some organization. Since your resume will be unique depending on the jobs you're applying for and the industry you work in, you may find that you have additional sections that would benefit from some bullet points as well.

These could include classes you took in college or as a part of your professional development, volunteer work, or other relevant extracurriculars.
Update Your Resume Now To Get Your Next Job Faster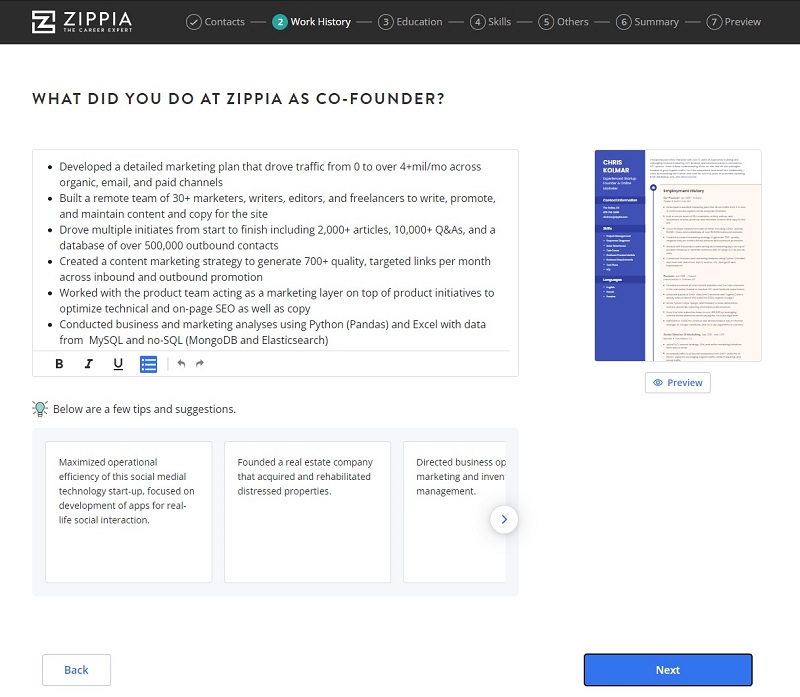 Tips for Writing Bullet Points on Your Resume
While your particular bullet points will be unique to your work experience, job field, and particular position you're applying for, here are some general tips for making them as effective as possible:
Put your most important points at the top of the list. Since your goal in creating bullet points is to help hiring managers to scan through your resume more effectively, it's generally a good idea to put your most impressive or important points at the top of each job or skill section.

This could be the main responsibility or purpose of your role, or it could be your greatest accomplishment within that position.

Don't put too much pressure on yourself to come up with your best points first, though: You can arrange the order of your bullet points after you write them out.

Once you know what you want to say, ask yourself which one is the most important for hiring managers to see, which is the second most important one, and so on. You can then use those priorities to arrange your bullet points.

Use action verbs. It's generally a good practice to begin each of your bullet points with a strong, descriptive verb to drive home the magnitude of what you accomplished. Varying these as much as possible also helps keep your resume engaging and easy to follow.

When you're thinking of action verbs, think of words like "managed," "oversaw," "developed," "designed," and "coordinated" — anything that invokes an image of the role you played in the particular project or team.

Don't stick to this rule blindly, however. If it would flow more naturally to start out a bullet point sentence with a word besides an action verb, by all means, do so. Just be sure to include the action verb soon after, and make sure that you still pack a punch without being unnecessarily wordy.

Don't go overboard on the number of bullet points under each heading. Again, remember that the purpose of using bullet points is to keep your resume clear and skimmable. Adding too many bullet points under a section header is a good way to undo this.

Some experts recommend limiting yourself to just two to four bullet points per job title section, while others don't give a limit. The best way to decide how many bullets points to use is to write out as many as you want and then go back and cut them down until only the most necessary and impactful ones are left.

At the end of the day, your goal is to make sure that your resume is only one page long (with appropriate margins and font sizes) and includes everything you want it to, so add as many bullet points as you need to reach both of those goals.

Be concise. Space is valuable when you're writing a resume, so it's important to be as clear and brief as possible. Don't be afraid to use incomplete sentences in your bullet points, leaving out articles such as "a," "an," or "the."

Once you finish drafting your resume, go back and tighten it up by removing any unnecessary information or verbiage. You may be surprised at how much you can remove.

Provide background whenever necessary. Being concise doesn't mean confusing your readers.

It's safe to assume that hiring managers have zero background knowledge of the companies you worked for and the department you were a part of. Because of this, it's a good idea to include a little overview of each of the positions you held in your bullet point lists.

You don't need to go into much detail, but a few extra words describing the specifics of what you marketed or who you taught could be the difference between having your resume thrown out by a confused recruiter or getting through to the next round.

Share details that quantify your accomplishments. Simply saying that you surpassed your sales goal during the first month of employment is impressive, but explaining that you exceeded it by 20% and were the only one on your team of 15 salespeople to surpass it makes a much stronger impact.

Including quantifiable details like this not only strengthens your resume but also makes you more memorable to hiring managers since they have a complete picture of your accomplishments.

Did you lead a team? Describe how many people you led and what the end result was. Did you redesign a filing system? Explain how much time and money you saved the company by doing so.

Match your bullet points to the job description. Many times job postings include the same keywords that both humans and computer programs will be looking for in your resume.

Including the phrases and terms found throughout the job description will give you a better chance of making it through the initial screening process, and it will make it easier for hiring managers to decipher exactly how your experience applies to this new position's requirements.

Use basic bullet point styles. This last tip is purely a design tip, but tasteful, professional design can help strengthen your resume more than you may think.

As you'll notice when you set bullet points on a document, there are a plethora of design options. While it can be tempting to get creative with this, the best choice is usually to stick with simple circles or dashes. Occasionally squares can be appropriate, as long as they aren't distracting. If in doubt, though, stick with the basics.
Examples of Bullet Points on a Resume
To help you visualize what you've read in this article, here are some examples of how you might use bullet points in your resume.
Work Experience on a Chronological Resume

Sales Team Lead | Will's Hardware
August 2018 – September 2020

Supervised, scheduled, and trained all 15 sales representatives

Oversaw store stocking and pricing

Managed over 100 customer service problems and complaints, resulting in only one unsatisfied customer in two years

Created and presented monthly reports on sales, staff members, and future ideas to business owners

Skills on a Functional Resume

Digital Marketing

Developed and implemented social media marketing campaigns on Facebook, Instagram, and Twitter, generating a 20% increase in sales and 32% increase in engagement compared to the same period the previous year

Wrote, designed, scheduled, and monitored email marketing campaigns

Curated content for social media posts, scheduled and monitored them, responding to comments and questions as needed

Assisted with creating an annual marketing plan and presenting it to the board

Skills Section on a Chronological Resume

Additional Skills

Salesforce

Adobe Creative Cloud (InDesign, Photoshop, Lightroom)

HTML Coding