In This Article
Skip to section
Let's be real, writing a unique resume that stands out among the competition can seem impossible. When sitting down and attempting to write a resume that's better than the rest, you are probably wondering:
How can I make my resume stand out if there are 100 other applicants with the same qualifications applying for the job?
How can my resume make an impact if I am newer to the industry?
Are there certain things on my resume that are making it harder for my resume to stand out?
Luckily for you, we've got all your answers compiled in this handy guide to making your resume stand out from the rest.
Writing resumes is a tricky business — you want your resume to have the right keywords and phrases so that it can make it through electronic resume readers, but you also want it different enough to catch the hiring manager's eye.
What's the secret to balancing these two different tasks?
Resumes are more than just words; they are also about style. The keywords you utilize to highlight your accomplishments and qualifications are what will help get your resume securely through the resume reader. How you present those keywords stylistically and structurally is what will grab the reader's attention.
Here are the main takeaways you should know about how to make your resume stand out:
Use industry-specific keywords and buzzwords

Show evidence for your claims

Make your resume easy on the eyes
Now that you've gotten the main ideas, are you ready to delve into the nuts and bolts of how to make your resume stand out? Keep reading for ten tips on how to make your resume rise above the competition.
Want to save time and have your resume ready in 5 minutes? Try our resume builder. It's fast and easy to use. Plus, you'll get ready-made content to add with one click. See 10+ resume templates and create your resume here.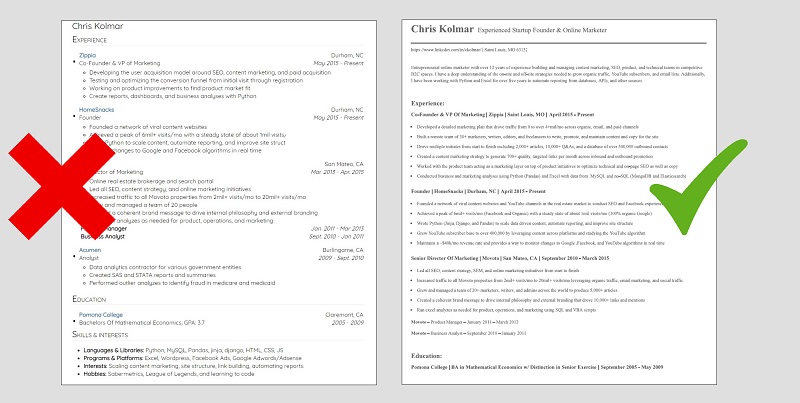 One of users, Diana, had this to say:
I was guided on how to make a detailed and professional resume on Zippia. I was able to download it with unlimited access to all features.
10 Tips To Make Your Resume Stand Out
Let's start with a gentle reminder that you don't have to add all of these tips to get your resume picked out from the rest. Pick the tips that resonate most with you and add a touch of your style.
Ensuring your resume reflects the true you versus a computer is often accomplished by not forgetting your personal touch. With that in mind, here are ten tips on how to make your resume stand out from the rest, both stylistically and structurally:
Use resume buzzwords. The first hurdle you have to overcome when writing a resume is making sure your resume makes it through the resume readers and answers the main question: do you have the qualifications necessary for the job?

The best way to accomplish this task is to use industry keywords and resume buzzwords within your resume. If you are at a loss about what buzzwords to use, check out this article on resume buzzwords.

Organize your resume well. Once you've completed your resume buzzword brainstorm, you'll need to use them in the correct format. You'll want to make your resume well organized and specific to your situation.

Are you a recent graduate or an experienced worker back in the job search? What about a Veteran? Are you applying for a federal job? These types of situations require specific resume organizations.

We've got each of the formats explained in detail for general resumes, Veterans, and federal resumes, so you don't have to worry about the specific organization.

Show evidence. Now that you've picked out which buzzwords to use and how you'll organize your resume, you'll need to fill in each section. When you do, make sure you show evidence for the skills and accomplishments you claim on your resume.

Quantify your deliverables. To best show evidence for your accomplishments and deliverables, put numbers to them. If you managed a team, how many people were on your team? If you improved site traffic, by what percent did you improve it over time?

How do you make a resume stand out?

When writing your resume, always remember your audience: your next manager. Too often I see resumes written to remind the candidate of what they can do in a job. Tell your next company not just what you can do, but how you can impact them.

You are presenting yourself as an asset to your new company. Businesses tend to measure the impact of a potential asset in one of 4 ways: making money, saving money, saving time, and reducing risk. If you can align experience and expertise to showcase how they move the needle in one of these areas, you will be leapfrogging your competition.

If you have a hard time taking credit for your work, get proactive in soliciting feedback. Go to the people you've worked with (boss, co-workers, clients/customers) and ask them this simple question "How have I been able to help you?" The responses to this question will help you get some perspective about how your contributions and impact are being felt by others.

Make your resume a compelling story. While a daunting sheet of paper, a resume is just a formal story of your work experience. Read over it with that lens and make sure the story makes sense.

Are there any major gaps in it? Does each chapter of your work history make sense and flow into the next?

You might be panicking a little bit if you were out of work or are changing careers, but don't worry, we've got your back with this guide to resume summaries for career changes.

Don't forget the cover letter. If a resume summary doesn't explain the transitions or your qualifications enough for the job, definitely don't forget to write a cover letter.

However, no matter what your current job situation is, adding a cover letter will help you appear more dedicated to the job application. It also gives your resume a more personal voice.

Note: double-check the job application. Some applications specifically ask for no cover letters due to the volume of applicants.

Make your resume specific to the job application. Another way you can make your resume stand out is to make your resume specific to the job application. One of the last things hiring managers want to see is a resume that is so generic, you likely used the same one for every single job application.

Taking the time to put in those little details that show you wrote this specifically for the job you are applying for can sometimes make all the difference.

Make your resume easy on the eyes. An easy way for your resume to find its way to the bottom of the pile, even if it did make it through the resume scanner, is by having your resume so cramped and difficult to read. Avoid small fonts, multiple colors, and too many differing fonts. Don't remove all your margins.

Remember that your resume readers may not have 20/20 vision and may just chuck your resume away because they don't want to squint to read it. Consider a few graphics and different ways of organizing and consolidating your information to make it fit better.

Be careful about the graphics you use. With graphics in mind, take special care with how many graphics you use. Unless you are applying for a design position, using too many graphics can sometimes hurt your resume because resume scanners cannot read those resumes as easily.

If you do use graphics, be careful to keep your keywords and buzzwords as text versus graphics.

Have someone else look it over before you print it or submit it. Finally, when you have finished writing your resume, and you think it's perfect, have someone else look at it. View it as a practice run for the hiring manager. You should also run the resume through programs like Grammarly to clear it of basic mistakes.
How do you get your resume noticed?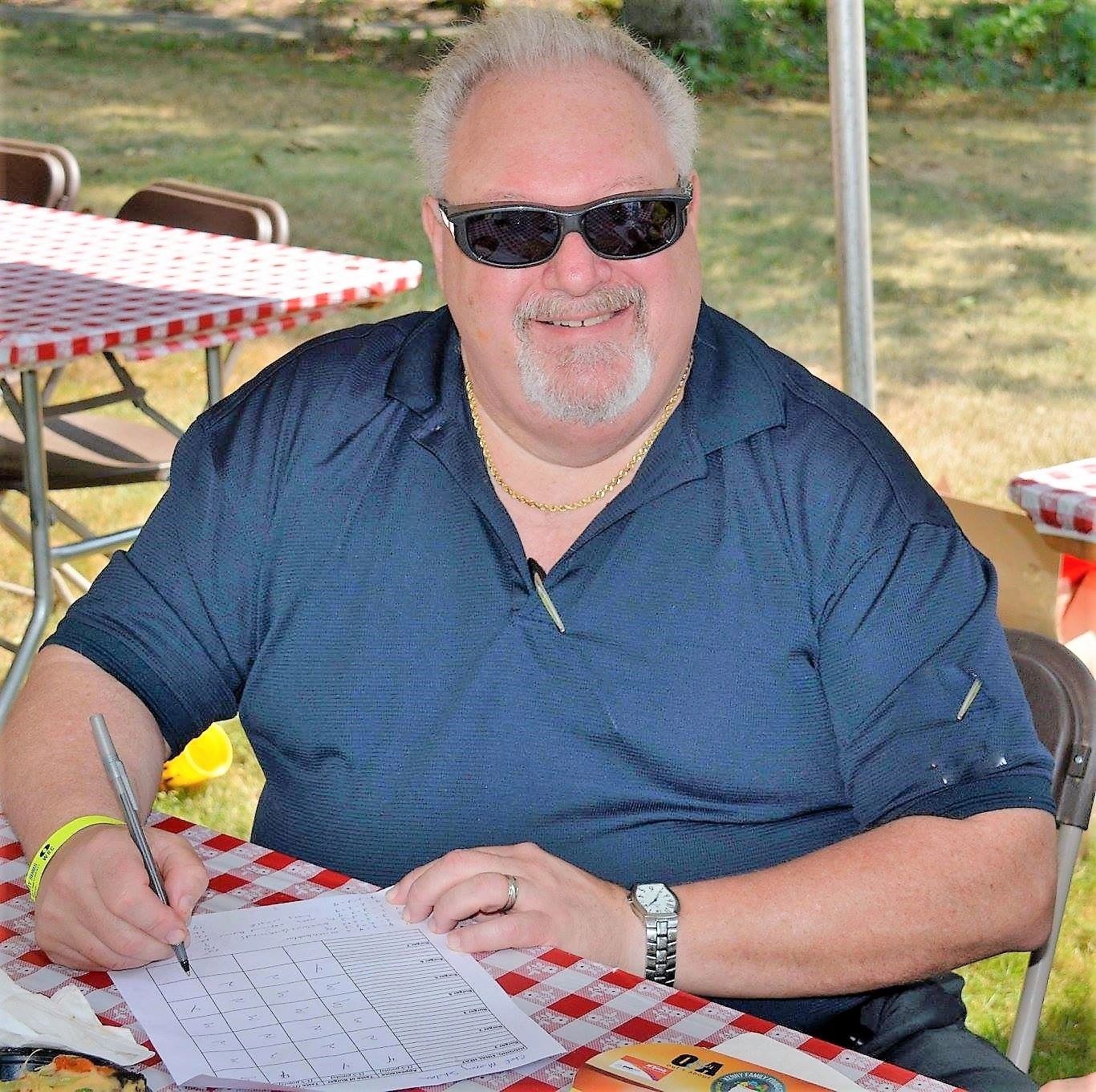 Murray Schulman
Independent Business Owner
Recruiters receive stacks of online resumes. My advice is to keep your resume short and concise. Be bold and powerful from the start. Catch the recruiter's attention in the first few lines of your resume. Don't get passed over.
Final Thoughts
Making your resume stand out can be difficult if you're new to the job application game or if your industry is saturated with candidates. Our guide can help you stand out from the rest.
At the end of this article, just remember that you know yourself best. Use that knowledge and the tips above to deliver a stellar resume.