Swipe left for slideshow. Article continues below.
North Carolina has its fair share of people that believe in progressive causes. Whether it be a greater sense of shared responsibility, actually admitting climate change is real, or simply that women should get paid as much as men, there's a cause people get behind.
And ideally, there are companies in North Carolina that share those beliefs.
The most liberal companies in North Carolina to be exact.
So we decided to dig through ten years of political donation data — more than 32mil records — to identify which companies donate to liberal causes. These are the companies that you can back with your dollars and be comfortable knowing where part of the proceeds are going.
Her are the ten most liberal companies in North Carolina:
Santa Clara Cigars
Duke University
Edmonds Associates LTD
Charlotte Mecklenburg Library
RTI International turns out to be the most liberal in all of the Tar Heel State with 94% of 136 donors donating to the Republican party in the past 10 years.
The most conservative company in North Carolina? That would be Swisher International.
Read on for a detailed methodology, more in depth statistics on the top ten, and a complete list of the most liberal companies in North Carolina.
Find Out If Your Coworkers Donated To Trump or Hillary
How Zippia Determined The Most Liberal Companies In North Carolina
Unlike some other websites, we rely on data over opinion when it comes to understanding companies.
So when we decided to take a look at which companies in the Tar Heel State were the most conservative and liberal, we took a data-centric approach.
Specifically, we dug into the donations to political parties and PACs by employees of the 139 biggest public and private companies in North Carolina.
Of those 139 companies, we limited the analysis to companies with at least 30 donors to stop small, politically active companies from overwhelming the results.
To identify how liberal or conservative a company may be, we obtained data from the Federal Election Committee. They provide detailed donation data for individuals from 2007 onwards — around 32,000,000 political donation records.
We then matched donors to the companies where they reported they worked. We considered a donor to be a unique combination of:
First Name
Last Name
State
Company
Next, we had to deal with (1) donations to candidates and (2) donations to PACs for determining if the donor gave to a conservative or liberal cause.
1. Donations To A Candidate:
These were easy. We used the candidate's party to determine if it is was given to a Republican, Democrat, or other.
2. Donations To PACs:
These were a bit trickier since a majority of PACs give to both liberal and conservative candidates. We ultimately only included donations to PACs that gave >60% of their funds to candidates of a certain political affiliation.
Put differently, the PAC had to have a super-majority of its funds go to a specific political party.
Finally, we divided the number of total conservative or liberal donors by the total number of donors at a company. For example, the most liberal company, RTI International, had 8 conservative donors, 128 liberal donors, and 0 other donors.
128 / (8 + 128 + 0) = 94% Liberal
Any ties went to the company with more donors.
Location: Research Triangle Park, NC
Total Donors: 136
Democrats: 128
Percent Democrats: 94%
RTI International is an independent, nonprofit research institute dedicated to improving the human condition. Clients rely on us to answer questions that demand an objective and multidisciplinary approach?one that integrates expertise across the social…
Location: Hendersonville, NC
Total Donors: 101
Democrats: 95
Percent Democrats: 94%
Location: Durham, NC
Total Donors: 67
Democrats: 63
Percent Democrats: 94%
FHI 360 (formerly Family Health International) is a nonprofit human development organization based in North Carolina. FHI 360 serves more than 70 countries and all U.S. states and territories. Established in 1971, the organization has long managed in projects relating to family planning and reproductive health. In 1986 the organization began a worldwide response to HIV/AIDS. FHI's research and programs also address malaria, tuberculosis, and other infectious and chronic diseases and international agencies, governments, foundations, research institutions, and individual donors.
4. Santa Clara Cigars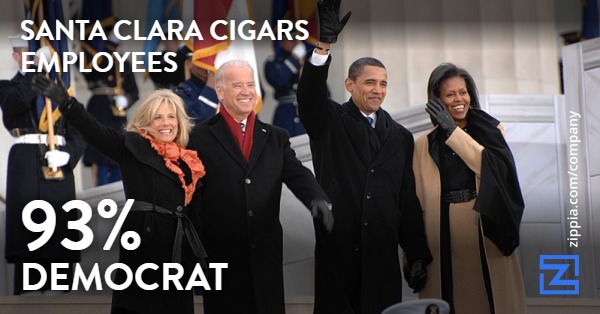 Location: Burlington, NC
Total Donors: 161
Democrats: 150
Percent Democrats: 93%
Santa Clara Cigars is the largest distributors of premium cigars and domestic cigars in the United States.
5. Duke University
Location: Durham, NC
Total Donors: 888
Democrats: 796
Percent Democrats: 89%
Duke University is a private research university located in Durham, North Carolina. Founded by Methodists and Quakers in the present-day town of Trinity in 1838, the school moved to Durham in 1892. In 1924, tobacco and electric power industrialist James Buchanan Duke established The Duke Endowment, at which time the institution changed its name to honor his deceased father, Washington Duke.
Location: Charlotte, NC
Total Donors: 60
Democrats: 52
Percent Democrats: 86%
UNC Charlotte is North Carolina's urban research university.
7. Edmonds Associates LTD
Location: Apex, NC
Total Donors: 71
Democrats: 61
Percent Democrats: 85%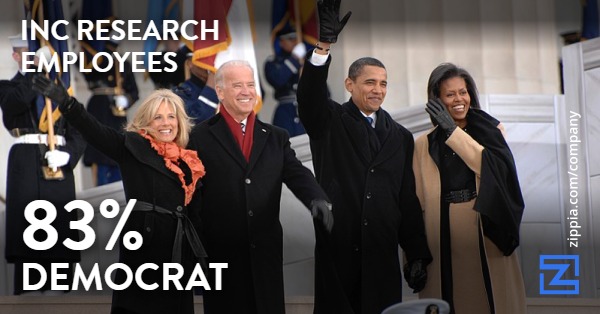 Location: Raleigh, NC
Total Donors: 60
Democrats: 50
Percent Democrats: 83%
INC is a leading Contract Research Organization (CRO) offering end to end solutions for professional clinical trials around the world. Enquire now.
Location: Asheville, NC
Total Donors: 52
Democrats: 43
Percent Democrats: 82%
Based in Asheville, Mission Health is a not-for-profit, independent community hospital system governed and managed exclusively in western North Carolina.
10. Charlotte Mecklenburg Library
Location: Charlotte, NC
Total Donors: 40
Democrats: 33
Percent Democrats: 82%
Charlotte Mecklenburg Library is one of America?s leading urban public libraries, serving a community of over one million citizens in Mecklenburg County, North Carolina. Accessible and welcoming to all, the Library celebrates the joy of reading, foster…
Wrapping Up The Liberal Politics of North Carolina
There you have it, the most liberal companies in North Carolina based on the political donations of employees — led by RTI International.
Here's a quick look at the most conservative companies in North Carolina:
Swisher International
Reynolds American
Delhaize America Inc
If you're interested in searching for how your company donates, check out our company donation search. And here are some companies to get the ball rolling:
Detailed List Of The Most Liberal Companies In North Carolina