In This Article
Skip to section
Before you ever come face-to-face with an employer to make your case as to why you're the best candidate for a job, they'll consult your resume. You need to communicate your years of experience, skills, and accomplishments using only a single-page resume.
Without a concise and professional resume that impresses a hiring manager, you won't receive many calls for interviews or be offered a job anytime soon.
Want to save time and have your resume ready in 5 minutes? Try our resume builder. It's fast and easy to use. Plus, you'll get ready-made content to add with one click. See 10+ resume templates and create your resume here.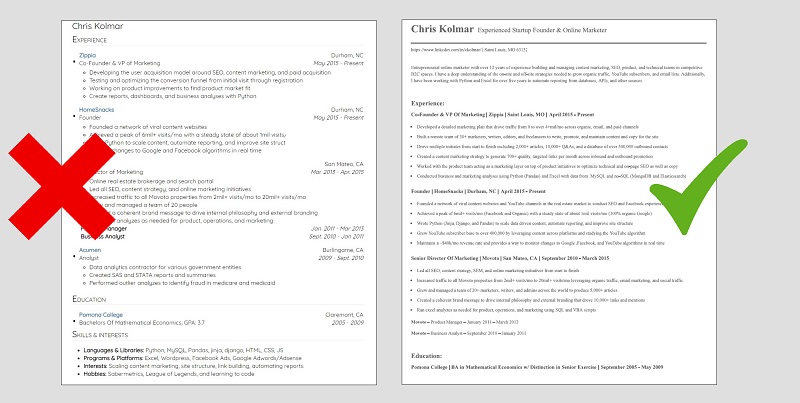 One of users, Diana, had this to say:
I was guided on how to make a detailed and professional resume on Zippia. I was able to download it with unlimited access to all features.
How to Create a Professional Resume
Whether you're applying for your first job or need to touch up a pre-existing resume that you've had for years, beginning the process is daunting. Many people regard creating their resume as a bothersome task that they procrastinate until the very last moment.
Despite preconceived notions about making a resume, it's a smooth process if you go through the proper series of steps.
Tips For Creating A Professional Resume
How do you make a resume stand out?
Fred Coon
CEO
Stewart, Cooper Coon, Inc.
Depending upon the position, color is appropriate.
Boxes that highlight competencies are also good.
Numbers, numbers, numbers – meaning make sure you state how well you did something in percentages, or real numbers. Also, use decimal points, if possible. They create subliminal credibility. Odd numbers are better because they are more credible than even numbers.
Put the numbers as close to the beginning of an accomplishment statement as possible, not towards the end, as many people do. People don't read the first time; they scan. Placing your numbers at the beginning of an accomplishment sentence will catch the reader's eye and register with them.
Consider Keywords. Most employers looking to fill an open position run every resume through an Applicant Tracking System (ATS), which tosses out your resume if it doesn't meet its requirements.

They use these systems to narrow down the long list of applicants to only those who fit the right criteria. One way to improve your resume's chances of getting past an ATS is by adding keywords that the employer used in the job listing when writing your resume.

Stick To Relevant Information. A colossal mistake when creating a resume is making it too long. Recruiters are busy, and their attention spans are short. If they come across a resume that's five pages long, they probably will only get through the first page at best.

The best technique for keeping your resume concise is only including the most relevant information that will help you get the job.

Customize Your Resume For Each Job Application. Every job you apply for will have different requirements and expectations for the employees they choose to hire. While it may be tempting to send out your resume to as many employers as possible without optimizing for each one, this lack of forethought can hurt your chances of being asked in for an interview.

Considering the qualities that the job opening requires and tailoring your resume to reflect your relevant skills will make your resume more competitive.

Do Research. A great way to improve your resume is by researching what makes a resume compelling in the first place. The internet has lots of resources (like Zippia) to help you in the pursuit of creating the perfect resume.

Read through articles that can teach you tricks and refer to resume templates and examples of what a strong resume looks like.

Hire A Resume Writer. Everyone has activities that they excel in, and if writing a resume isn't one of yours, you can hire someone to do it for you.

Rates for resume writing services vary from totally affordable to a luxurious investment in your career, depending on the experience level you're seeking. Hiring a resume writer can take away a lot of job-search stress and improve your chances of having your application stand-out.

Examples Of Websites To Hire Resume Writers Include:

Check Your Resume Before You Send It. After spending hours working tediously on your resume, you may forget to check it over before you send it to employers. Proofreading your resume after completion is vital to eliminate any careless mistakes or errors. For the best results, read through and edit your resume twice before sending it off.
Update Your Resume Now To Get Your Next Job Faster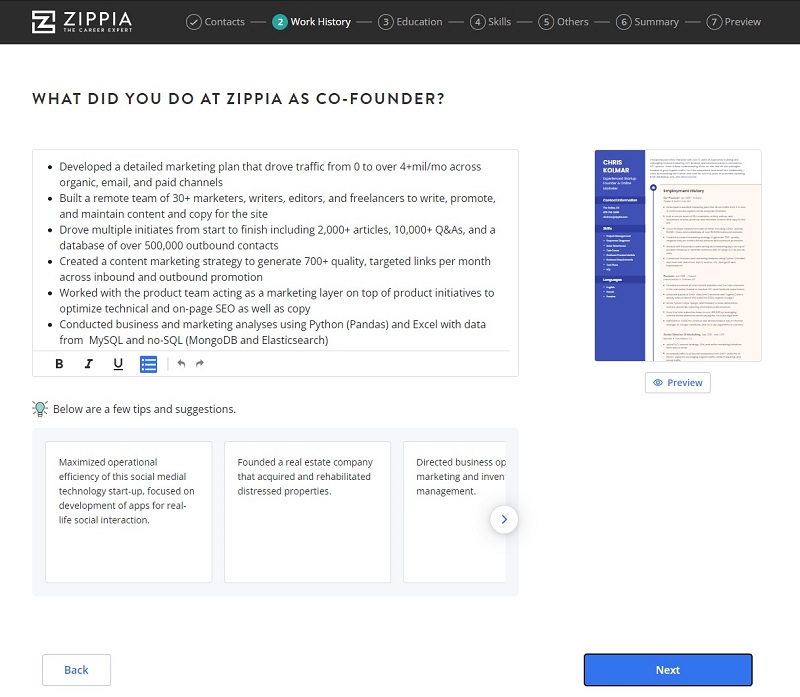 Examples of Resumes
Example #1 – Experienced Applicant
Harvey
Michaels
Product Manager


Harvey Michaels
379 King St.
Portland, OR, 48820
195.557.2975
HarveyMichaels@Gmail.com


Enthusiastic product manager with 10+ years of experience in bringing various brands to market. Seeking a position to utilize leadership and project management skills while being a productive member of a team.

Skills

Product Strategy
Research
Management
Microsoft
Product Development
Task Prioritization
Time-Management
Teamwork

Experience

Green Mountain Company / Senior Product Manager
September 2017 – September 2020, Portland, OR

Leading marketing and product teams of 20+ employees

Using sales data analysis to determine the best product strategies

Risk management

Establishing and following up on the team goals

Giving employee feedback

Developing product positioning

Pace Bank / Product Manager
January 2012 – September 2017, Portland, OR

Analyzing market potential

Product placement, marketing, and target demographic consideration

Making considerations for the Product Lifecycle

Establishing and following up on the team goals

Working in collaboration with a team of seven product managers

Blank Space, INC. / Junior Product Marketer
January 2009 – January 2012, Portland, OR.

Understanding company products and how technical qualities translate to benefits for the public

Creating product marketing strategies on a supervised team of 10

Working with other company branches handling product production

Evaluating marketing project success

Education

The University Of Washington / Master Of Business Administration
September 2005 – September 2009, Seattle, WA
The University Of Washington / Bachelor's Degree In Marketing
August 2001- August-2005, Seattle, WA
Example #2 – Entry Level Applicant
Leslie Martin
New York, NY | 584.224.8555 | LeslieMartin@gmail.com| Linkedin.com/in/LeslieMartin | LeslieMartin.com

SUMMARY

An eager and ambitious recent graduate from New York University with a Bachelor's Degree in Computer Science. Looking for a position to enhance coding skills and professional experience.

PROFESSIONAL EXPERIENCE

January 2018 – January 2019
Software Development Intern, BTQ Group, New York, NY

Chosen for placement in internship program from 3,500 competitive applicants based on grades and professional potential

Contributing hands on to projects with engineers to assure quality assurance

Developing code for websites and applications

Began as an unpaid internship for the first three months, after which was given a salary and a long- term position

March 2014-January 2018
Restaurant Manager, Casey's Diner, New York, NY

Promoted to restaurant manager from a waitressing position after two years of demonstrating dedication to the establishment

Responsible for creating staff scheduling each week

Handled paperwork for payroll

Bookkeeping

Bookkeeping

Hiring and training duties

Awarded with four raises throughout employment totaling a $10,000 salary increase

VOLUNTEER WORK

April 2015-April 2017
Reading Instructor, America Reads Organization, New York, NY

SKILLS

Productivity Tools, Web Tools, JAVA, Problem-Solving, Communication, Creativity, Dependability

EDUCATION

Graduation Year-2019
New York University, NY
BA, Computer Science, GPA=3.9
Academic Honor Roll