Swipe left for slideshow. Article continues below.
The political climate in America is…
Tense.
To say the least.
By the day, it seems like the two tribes of Democrats and Republicans are splitting apart on basically every issue. Whether it be immigration, taxes, or trade no one can agree on anything except for the fact that everything is becoming more partisan.
So as you choose your tribe, we want to help you understand where companies stand on the issues that matter most to you. Whether it be to see the politics of the company you are thinking of applying to, or where you're going to grab a coffee, it's good to know where they stand on issues.
To that end, we have compiled the 10 most conservative companies in North Carolina based on the last ten years of employee political donations. Here's a look:
Swisher International
AGC America, Inc.
When you look at where the employees of companies donate, Swisher International turns out to be the most conservative in all of the Tar Heel State with 93% of 31 donors donating to the Republican party in the past 10 years.
The most liberal company in North Carolina? That would be RTI International.
Read on for a detailed methodology, more in depth statistics on the top ten, and a complete list of the most conservative companies in North Carolina.
Find Out If Your Coworkers Donated To Trump or Hillary
How Zippia Determined The Most Conservative Companies In North Carolina
Unlike some other websites, we rely on data over opinion when it comes to understanding companies.
So when we decided to take a look at which companies in the Tar Heel State were the most conservative and liberal, we took a data-centric approach.
Specifically, we dug into the donations to political parties and PACs by employees of the 139 biggest public and private companies in North Carolina.
Of those 139 companies, we limited the analysis to companies with at least 30 donors to stop small, politically active companies from overwhelming the results.
To identify how liberal or conservative a company may be, we obtained data from the Federal Election Committee. They provide detailed donation data for individuals from 2007 onwards — around 32,000,000 political donation records.
We then matched donors to the companies where they reported they worked. We considered a donor to be a unique combination of:
First Name
Last Name
State
Company
Next, we had to deal with (1) donations to candidates and (2) donations to PACs for determining if the donor gave to a conservative or liberal cause.
1. Donations To A Candidate:
These were easy. We used the candidate's party to determine if it is was given to a Republican, Democrat, or other.
2. Donations To PACs:
These were a bit trickier since a majority of PACs give to both liberal and conservative candidates. We ultimately only included donations to PACs that gave >60% of their funds to a candidates of a certain political affiliation.
Put differently, the PAC had to have a super-majority of its funds go to a specific political party.
Finally, we divided the number of total conservative or liberal donors by the total number of donors at a company. For example, the most conservative company, Swisher International, had 29 conservative donors, 2 liberal donors, and 0 other donors.
29 / (29 + 2 + 0) = 93% Conservative
Any ties went to the company with more donors.
1. Swisher International
Location: Charlotte, NC
Total Donors: 31
Republican: 29
Percent Republican: 93%
Find information about all of your favorite tobacco products from Swisher Sweets, King Edward, Optimo, Kayak Outdoors, e-Swisher, and more.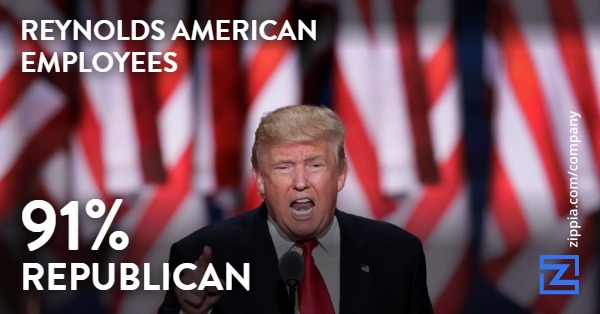 Location: Winston-Salem, NC
Total Donors: 87
Republican: 79
Percent Republican: 90%
Reynolds American, Inc. is an American tobacco company which is a subsidiary of British American Tobacco and is the second-largest tobacco company in the United States. Its holdings include R. J. Reynolds Tobacco Company, American Snuff Company (formerly Conwood Company), Santa Fe Natural Tobacco Company, and Niconovum AB.
Location: Salisbury, NC
Total Donors: 40
Republican: 36
Percent Republican: 90%
Location: Thomasville, NC
Total Donors: 36
Republican: 32
Percent Republican: 88%
Old Dominion Freight Line, Inc. (NASDAQ: ODFL) is a less-than-truckload (LTL), company. It offers regional, inter-regional and national LTL service. In addition to its core LTL services, the company offers logistics services including ground and air expedited transportation, supply chain consulting, transportation management, truckload brokerage, container delivery and warehousing, as well as household moving services. It contracts with freight forwarding services throughout the world.
Location: Charlotte, NC
Total Donors: 35
Republican: 30
Percent Republican: 85%
Established in 1867, Babcock & Wilcox is a global leader in energy and environmental technologies and services for power and industrial markets worldwide.
Location: Lewisville, NC
Total Donors: 39
Republican: 33
Percent Republican: 84%
The R. J. Reynolds Tobacco Company (RJR), based in Winston-Salem, North Carolina and founded by R. J. Reynolds in 1875, is the second-largest tobacco company in the U.S. (behind Altria). RJR is an indirect wholly owned subsidiary of Reynolds American Inc. which in turn is owned by British American Tobacco of the United Kingdom.
Location: New Bern, NC
Total Donors: 46
Republican: 38
Percent Republican: 82%
Location: Charlotte, NC
Total Donors: 30
Republican: 24
Percent Republican: 80%
Owned by Rick Hendrick, Hendrick Automotive Group operates 99 dealerships with 29 nameplates in 14 states and the online retail site https://t.co/JtiRVvQkEN.
Location: New Bern, NC
Total Donors: 71
Republican: 55
Percent Republican: 77%
Ward and Smith, P.A. is a full-service NC law firm with offices in Asheville, Greenville, New Bern, Raleigh, & Wilmington with more than 35 practice groups.
10. AGC America, Inc.
Location: Alpharetta, NC
Total Donors: 62
Republican: 48
Percent Republican: 77%
Wrapping Up The Conservative Politics of North Carolina
There you have it, the most conservative companies in North Carolina based on the political donations of employees — led by Swisher International.
Here's a quick look at the most liberal companies in North Carolina:
RTI International
MWW
FHI 360
If you're interested in searching for how your company donates, check out our company donation search. And here are some companies to get the ball rolling:
Detailed List Of The Most Conservative Companies In North Carolina