In the last two months alone, more than 36 million people have filed for unemployment as a result of COVID-19 keeping us at home.
While those jobs are no longer available and many companies have frozen hiring altogether, some jobs have been added to the economy as a result of the coronavirus. What states are seeing the biggest COVID hiring boom? And what kind of jobs is COVID creating?
We analyzed more than 3 millions job listings to find out for you.
States With The Most Covid Jobs
With these jobs on the market, there's a least a little bit of hope for those who have been unemployed. And what better way to get back into work than by helping with the pandemic? Smaller states on the East coast have more hirings. Keep reading to see what types of jobs COVID is creating.
How We Determined The States With The Most COVID-Related Hirings
For this one, we turned to our own website data and searched more than three million job listings. Each job listing that mentioned, "coronavirus" or "COVID" was considered a coronavirus-related hiring.
Here are some examples of the types of job listings this brings up:
Registered Nurse
Custodian
From there, we sorted the data to the state it came from. Finally, we tallied up the number of jobs per capita. The more jobs per person, the more COVID related hirings.
1. Rhode Island

Population: 1,059,361
Job Count: 489
Jobs Per 10k People: 4.61
Rhode Island comes in at No. 1 for most COVID-related job listings with a total count of 489. When you do the math, that comes out to over 4 jobs for every 10,000 people.
2. Massachusetts

Population: 6,949,503<
Job Count: 2,573
Jobs Per 10k People: 3.7
With almost 7 million people residing in Massachusetts, the number of coronavirus-related jobs is a bit lower with only 3.7 per 10,000 people. However, the state does have 2,573 job listings available so update your resume and start applying.
3. Minnesota
Population: 5,639,632
Job Count: 1,872
Jobs Per 10k People: 3.31
Minnesota comes in third on our list with only 3.31 jobs that are related to coronavirus for every 10,000 people. That still comes to a total of 1,872 job listings for the 5.6 million people who live there.
4. New Jersey
Population: 8,882,190<
Job Count: 2,716
Jobs Per 10k People: 3.05
The fourth state on the list is New Jersey, which even though it has a higher number of available jobs, it also has a higher population of 8.8 million. There are 2,716 jobs available which boils down to 3.05 jobs per 10,000 people.
5. Pennsylvania

Population: 12,801,989
Job Count: 3,646
Jobs Per 10k People: 2.84
Pennsylvania has a whopping 3,646 jobs related to COVID available right now. Even though that number seems high, there are only 2.84 jobs available per 10,000 people of the total 12.8 million population.
6. New Hampshire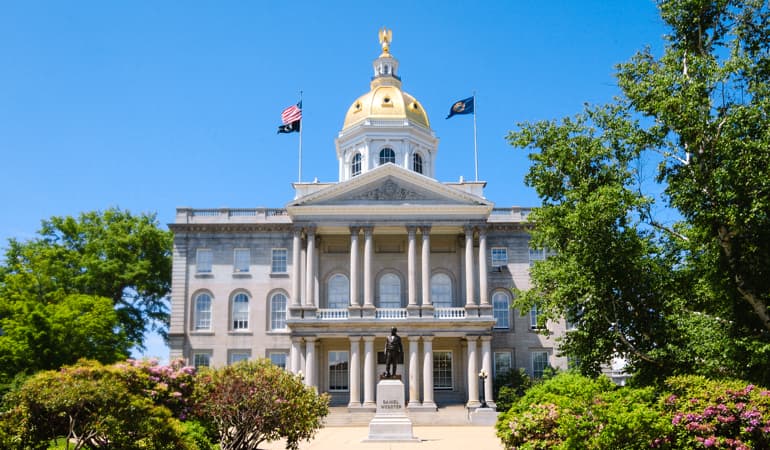 Population: 1,359,711
Job Count: 365
Jobs Per 10k People: 2.68
Next on the list is New Hampshire. With a population of 1,359,711, the state only has 365 job listings that are related to COVID. So that means for every 10,000 people there are 2.68 jobs available.
7. Indiana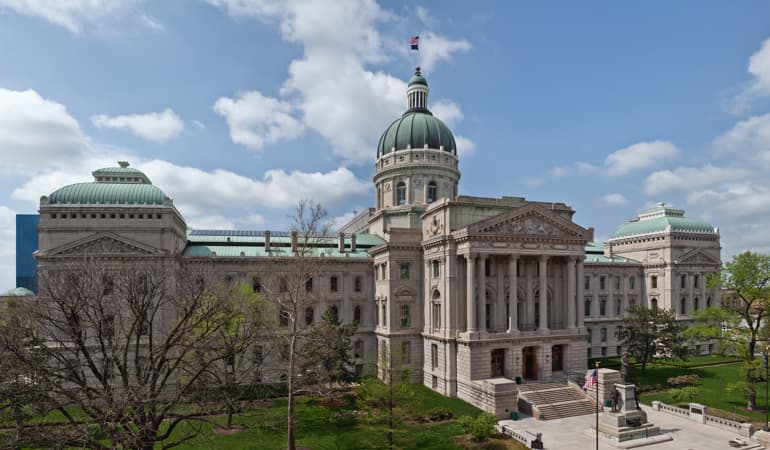 Population: 6,732,219
Job Count: 1,796
Jobs Per 10k People: 2.66
Indiana comes in at seventh on the list with 2.66 job listings per 10,000 people. With the state's 6.7 million population, there are a total of 1,796 COVID-related jobs available.
8. Connecticut
Population: 3,565,287
Job Count: 919
Jobs Per 10k People: 2.57
Coming in No. 8 on the list, Connecticut has a total of 919 job listings available to its 3.5 million population. That's roughly 2.57 jobs per 10,000 people.
9. District of Columbia

Population: 705,749
Job Count: 177
Jobs Per 10k People: 2.51
With only 177 job listings related to COVID, the District of Columbia has about 2.5 jobs available per 10,000 people. Out of the 705,749 population, that's not a whole lot so you're better off getting started preparing your resume sooner rather than later.
10. Vermont

Population: 623,989
Job Count: 155
Jobs Per 10k People: 2.48
Last, but not least, is Vermont. While Vermont has a seemingly small population of 623,989 compared to the rest of this list, it also had a very small number of COVID-related jobs of 155. So, apply for those jobs while they're hot.
Most Common COVID-19 Jobs
Of all the COVID-related jobs out there, we compiled a list of the most common ones that you'll see more job listings of. Those include:
Surprised to see they aren't all healthcare related? While COVID has some healthcare hirings increased (pharmacist techs and LPNs are in demand to handle the crisis), other positions are seeing a hiring boost too. In fact, shift managers and crew members are the seeing the largest number of COVID hiring.
These job titles are most commonly seen in quick food service. Social distancing may have people bypassing sit down restaurants and opting for some fried, comfort food.
Summary of the States With the Most COVID-Related Hirings
There aren't enough COVID job hirings for the newly unemployed masses. These 60,000+ aren't even a drop in the bucket when you have millions unemployed. However, COVID has changed the way we live, interact, and engage with the economy leading to some pretty interesting hiring trends.
While some jobs are disappearing, others are being created in order to help tackle the coronavirus and to meet new demand in select retail and fast food restaurants. The bulk of the jobs are lower paying and unskilled, which probably isn't tempting a lot of the newly unemployed to give up the stimulus unemployment bonus and go back into the workforce.
The States With The Most (And Least) Covid Jobs
| State | Jobs | Jobs_Per_10K |
| --- | --- | --- |
| Rhode Island | 489 | 4 |
| Massachusetts | 2,573 | 3 |
| Minnesota | 1,872 | 3 |
| New Jersey | 2,716 | 3 |
| Pennsylvania | 3,646 | 2 |
| New Hampshire | 365 | 2 |
| Indiana | 1,796 | 2 |
| Connecticut | 919 | 2 |
| DC | 177 | 2 |
| Vermont | 155 | 2 |
| Maryland | 1,457 | 2 |
| Delaware | 230 | 2 |
| West Virginia | 412 | 2 |
| Missouri | 1,374 | 2 |
| Ohio | 2,573 | 2 |
| Illinois | 2,772 | 2 |
| South Carolina | 1,120 | 2 |
| Hawaii | 298 | 2 |
| Michigan | 2,054 | 2 |
| Maine | 271 | 2 |
| Kentucky | 893 | 2 |
| Wisconsin | 1,163 | 2 |
| Virginia | 1,672 | 1 |
| Georgia | 2,049 | 1 |
| Alabama | 936 | 1 |
| North Carolina | 1,989 | 1 |
| Iowa | 559 | 1 |
| Louisiana | 785 | 1 |
| Washington | 1,222 | 1 |
| Montana | 171 | 1 |
| Florida | 3,414 | 1 |
| Kansas | 456 | 1 |
| Tennessee | 1,062 | 1 |
| Arizona | 1,131 | 1 |
| Utah | 497 | 1 |
| Colorado | 857 | 1 |
| New Mexico | 306 | 1 |
| Mississippi | 434 | 1 |
| North Dakota | 111 | 1 |
| Oregon | 587 | 1 |
| Oklahoma | 548 | 1 |
| New York | 2,694 | 1 |
| Wyoming | 80 | 1 |
| California | 5,322 | 1 |
| Arkansas | 403 | 1 |
| Nebraska | 236 | 1 |
| Texas | 3,503 | 1 |
| South Dakota | 104 | 1 |
| Nevada | 292 | .95 |
| Alaska | 64 | .87 |
| Idaho | 134 | .75 |